As the search for digital talent intensifies, Everest Group offers a "MAP" of the world's top locations for digital service delivery
Where in the world is the best location for digital services? Enterprises need to know, says Everest Group—a consulting and research firm focused on strategic IT, business services, and sourcing—which is today releasing key insights from its recent research on top locations for digital services delivery, "Global Hotspots for Digital Services."
"Global delivery has become talent-centric as enterprises, thinking beyond arbitrage and efficiency, intensify their search for digital talent to support digital business initiatives such as social and interactive, mobility, analytics, cloud, Internet of Things (IoT), robotic process automation (RPA), digital cybersecurity and more," said H. Karthik, partner, Global Sourcing, at Everest Group. "As a result, the choice of locations for digital service delivery has become a key strategic decision and will become even more critical as the delivery of digital services witnesses robust adoption in the next two to three years."
Everest Group estimates that the global digital services market is currently 300,000 to 350,000 FTEs strong and accounts for 5 to 7 percent of the global information technology / business process (IT-BP) industry. Going forward, Everest Group expects this share to increase owing to the faster annual rate of growth of the digital services market (14 to 18 percent) as compared to the overall IT-BP industry (7 to 9 percent) during the past four to five years.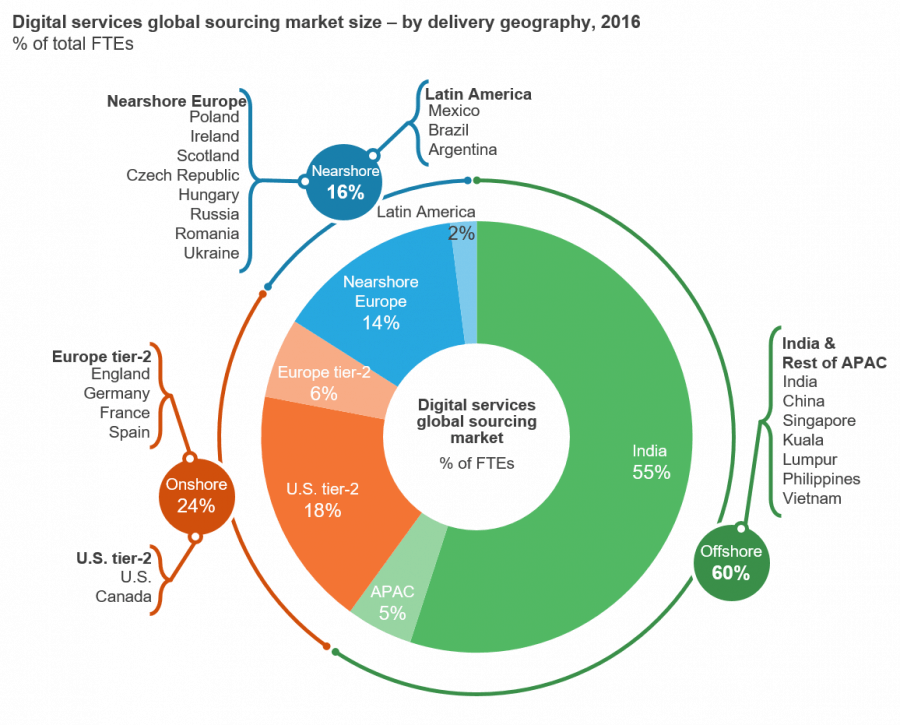 Key Findings:
– India is the largest destination for delivery digital services (accounting for approximately 55 percent of the market in terms of FTEs), driven by the availability of high-quality talent, synergies with existing sourcing operations in the area, and low operating costs.
– Onshore tier-two North America and tier-two Europe constitute approximately 24 percent of global digital FTEs and are important geographies for real-time innovation and speed-to-market for existing and next-generation digital technologies.
– Nearshore Europe constitutes approximately 14 percent of the global digital FTEs, attractive to buyers due to multilingual service delivery for social media, analytics and mobility services.
– Asia-Pacific (excluding India) accounts for approximately 7 percent of global digital FTEs, with selective evidence of high-end digital services delivery in cities such as Singapore, Beijing and Malaysia.
– Latin America is relatively less mature for digital services delivery as compared to India and Nearshore Europe; however, it is witnessing traction in supporting regional demand and also in providing medium-to-low complexity digital services to North America.
Everest Group also assessed the leading digital services delivery locations on the dimensions of talent and cost, and grouped them in its proprietary MAP Matrix™ according to maturity, arbitrage, and potential.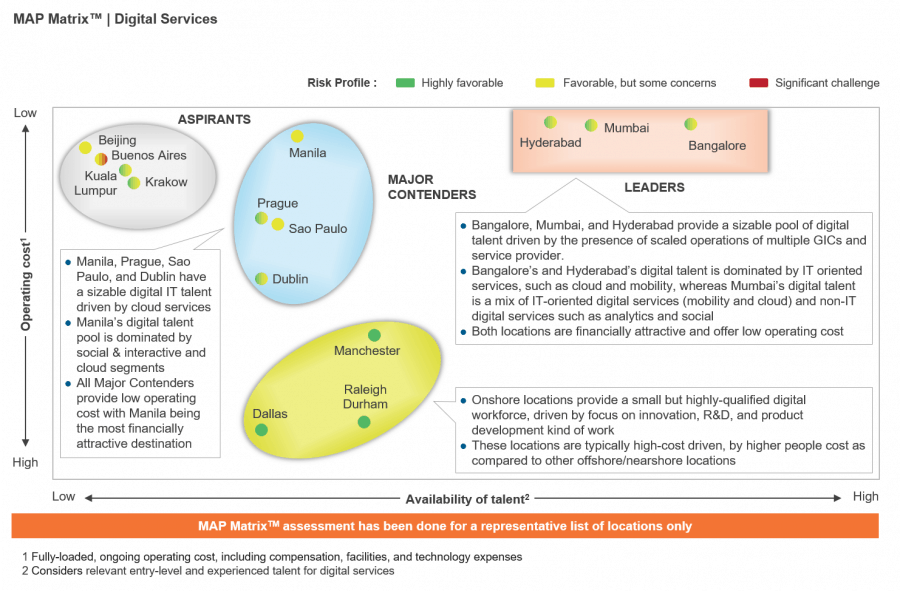 – The cities of Bangalore, Mumbai and Hyderabad are clear Leaders.
– Major contenders include Manila, Prague, Sao Paulo and Dublin, which have sizable digital IT talent driven by cloud services.
– Aspirants are typified by Beijing, Buenos Aires, Kuala Lumpur and Krakow.