The topic of productivity differences in contact center locations has always been of interest to enterprises, GICs, and service providers. In the last few months, there has been a significant increase in firms' interest in leveraging an integrated global delivery model across offshore, nearshore, and onshore locations for their contact center needs. In addition, the looming prospect of higher barriers to offshoring/nearshoring is also shifting focus from a labor arbitrage model to one of productivity gains.
Against this backdrop, Everest Group conducted targeted research to assess relative differences in contact center productivity across locations, using agent efficiency as a proxy for productivity.
Our research uncovered an interesting finding: while there are location-specific variations, agent productivity does not consistently vary by location category (i.e., onshore versus offshore/nearshore). While agent productivity is influenced by multiple factors, only two – average call handling time and agent utilization – are largely location-dependent. Even after normalizing for other factors such as nature of business, work mix, and scale of operations, there is no evidence to suggest that productivity is higher in onshore locations than in offshore/nearshore locations.
Exhibit 1: Assessment framework for agent productivity in contact centers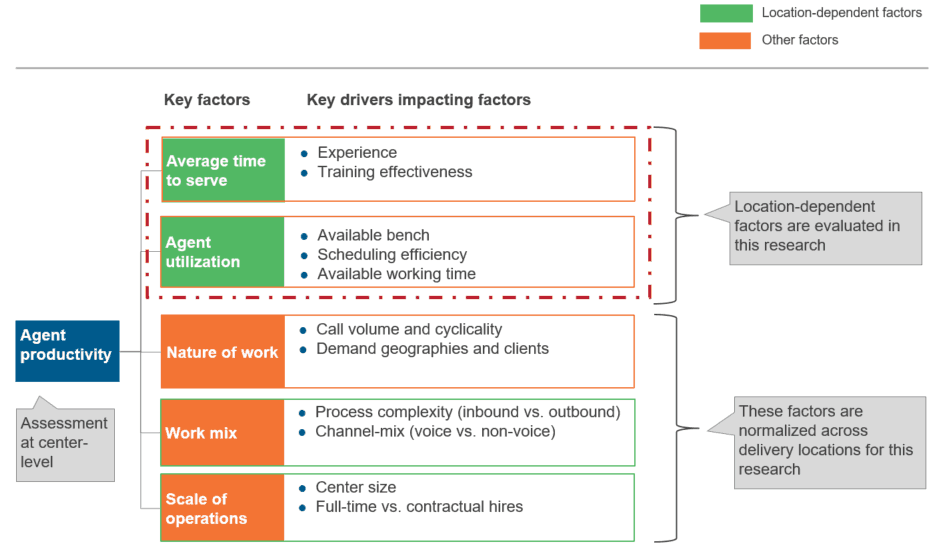 The reason that productivity variations are not location specific is that both average call handling time and agent utilization are, in turn, impacted by drivers that largely do not vary consistently across location category. For example, both scheduling efficiency and training effectiveness are influenced more by center-specific policies and work environment than location category. Thus, it's the interplay of these and multiple other drivers, which often negate and counterbalance each other, that are the key contributors to productivity variations, not the locations themselves.
Exhibit 2: Variation in location-dependent factors that impact agent productivity in contact centers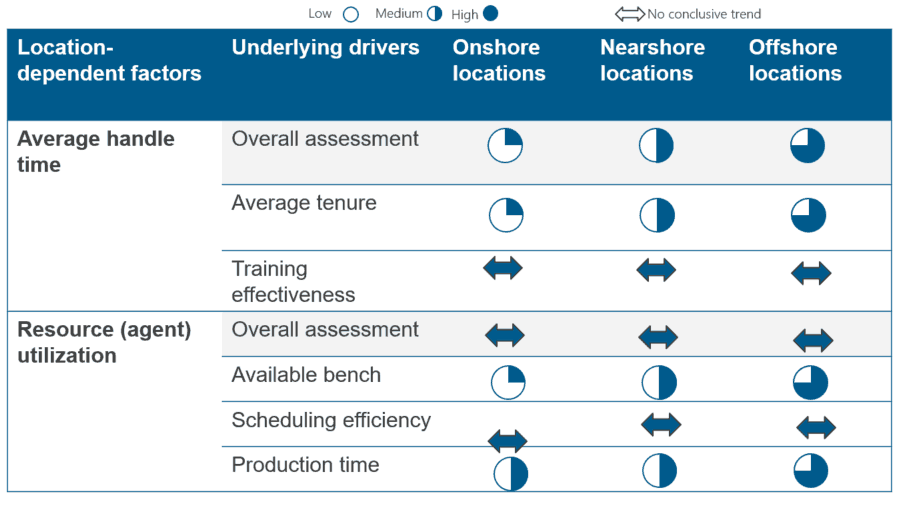 These findings have some important implications for firms:
It is important to focus more on internal levers to improve productivity within individual contact center operations. Factors such as call volume, business cyclicality, skillset availability, and the firm's overall policies and practices influence productivity more than location-dependent factors
Furthermore, global work placement decisions need to incorporate multiple factors beyond productivity, including delivery cost , talent scalability, business/client preferences, and business/operating risks
Finally, it is important to recognize that no single metric is sufficient to fully capture productivity. Rather, a holistic assessment that incorporates both efficiency and effectiveness (quality) and both agent and technology-enabled metrics is required
For a detailed analysis of this topic, please see our viewpoint entitled "Are There Productivity Differences across Contact Center Locations?"