Download the Enterprise Cloud Adoption Survey Results.
The market conversation around enterprise adoption of private, public and hybrid cloud models has been surprisingly light on facts. Data, surveys and analysis tend to focus either on predicting overall market sizes for cloud services (which often strain credulity of even the most ardent cloud supporter), or on high level surveys around planned cloud adoption and perceived issues.  While interesting from a broad market perspective, they provide little insight for IT executives facing hard choices around cloud migration. Decision makers are faced with little hard data on the use cases that are actually being implemented in the enterprises and the value that they're generating.  This gap creates challenges not just for enterprise CIOs but also for cloud service providers and consultants.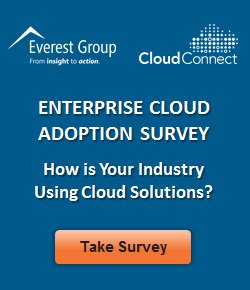 In conjunction with Cloud Connect and UBM TechWeb, Everest Group is excited to announce a new tracking survey focused on better understanding where the "rubber is hitting the road" with enterprise cloud adoption. Targeted at enterprises and vendors alike, our Enterprise Cloud Adoption Survey will focus on identifying global enterprise cloud adoption trends and patterns and where enterprises are seeing value today from the cloud. Our survey will help readers gain visibility and insight into questions such as:
What are the use cases that are driving adoption of SaaS, PaaS, IaaS and private cloud?
How are cloud adoption patterns and uses cases are differing by vertical? By geography?
What cloud infrastructure models are most frequently being deployed (private, public, hybrid)?
What cloud management platforms are gaining traction in the enterprise? Where are open source options (OpenStack, CloudStack) being adopted?
How does the value being delivered by cloud deployments compare to expectations?
We think some of the more interesting insights will come from seeing how these responses change and trend over time. Our goal is not to provide just a one-time shapshot of adoption, but to conduct an ongoing survey several times a year to surface key trends and patterns. The results from our first joint survey will be announced in conjunction with Cloud Connect Chicago, to be held September 10-13 at the Hyatt Regency O'Hare.