In July 2015, two mammoth players in the U.S. health insurance market decided it was time to form even bigger entities, similar in size to UnitedHealth Group (which held 17 percent of the market.) First it was Aetna deciding to merge with Humana, primarily consolidating the Medicare Advantage market. A few days later, Anthem and Cigna, with a relatively more complementary membership base, decided to merge.
By the end of 2015, shareholders of all four insurers had approved the deals. However, the Department of Justice and several states (mostly Democratic ones) opposed and appealed against the mergers. In early February 2017, the federal court ruled both anti-competitive and blocked them, citing increased concentration.
Had the mergers been approved, Anthem-Cigna would have led the market with highest share of the entire insured population, followed by UnitedHealth and Aetna-Humana. In Medicare Advantage (MA), Aetna-Humana would have surpassed UnitedHealth to become the market leader.


Let's take a look at what transpired in both cases.
Aetna and Humana
On February 14, 2017, the two companies mutually decided to end the merger agreement, rather than appeal the antitrust decision. Due to a contractual clause intended to ensure both parties remained encouraged by the merger prospect, Aetna will have to pay Humana a break-up fee to the tune of US$1 billion. This massive financial hit does not include various other expenses Aetna had to incur in order to prepare for the deal, including legal and accounting fees, bonds issuance fees, interest to be paid while repurchasing the bonds, and the premium it has decided to pay for bond repurchases. All told, the total cost of the merger that didn't happen will be around US$2 billion for Aetna. This is a relatively straightforward scenario, albeit very costly for Aetna.
Cigna and Anthem
This is a much more complicated situation. Since the merger was first announced, a lot of animosity has grown between these two insurers. Cigna has gradually changed its stance from being pro-merger to anti-merger. In fact, Cigna has gone to the length of filing a lawsuit against Anthem, and asking for $13 billion in damages. This does not include $1.85 billion that Anthem owes to Cigna as a termination fee. Anthem, however, appealed this, claiming that the merger deal timeline is valid until April 30 – and it is still hopeful for merger activity.
Unless Anthem and Cigna accept the ruling without appeal and carry on with business as usual, I see two possible scenarios here:
Convince the new administration that the deal will have a positive impact on consumers, and get it approved with the help of the new head of the Justice Department
Accept the ruling, and use the money (planned or already raised) to fund acquisitions of smaller payers without triggering the antitrust regulations
The first option seems less likely. However, since the new U.S. president's swearing in ceremony, we have seen that extreme events cannot be explicitly ruled out with the new administration. Additionally, Trump's and Republicans' plans to repeal and replace Obamacare will require support from the industry…and who better to support this than two of the top three publically-listed payers? Another key element in favor of these mergers being approved is that the new administration is more lenient when it comes to antitrust matters than the previous administration, as evidenced by the possible approval of the Bayer and Monsanto deal.
The second option would result in Anthem paying a hefty amount for failure to be able to complete the deal.
The high termination fees for these deals gone bad will likely negatively impact Aetna and Anthem (if indeed the Anthem/Cigna merger doesn't happen.) For example, per the latest filings, Aetna's net margin has declined from ~5.9 percent in 2011 to 3.6 percent in 2016, while Anthem's was 2.9 percent in 2016, down from ~4.4 percent in 2011. As a result of the lawsuit filed by Cigna, Anthem will end up shelling out even more than Aetna, as even if we the decision is in favor of Anthem, it will still have to pay litigation expenses.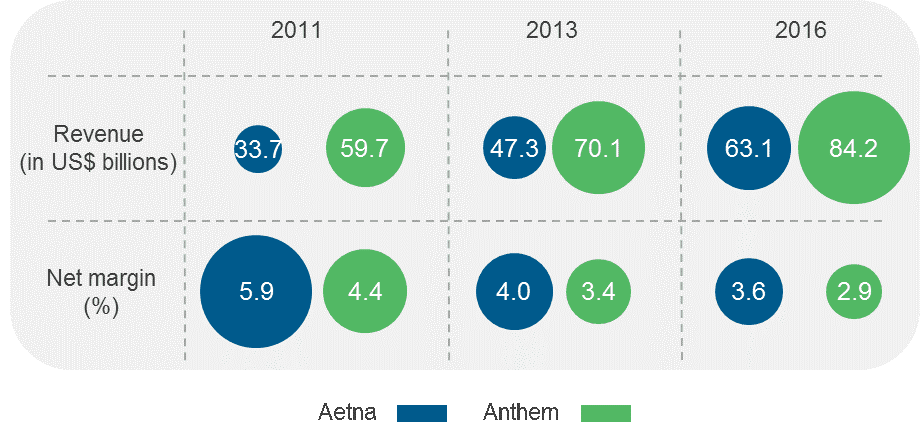 The road ahead for these payers is filled with uncertainty, especially for Anthem and Cigna, since they are embroiled in a legal battle. Yet one thing we can be certain of is that Aetna and Humana are watching from sidelines, potentially resuming merger talks if the Anthem-Cigna deal is approved. While it remains to be seen how the new administration reacts, things should get clearer in the coming months.