Open banking – a system that provides third-party access to financial data through application programming interfaces (APIs) – has unlocked digital financial innovation and disruption. Its next evolution – open finance – holds the promise to greatly enhance the customer experience and empower users of financial services. Read on for more on our latest open banking research.   
A combination of government regulation and market forces has created a growing demand for open financial data to build an expanded provider ecosystem beyond banks and financial institutions to also include non-financial platforms, FinTechs, and payment facilitators.
According to the recent forecast by the Open Banking Implementation Entity (OBIE), more than 6 million individuals and businesses in the United Kingdom regularly use open banking services. Payment volumes on open banking-related services increased dramatically to around 21.1 million transactions over the six months through March 2022, compared to 6.1 million during the same period.
The first wave of open banking has given customers and third parties easy digital access to their financial data from banks and other traditional financial institutions. This has solved critical issues for customers by ensuring better account visibility and convenient payment access.
In the next stage of open finance, an individual's entire financial footprint, such as mortgages, savings, pensions, insurance, and credit, can be opened up to trusted third-party APIs with consumer consent. Brazil is expected to move into this final stage of its four-part implementation of open banking by the end of the year.
Open finance offers the following key benefits:
Improved customer experience – By opening access to financial instruments, personal financing, and asset and wealth management, companies can create personalized products and services to meet customer needs
More inclusive – Open finance has addressed the critical need of making financial practices more accessible and provides simplified banking for a large portion of the unbanked population in growing geographies
Greater transparency – Open finance lifts the veil for customers on their financial options, giving them clearer insights into their full financial pictures
Customer empowerment – Banking customers are better informed to decide if their current providers or services are best for them, giving them greater financial freedom
Open banking research findings
Let's take a look at how banks and financial institutions, FinTechs, small- and mid-sized businesses, and banking and financial services (BFS) providers will be impacted by this powerful trend:
Banks and financial institutions
Data architecture will need to be redesigned to help banks manage data securely, quickly, and efficiently. Firms will use an API-based microservices approach to make data more accessible, thereby enhancing digital agility.
For example, US Bank and Plaid announced a partnership in 2021 to connect the bank's customers to third-party accounts. Plaid will provide the open APIs to initiate third-party payments between the bank and financial apps such as Robinhood and Venmo.
This approach also allows banks to leverage their data internally. Bankers and traders can access personalized front-end applications.
The potential to develop new API-led products with relative ease is another exciting benefit. New API products can create additional direct monetization streams and access to newer customer segments. This can lead to better customer lifetime value and predictably improve long-term profitability. Barclays, for instance, enabled account aggregation in their mobile banking app to allow customers to view other bank accounts within the same app.
FinTechs
Open banking has produced a space for FinTechs to innovate in a sector otherwise dominated by traditional banks. It has created countless opportunities for competition and collaboration. Some examples include:
Payment infrastructure provider Dapi and FinTech firm Afterbanks launched real-time account and data aggregation services via an API in Mexico in 2021
Prometeo, an open banking platform provider, launched its payment API for the Latin American market enabling efficient exchanges using API connectivity and providing a single access point to information and payments
As illustrated below, the FinTech ecosystem has morphed into three distinct categories: challengers (direct competitors that have built digital-only banks and financial institutions), collaborators (partners with traditional banks to leverage open APIs), and enablers (infrastructure and platform support providers):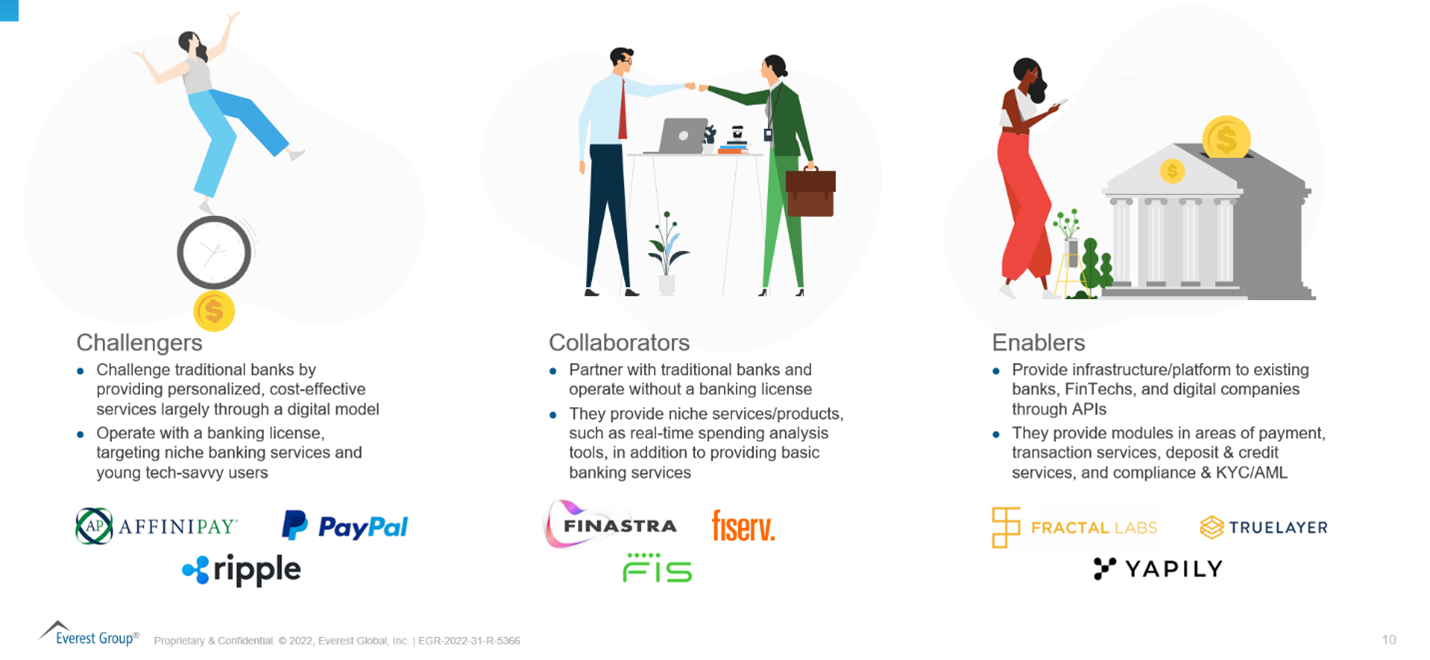 Small- and mid-sized enterprises
Open banking creates efficient and seamless business processes for small- and mid-sized enterprises (SMEs) and can assist in effectively delivering accounting, payroll management, and auditing services. For example:
Mexican FinTech Kavak offers same-day application and loan approval to customers
Neobank Plurall launched its services in Columbia and focused on improving the financial inclusion of SMEs
BFS firms
Adoption of open banking poses some challenges for BFS firms that fall broadly under these categories, as illustrated below:
Change management and business alignment

As banks adopt a customer-centric approach and align their business strategies with customer engagement, they will need to expand their offerings to position themselves as end-to-end customer experience enablers
Banks must widely market their own APIs to developers for wider adoption across various open banking platforms being built

Extending offerings beyond the regulatory mandate

Enterprises should not limit their open banking capabilities to what is mandated by regulators but venture beyond to gain a competitive advantage. They should offer more APIs and undertake integration with new sales channels
Data security and privacy should take center stage in all branding efforts to earn consumers' confidence

Augmenting the value proposition

Banks must focus on giving customers greater control over their data and enhancing the customer experience by providing more convenient payment methods, account aggregation services, and tailored product offerings as incentives to adopt open banking

Managing the shortage of trained talent

Access to the required skills for scaled open banking adoption is hampered by a demand-supply gap that requires BFS enterprises to pay a heavy premium for talent
Financial institutions must focus on workforce hiring, training, and revamping to equip their employees to contribute to the digital metamorphosis powered by open banking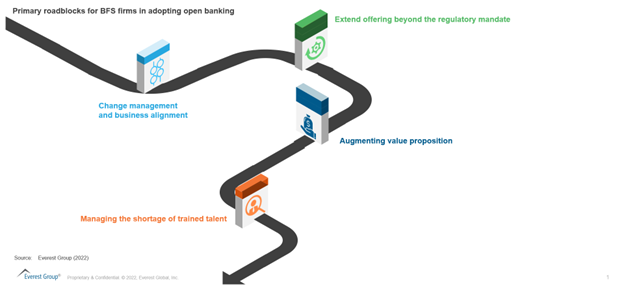 To learn more about our open banking research and discuss your experiences in these emerging areas, contact [email protected], and [email protected]. Follow our webinars and blogs to learn more about upcoming technologies and trends.
To learn more about customer experience trends and how CX leaders are assessing their future customer experience delivery needs, watch our webinar, How are Leading Organizations Delivering Exceptional Customer Experience?