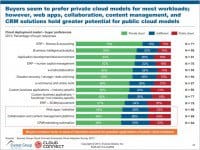 Cloud Connect Silicon Valley is just around the corner. Once again we're assembling a group of enterprise IT leaders and top thinkers in cloud to deliver current, unvarnished and useful information for companies mapping their strategies for organizational transformation through agile business models empowered by cloud computing.
And speaking of maps, this year's theme for the Organizational Readiness and Business Cases track is "Time to pull over and check the map." On our road to the cloud, enterprises have taken wrong turns, one-way streets and paid some hefty tolls. After all this exhausting traveling, where are we? So, we're going to safely pull off to the service plaza and check the map.
The first session (Wednesday, April 3 at 9:00 am) will feature a keynote address from the IT leadership at a Fortune 500 enterprise that has made aggressive moves to push much of its workload portfolio to cloud infrastructure. Participants will learn how this enterprise made the business case for organizational transformation to cloud; what assumptions it made in building its strategy for migration; and where the organization is seeing early successes — and warning signs.
Session two (Wednesday at 3:45 pm) is called the "Cloud Witness Protection Program." We'll hear entertaining but serious insights from an enterprise IT executive whose identity we're concealing. He (or she) will share with the audience hard-learned lessons and strategies for avoiding the same mistakes. A quiz session from a panel of experts will follow, digging deeper for keys as to what to look for in a cloud vendor; tough questions to ask before the contract is signed; and what terms to insist on — or walk.
The third session (Thursday at 2:30) is titled, "Disruptive Innovation in Cloud Technology and Tools." Experts from technology providers, open source projects and enterprises will give participants a tour of new cloud technologies and tools that are available, proven in production environments and ready to deploy. Participants will leave the session armed with an understanding of which tools are the best choices for their enterprise cloud deployments.
The final session (Friday at 10:15) looks at disruption from a business models standpoint. I'll lead a discussion with two enterprise executives who have used cloud to fundamentally disrupt organizational business models. Participants will hear how these leaders helped their organizations first understand and then embrace the agility, flexibility and dramatic time-to-market compression that cloud enables. Building sustainable competitive advantage through a transformation in business model assumptions is the goal of cloud, and this session will give participants new insights on how to help their organizations get there.
At last year's Cloud Connect Chicago, we unveiled the results of the inaugural Enterprise Cloud Adoption Survey. Building on the success of that effort, we have launched the 2nd Annual Cloud Adoption Survey. The survey will help us track year-to-year adoption trends and drivers. Tell us about your journey to the cloud, and you could win a complimentary conference pass to Cloud Connect Silicon Valley. Take the survey now.
Hope to see you at this year's Cloud Connect! Register using priority code DISPEAKER for 25% off.