In today's high-tech world, low-code software development is emerging as a lever to accelerate digital transformation. With strong activity and broad capabilities by players in this space, who are the leaders to watch, and what are the obstacles to adoption? Read on for more on the state of low-code application platforms, real-world use cases, and our outlook.    
Compelled by COVID-19, many enterprises are now looking beyond their traditional development approaches for ways to deliver faster, more agile applications and processes. Low-code platforms, requiring little or no programming to build, are surging in adoption.
These platforms combine declarative tooling with pay-as-you-grow business models, enabling enterprises to accelerate application development and delivery, and align it with their businesses.
Low-code application platforms: state of the market
Market participants in the low-code space are focusing on new products, partnerships, and acquisitions to drive growth. Here's a look at the flurry of activities by leading players.
Product launches and expansion: In April 2020, Microsoft released a beta version of Power Apps on mobile for no-code application development allowing anyone with knowledge of programming languages to assemble business applications easily and quickly. A month later, Quickbase announced the addition of drag-and-drop integration and new workflow automation functions enabling business users to build and execute workflows connected to third-party apps. Pegasystems also launched Pega Express, a new low-code software development methodology.
Partnerships and collaboration: As part of recent collaborations, Appian signed a technology partnership and integration initiatives with Celonis, the market leader in AI-enhanced process mining and process excellence software. Appian also entered a strategic alliance with Deloitte Consulting, LLP to help modernize mission-critical systems for their clients within the commercial, federal civilian, defense, state, and local government agencies.
Mergers and acquisitions: In February of 2021, SAP acquired AppGyver Oy, a pioneer in no-code development platforms. Then months later, Siemens acquired TimeSeries to expand its portfolio through the development of industry-specific apps built on the Mendix platform. Google's acquisition of AppSheet last year to bring no-code development to Google Cloud has added heat to the market as it demonstrates hyperscalers' interest in seizing market share.
Low-code platform types
As we attempt to simplify the highly fragmented low-code platform market, three broad categories emerge, with each offering unique strengths as shown below: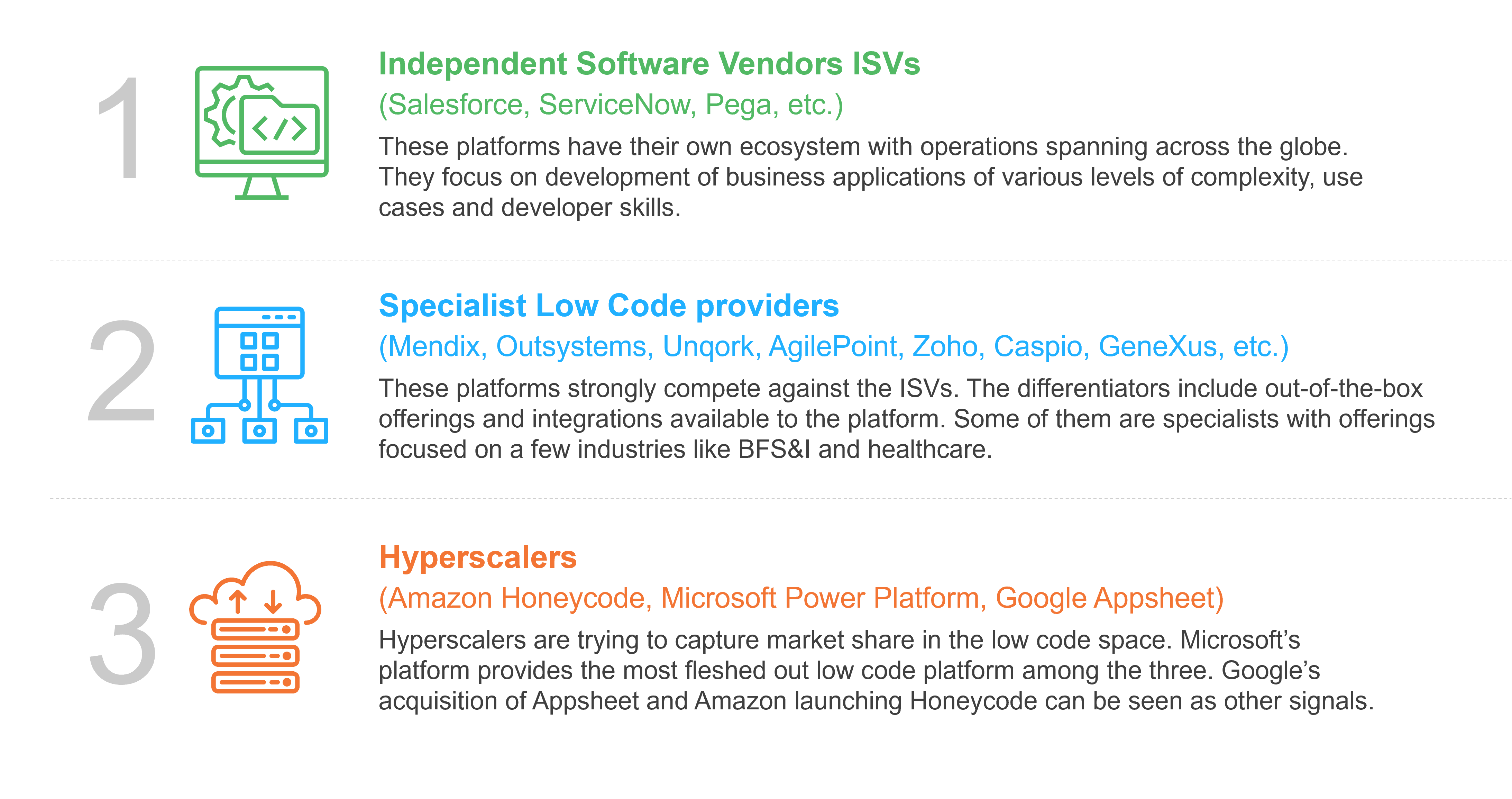 Our research identifies automation of process applications as the highest priority for low-code applications. It can help enterprises shape next-generation workflows to enhance customer experience and spur the development of innovative apps in areas such as service delivery/management, human resource management, field services management, supply chain transformation, etc.
The below exhibit provides an overview of opportunities that low-code platforms can deliver and the key players focusing on each of these areas.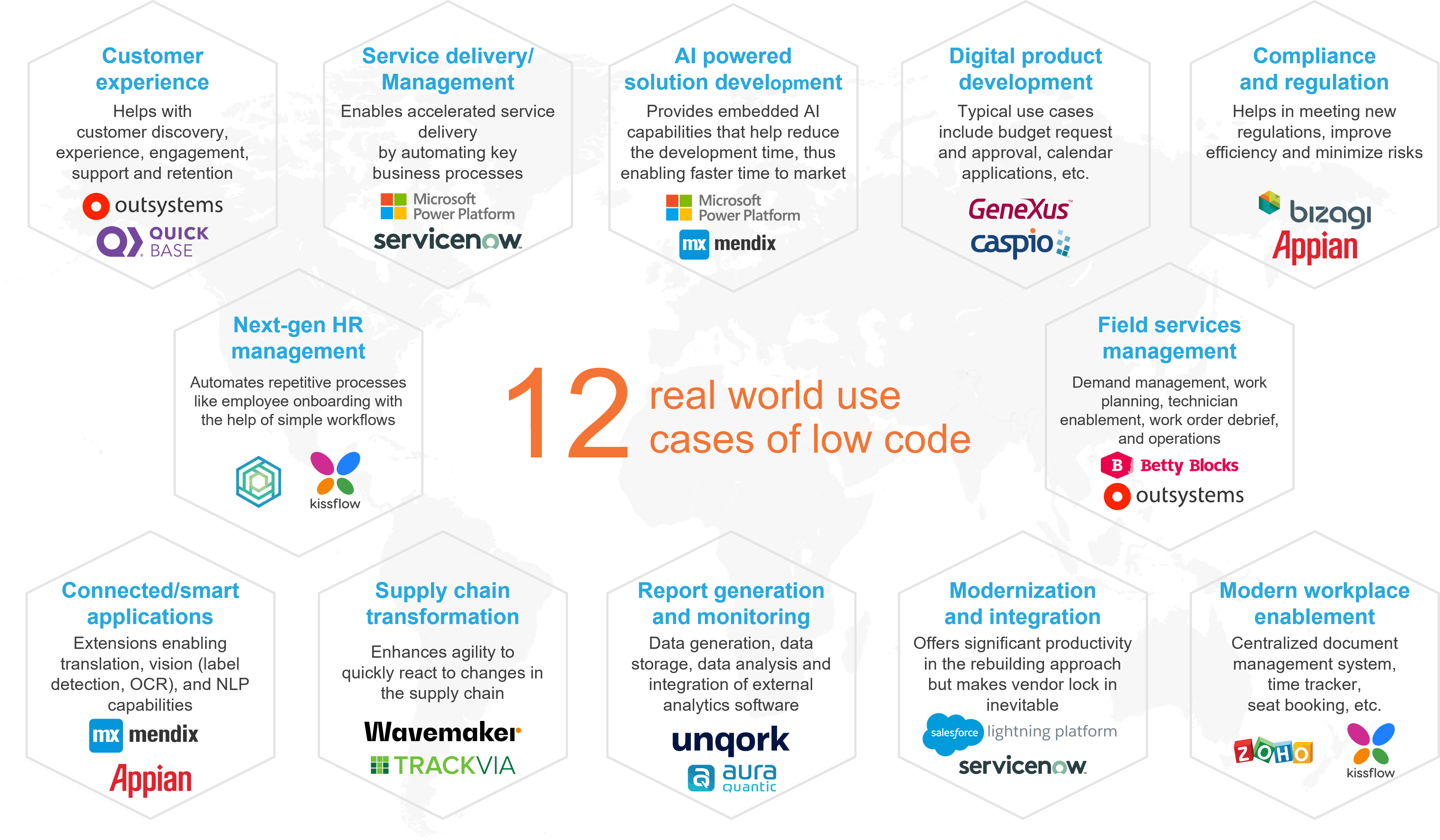 In terms of industry adoption, we see banking, financial services, and insurance (BFS&I) leading the pack, followed by healthcare, public sector, education, and manufacturing.
Let's take a look at one use case example of how low-code technology platforms are enabling transformation. The exhibit below illustrates how a bank is using low code to enhance each step in the customer experience lifecycle and realize value faster.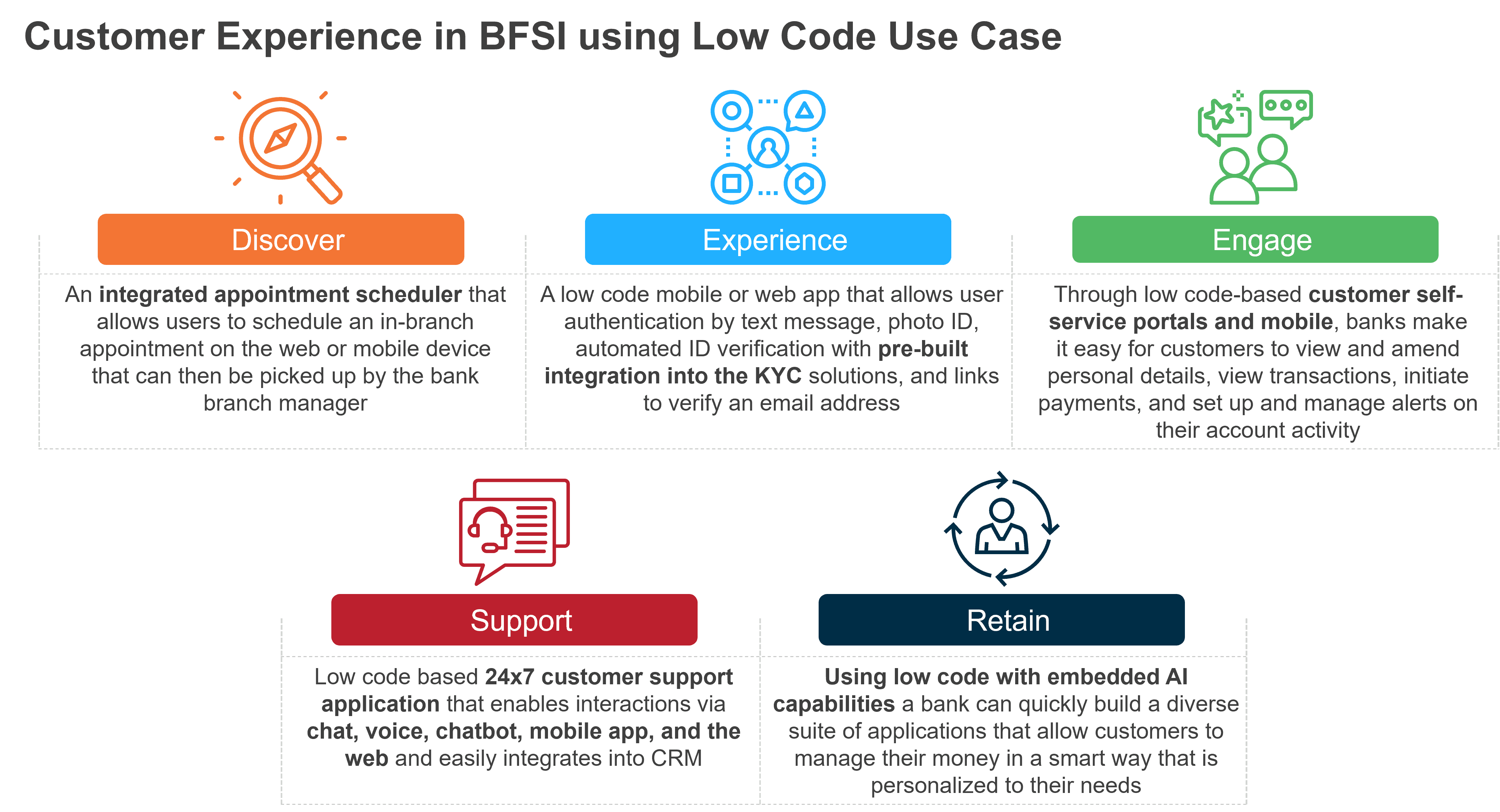 Pain points to adopting low code
To better understand why low code is gaining such quick popularity, we looked beyond what is being portrayed by the platform providers and identified three challenges that enterprises will need to overcome to adopt low-code development.
Talent availability: Despite the low technical barrier to usage, most low-code systems are proprietary and require at least a modest amount of system-specific training. Highly skilled traditional developers often view low-code with skepticism and defensiveness – partly due to the slow devaluation of the traditional skillset
Licensing cost: The pay-as-you-grow model makes the licensing costs more opaque and somewhat higher than those of traditional opensource development environments and tools
Lack of proof points: Although low-code makes it possible to quickly create a working application, low-code tools can stop just shy of enabling the development of enterprise-wide apps. Enterprises need to analyze the scalability of these platforms for integrations and security as they expand to the enterprise level before committing to a buy decision
Positive outlook
The adoption of low-code platforms is still in its infancy, but the COVID-19 pandemic has compelled enterprises to look beyond their traditional way of IT application development and resort to much faster and agile application delivery models materialized through these low-code platforms. Undoubtedly, these platforms will gain more prominence in the very near future. A line of business way of looking at these platforms is needed to enable enterprises to gauge their capabilities accurately and ultimately lead to more enterprise-level adoption.
To share your thoughts and discuss our research related to low-code platforms, please reach out to [email protected] and [email protected].