Yesterday's announcement of Microsoft's acquisition of Nuance Communications signifies the big tech company's serious intentions in the US healthcare market.
We've been writing about industry cloud and verticalization plays of big technology companies (nicknamed BigTech) for a while now. With the planned acquisition of Nuance Communications for US$19.7 billion, Microsoft has made its most definitive step in the healthcare and verticalization journey.
At a base level, what matters to Microsoft is that Nuance focuses on conversational AI. Over the years, it has become quite the phenomenon among physicians and healthcare providers – 77 percent of US hospitals are Nuance clients. Also, it is not just a healthcare standout – Nuance counts 85 percent of Fortune 100 organizations as customers. Among Nuance's claims to fame in conversational AI is the fact that it powered the speech recognition engine in Apple's Siri.
Why Did Microsoft Acquire Nuance?
The acquisition is attractive to Microsoft for the following reasons:
Buy versus build: If Microsoft (under Satya Nadella) can trust itself to build a capability swiftly, it will never buy. Last year, when we wrote about Salesforce's acquisition of Slack, we highlighted how Microsoft pulled out of its intent to acquire Slack in 2016 and launched Teams within a year. Could Microsoft have built and scaled a speech recognition AI offering?
Conversational AI: Microsoft's big three competitors – Amazon, Apple, and Google – have a significant head start in speech recognition, the only form of AI that has gone mainstream and is likely to be a US$30 billion market by 2025. Clearly, with mature competition, this was not going to be as easy as "Alexa! Cut slack, build Teams" for Nadella
Healthcare: This is another battleground for which Microsoft has been building up an arsenal. As the US continues to expand on its $3 trillion spend on healthcare, Microsoft wants a share of this sizeable market. That is why it makes sense to peel the healthcare onion a bit more
What Role Does Microsoft Want to Play in Healthcare?
While other competitors (read Amazon, Salesforce, and Google) were busy launching healthcare-focused offerings in 2020, Microsoft was already helping healthcare providers use Microsoft Teams for virtual physician visits. Also, Microsoft and Nuance are not strangers, having partnered in 2019, to enable ambient listening capabilities for physician to EHR record keeping. Microsoft sees a clear opportunity in the US healthcare industry.
Everest Group estimates that technology services spending in US healthcare will grow at a CAGR of 7.5% for the next five years, adding an incremental US$25 billion to an already whopping $56 billion
The focus of Microsoft and its competitors is to disrupt the multi-billion ($40 billion by 2025) healthcare data (Electronic Medical Record) industry
Erstwhile EMR has been a major reason for physician burnout, which the likes of Nuance aim to solve
Cloud-driven offerings such as Canvas Medical and Amazon Comprehend Medical are already making Epic Systems and Cerner sit up and take notice
It is not without reason that Microsoft launched its cloud for healthcare last year and has followed it up by acquiring Nuance.
What Does it Mean for Healthcare Enterprises?
Under Nadella, Microsoft has developed a sophisticated sales model that takes a portfolio approach to clients. This has helped Microsoft build a strong positioning beyond its Office and Windows offerings even in healthcare. Most clients in healthcare are already exposed to its Power Apps portfolio and Intelligent Cloud (including Azure and cloud for healthcare) in some form. It is only a question of time (if the acquisition closes without issues) until Nuance becomes part of its suite of offerings for healthcare.
What Does it Mean for Service Providers?
As a rejoinder to our earlier point about head starts, this is where Microsoft has a lead over competitors. Our recent research with System Integrators (SI) ecosystem indicates that Microsoft is head and shoulders above its nearest competitors when it comes to leveraging the SI partnership channel to bring its offerings to enterprises. This can act as a significant differentiator when it comes to taking Nuance to healthcare customers as SI partners can expect favorable terms of engagement.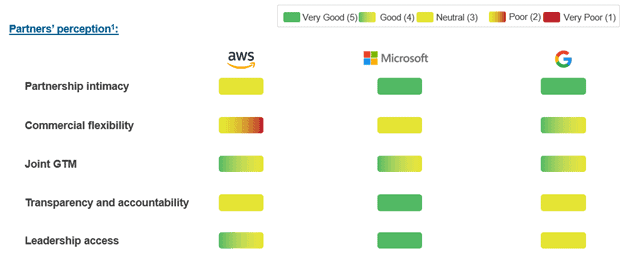 Lastly, this is not just about healthcare
While augmenting healthcare capabilities and clients is the primary trigger for this purchase, we believe Microsoft aims to go beyond healthcare to achieve the following objectives:
Take conversational AI to other industries: Clearly, healthcare is not the only industry warming up to conversational AI. Retail, financial services, and many other industries have scaled usage. Hence, it is not without reason that Mark Benjamin (Nuance's CEO) will report to Scott Guthrie (Executive Vice President of Cloud & AI at Microsoft) and not Gregory Moore (Microsoft's Corporate Vice President, Microsoft Health), indicating a broader push
Make cloud more intelligent: As mentioned above, Microsoft will pursue full-stack opportunities by combining Nuance's offerings with its Power Apps and Intelligent Cloud suites. As a matter of fact, it plans to report Nuance's performance as part of its Intelligent Cloud segment
Microsoft: $2 Trillion and Beyond
This announcement comes against the background of BigTech and platform companies making significant moves to industry-specific use cases, which will drive the next wave of client adoption and competitive differentiation. Microsoft's turnaround and acceleration since Nadella took over as CEO in 2014 are commendable (see the image below). It is on the verge of becoming only the second company to achieve $2 trillion in market capitalization. This move is a bet on its journey beyond the $2 trillion.
What do you make of its move? Please feel free to reach out to [email protected] and [email protected] to share your opinion.