The COVID-19 pandemic resulted in a severe economic downturn in 2020, and engineering service providers certainly suffered the effects of the slowdown. The following chart presents the performance of select engineering service providers – Alten, Cyient, HCL Technologies' Engineering and R&D Services, KPIT Technologies, and L&T Technology Services – during this period as an indicator of the overall market.
Phase 1: Pre-COVID-19 sluggish growth phase – While the pandemic began taking its roots in Q1 2020, many engineering services vendors were growing at a slower pace from the second half of 2019. This can be traced back to a slowdown in key engineering verticals such as automotive, aerospace, and telecoms.
Phase 2: COVID19-led downturn – Growth began declining severely in the first quarter of 2020, and the dip in the chart shows that Q2 was when the pandemic's effect became most pronounced. Interestingly, a deeper analysis of these companies' portfolios reveals that service providers with greater exposure to the automotive, aerospace, and industrial verticals suffered a greater dip in their revenues. This is because these assets and hardware-heavy verticals are the ones where enterprises have reduced their R&D budgets the most. Consequently, these were also the vendors who suffered a greater dip in Q3.
Phase 3: Signs of recovery – The results the vendors reported for Q4, however, indicate that after multiple quarters of declining growth, the engineering services market has finally bottomed out and is headed upwards from here on. While the vendors have continued to report negative YOY growth numbers, revenues and growth figures have, without exception, improved in comparison to Q3.
ER&D services Y-o-Y growth for select service providers (Q1 2019 – Q4 2020)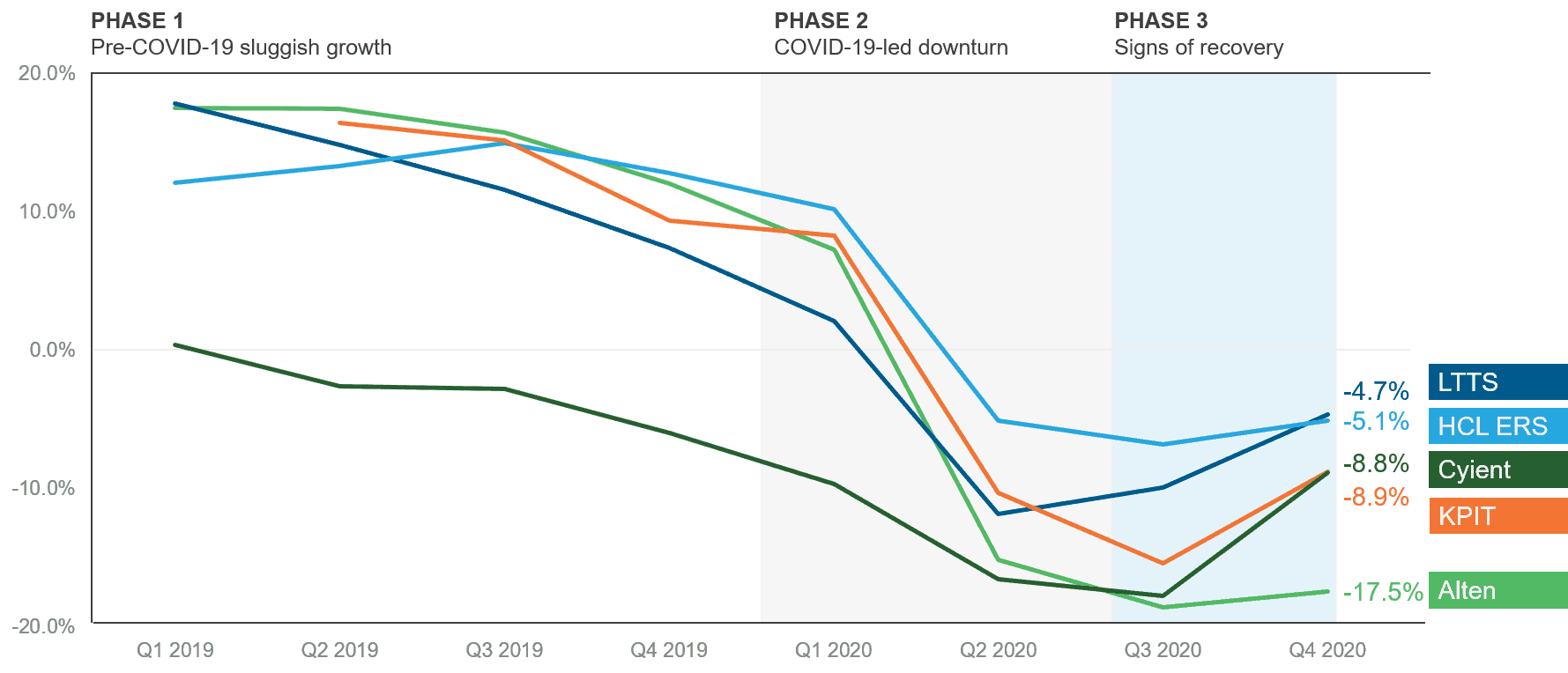 There are several reasons for this improved performance.
Broader macroeconomic recovery – The rollout of vaccines towards the end of 2020 increased hopes of a return to some semblance of normalcy, leading economic bodies to project a strong recovery to the global economy in 2021. Enterprises across most verticals have started reinvesting in R&D projects, and service providers have acted quickly to capture some share of this growing market.
Digital product engineering – Enterprises in verticals such as healthcare, communications, media and entertainment, and even automotive have increased spending on cloudified, connected, and personalized products. Due to their expertise in software and digital themes, engineering service providers have benefited. Moreover, the data-driven nature of these products brings about a continuous revenue source for these vendors.
Industry 4.0 – Early adopters of Industry 4.0 were able to recover and restart operations faster after the lockdowns as a result of their investments in robotics, augmented reality systems, digital twins, and so on. The success and resilience of these early adopters encouraged other enterprises to also invest in Industry 4.0 themes as a means to reduce costs and improve efficiencies in the long run. Thus, multiple service providers were able to win Industry 4.0 deals in Q4 as enterprises looked beyond mere proofs-of-concept and towards large-scale implementation and rollouts of those initiatives.
Cost-takeout initiatives at enterprises – The pandemic forced enterprises to adopt aggressive cost-cutting initiatives within their engineering organizations. While this resulted in the temporary cancellation of R&D projects and budgetary cutbacks, the enterprises also began examining some of the work being carried out at offshore captive centers more closely. This benefited service providers, who were proactive in making a pitch to take over these captive centers. The recent Infosys-Rolls Royce deal in which Infosys is taking over Rolls Royce's aerospace engineering facility in Bangalore, India, is one such example. Enterprises have also taken the vendor consolidation route to cost cutting, concentrating their engineering spend among fewer vendors, resulting in larger deal sizes for the remaining players.
What does the future hold?
The robust recovery across the board in engineering services encourages us to believe that this momentum will be carried forward in 2021. In addition, enterprises have now begun to look at service providers as long-term, strategic partners. This has resulted in several large, multi-year deals being signed in the engineering services market towards the latter part of 2020. The effects of these factors noted above, particularly vaccine rollouts, cost-takeout initiatives, and large deals, will truly be felt only in 2021, leading us to conclude that the worst is behind us and that the engineering services market is poised to register better than expected growth this year.
To learn more, please reach out to us at [email protected] and [email protected].