Before COVID-19, most organizations were reluctant to adopt Work From Home (WFH), viewing it as a hard-to-govern delivery model relevant only for limited functions and employees. However, the pandemic has made WFH a requirement, at least for the short term, for most enterprises. Despite the massive disruption, we believe most organizations will make WFH a business-as-usual component of their "next normal." But that means they'll have to take a long, hard strategic look at the locations they use for services delivery, whether they operate in a shared services environment or leverage a third-party provider.
COVID-19 has challenged conventional thinking about location selection parameters
Historically, most location portfolio decisions were based on an evaluation of traditional factors including the talent landscape, market attractiveness and competitiveness, cost of business operations, and the business and operating environment. Now organizations need to factor in and evaluate a location's business case for WFH adoption, including the interplay of additional drivers like infrastructure, restrictions for remote delivery, presence of strong governance mechanisms, employee security, data protection, intellectual property safety, and determination of additional benefits that can be tapped into.
We've developed a framework that assesses 20 additional factors that we have categorized into three buckets: viability, security, and potential benefits.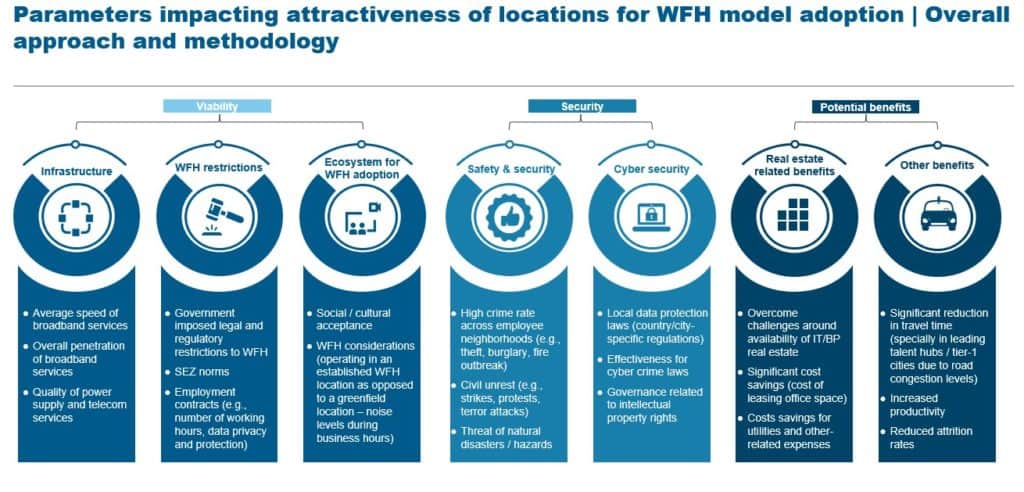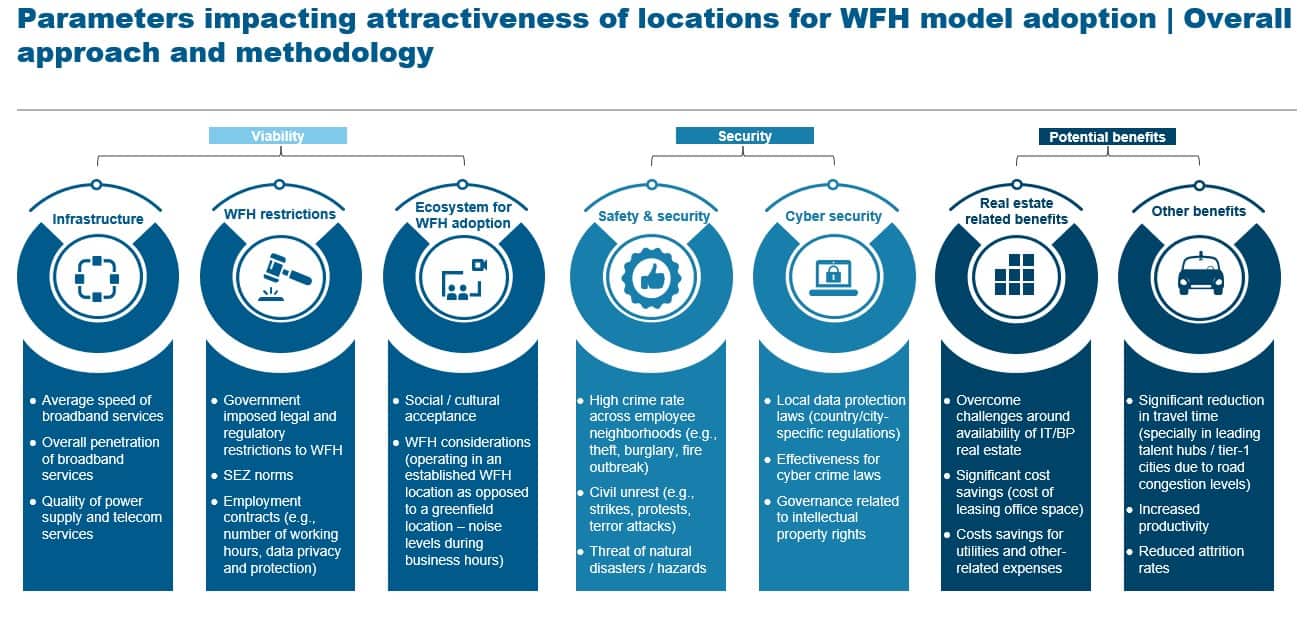 Each of these parameters plays a crucial role in an organization's selection of services delivery locations for a WFH environment.
Understanding a given location's WFH viability will not only help enterprises carve out their next wave of growth, but also help them tap into the additional benefits offered by the location.
Here's a look at each of the three overarching buckets.
Understanding overall viability
This category is all about evaluating a location's business ecosystem through a new WFH lens. It involves:
Having a detailed view of the overall WFH infrastructure, like broadband speed and penetration, power/telecom outages, network readiness, and reliability
Understanding nuances for local WFH restrictions as imposed by the law, such as regulatory concerns, data privacy issues, SEZ norms, and number of working hours
Assessing the overall ecosystem for WFH adoption, e.g., social/cultural acceptance and working from an established location as opposed to a greenfield location.
We believe all organizations should assess each location on these factors as they will play an essential role in WFH success.
Fighting security concerns
Another critical factor enterprises need to evaluate in each location they're considering is the overall security of their employees and their data. Here, organizations need to look at the robustness and effectiveness of local data protection and cybercrime laws across each location. Understanding local governance mechanisms and laws will help bolster viability for each location and help organizations map suitability for each function. Further, as their employees will be working from home, organizations will also need to understand the nuances around crime rates across employee neighborhoods, civil unrest, and natural hazards, as these can potentially increase the business cost for crime and violence, and also disrupt operations.
Reaping potential benefits
Adopting a WFH model will not only help organizations drive the next wave of cost optimization (significant savings over leasing real estate infrastructure and utility expenses) but also will help them overcome challenges related to availability of real estate across leading talent hubs in tier-1 locations.
WFH adoption will further help organizations establish additional satellite locations, or tertiary sites, in which talent works remotely, either permanently or part-time, with or without a corporate physical presence in the location. This will not only help reduce travel time, but also help improve employee productivity and reduce overall attrition for organizations. Based on a recent survey we conducted with leading enterprises, more than three-quarters of the respondents said their organization's overall productivity has increased in the current COVID-19 period. The average improvement in productivity was just over 13 percent, as compared to before the pandemic period.
The WFH business case is a win-win proposition for most organizations as they adapt to the "next normal." While there are multiple factors that potentially sweeten the business case for WFH adoption, taking a detailed view by each location will be an imperative as organizations progress and evolve on this journey. An iterative and continuous thinking approach will further help organizations overcome some key challenges including employee and organization development, legal, and regulatory concerns. Watch this space for more updates.
For additional details on this topic, reach out to us at [email protected], [email protected] and [email protected].