A sustained low-interest rate environment is compelling banks to diversify their revenue mix and reduce their dependency on interest-based products. In this scenario, banks' scaled adoption of open banking – or offering data and services to third parties and customers via Application Programming Interfaces (APIs) – provides them with a unique opportunity to expedite the development of innovative products and services in collaboration with other financial institutions.
The open banking concept emerged in 2015 through a regulatory push for consumer autonomy and transparency, with banks in the UK and other European countries mandated to comply with the standards set by the Competition & Markets Authority (CMA) and the European Commission, respectively. However, as our second Open Banking PEAK Matrix® Assessment 2020 (which analyzed 110+ production-grade open banking use cases) reveals, open banking has fast evolved from a compliance-mandated initiative to a growth strategy focused on experience and product differentiation.
In our first open banking assessment carried out in 2018, we found that more than 40% of banks viewed open banking largely as a compliance mandate. In 2019, however, their priorities seemed to have shifted, with more than 35% of banks focused on driving business value and growing revenues from their open banking initiatives. The use cases have also evolved in line with this shift – from payment processing to complex processes such as cash management, financial wellness, credit scoring, and insurance.
The exhibit below highlights the key differences between a compliance-led open banking initiative and one driven by competitive differentiation.
The next step in the open banking journey – moving from compliance to competitive differentiation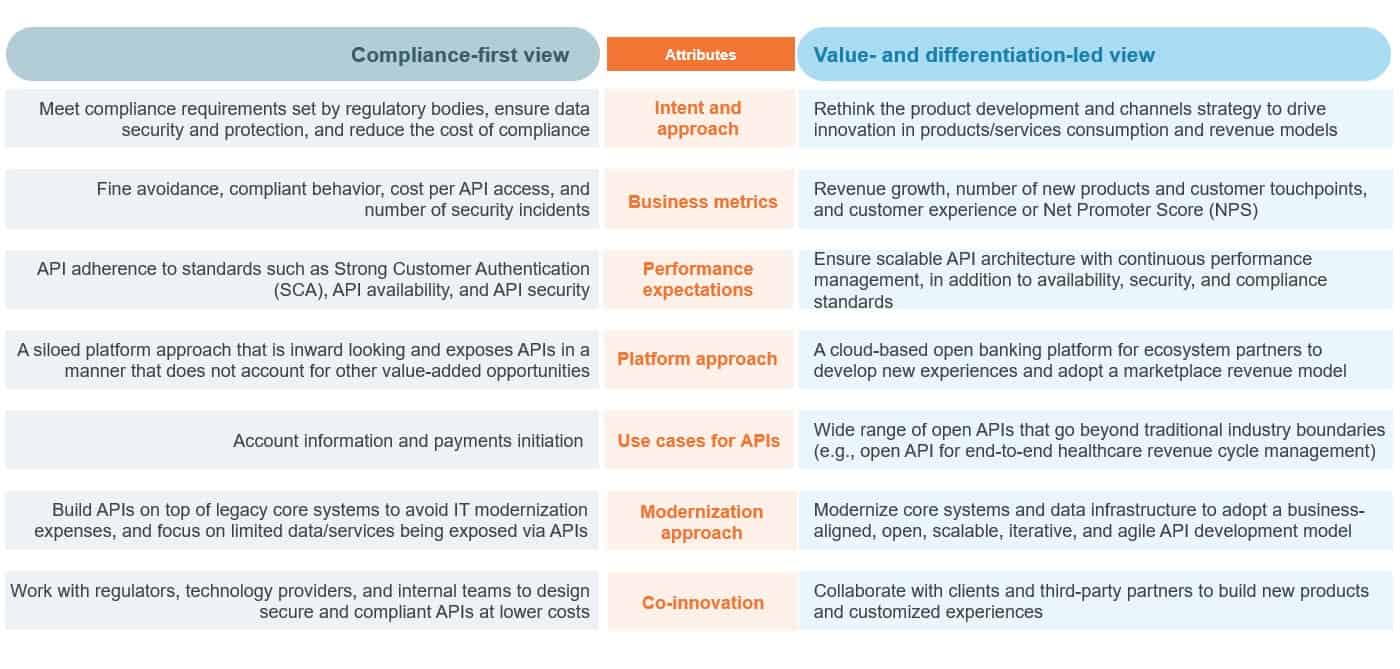 Currently, several leading banks are creating differentiated experiences using open banking to build the next-generation banking model. For instance, Bank of America is building a financial services-compliant cloud that will allow the bank and its partners to host all their services and data on the cloud platform, which will enable Bank of America's customers and third parties to build applications that leverage these services and data to create differentiated experiences and manage end-to-end business operations. Another notable example is DBS, which has established travel, car, and property marketplaces by building robust ecosystems in collaboration with external partners. For example, the company's payments-enabled travel marketplace brings flight booking, accommodation, and travel insurance partners onto the same platform, ensuring minimal customer churn from its banking platform. As the marketplace offers new customers as well as a payment processing functionality to its partners, DBS can earn commission revenue from these partners.
As banks move to a business value-driven approach to open banking, they need to identify the avenues to monetize their open banking investments and unlock a new model to create and deliver differentiated experiences to their customers.  A cloud-enabled platform can greatly assist in this regard, as it provides seamless access to banking APIs and services from a broad range of partners to build and deploy new products in a marketplace model.
Open banking IT service providers can help banks build the capabilities they desire. To do so, they are investing in business advisory assets to help financial services firms plug the gaps in their business change management initiatives. They are also investing in FinTech partnerships, talent and solutions across the API management life cycle, data and analytics, use case libraries, and virtual sandboxes to maximize the value from open banking.
Leading IT service providers, such as Accenture, HCL Technologies, NTT Data, TCS, and Wipro, have created open banking Centers of Excellence (CoEs) to drive a coordinated effort to help BFS firms eliminate any gaps in communication and realize the objectives of product development and open banking technology. They are also investing in cloud offerings to facilitate their BFS clients' cloud transformation journeys.
If you'd like to more about open banking and its evolution, please read our recently published report Open Banking IT Services PEAK Matrix® Assessment 2020: Moving Beyond Compliance to a Platform-based Operating Model of Ecosystem Orchestration and Value Creation – Services. We'd also love to hear about how you are advancing on your open banking journey. Do share your views with us at [email protected] and [email protected].