GBS organizations have traditionally been reluctant to adopt work from home
Before COVID-19, most Global Business Services (GBS) organizations have been reluctant to adopt a Work From Home (WFH) delivery model, viewing it as hard to govern and only relevant for a few work types and employees. As a result, organizations primarily used WFH for Business Continuity Planning (BCP) purposes – and with less than 5% of organizations deploying WFH at any scale (i.e., 20-50% of the workforce working from home), there was limited/no focus on building an enabling ecosystem to support remote working.
COVID-19 has redefined the art of the possible
COVID-19 led to widescale (and forced) adoption of WFH in GBS organizations across verticals and geographies, as organizations were compelled to scale up WFH quickly to ensure operational continuity and prevent large-scale absenteeism. After initial challenges to ensure home infrastructures were optimal, robust, safe, and compliant with service delivery standards/regulations, most GBS organizations found that productivity did not suffer. In fact, several organizations have reported productivity gains, though the volume of these gains remains debatable. As of May 2020, more than 90% of GBS organizations were delivering services in a WFH model. COVID-19 has redefined what's possible, truly changing global leaders' view of WFH, as Exhibit 1 shows.
Exhibit 1: Blueprint for scaled WFH adoption in GBS – the next normal

When we find ourselves on the other side of this pandemic, there will be a growing appetite for more WFH adoption, with many organizations considering it a permanent model. Leading organizations, including Facebook, Google, Microsoft, TCS, and HCL, have already announced plans to adopt WFH. We expect WFH to emerge as an imperative for GBS organizations, with more than 30-40% of GBS organizations adopting scaled WFH even after lockdown restrictions are lifted.
WFH – a strategic lever for GBS to evolve delivery and operating models
Even when there is no pandemic or other external threat forcing organizations to engage a WFH model, there is a strong business case to scale it. Our assessment shows that WFH can help drive significant GBS operating cost savings (anywhere from 5-15%), improve the talent model, lower risk in the location portfolio, strengthen the GBS value proposition, and provide societal and environmental benefits, as highlighted in Exhibit 2.
Exhibit 2: Business case for WFH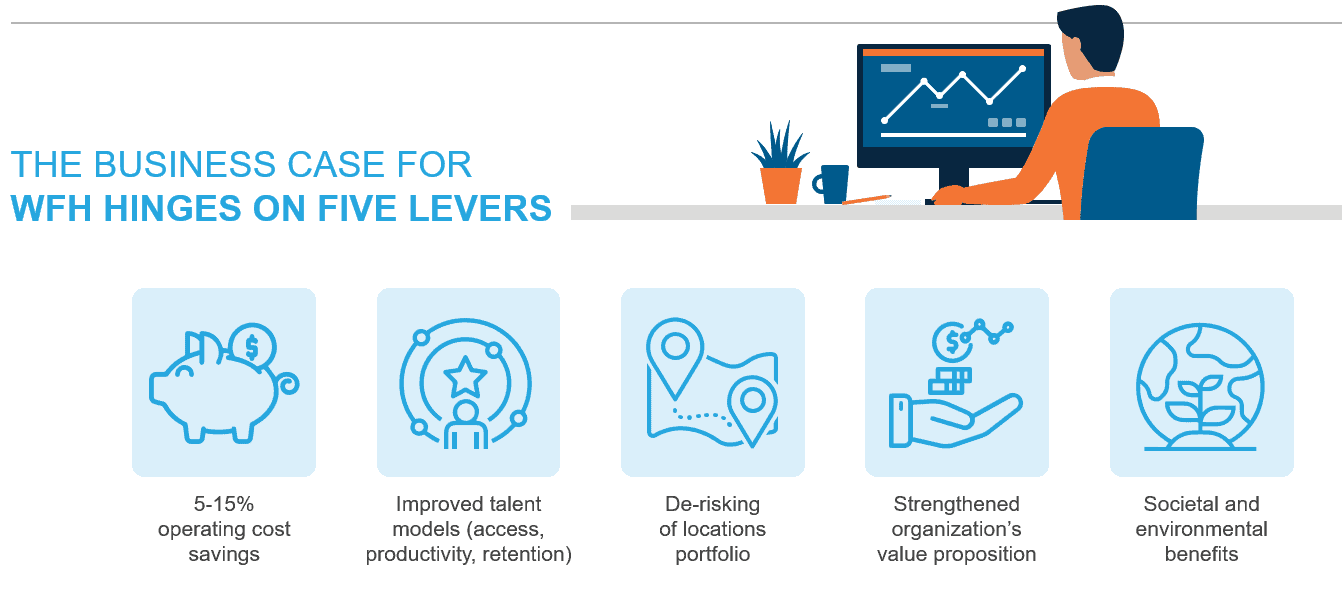 Adopting a WFH model can drive the next wave of cost optimization for GBS. WFH can directly impact and reduce costs related to real estate infrastructure, transportation, and consumption. WFH can also reduce people-related costs by lowering attrition and increasing employee productivity. To support these gains, GBS organizations would have to invest in technology-related infrastructure such as equipment, tools, platforms, and technologies. Detailed Everest Group analysis indicates that GBS organizations can save up to 15% of their annual operating cost with 50% of the workforce working from home. They can further increase savings potential by:
Increasing process standardization;
Reducing permanent real estate;
Increasing cloud adoption;
Creating remote sites in low-cost locations;
Employing automation; and,
Using digital collaboration tools.
WFH can help GBS organizations improve talent acquisition and engagement. For the current workforce, WFH can improve GBS employee retention, improve employee productivity due to reduced stress (such as eliminating the commute) and office-based distractions, and help strengthen branding as a socially conscious organization. For the future workforce, WFH allows the GBS organization to improve the speed and effectiveness of talent acquisition, accessing talent far from its physical site locations, as well as by leveraging the gig economy.
Beyond these benefits, WFH reduces GBS concentration risk without necessitating a change in locations portfolio. Some GBS model features, such as greater control and governance, better protection of IP and domain knowledge, and ease in driving long-term transformation, may be better suited to the WFH model. Thus, GBS organizations can leverage adoption WFH to further strengthen their value proposition to their parent enterprises.
Such a strong business case seems to indicate that WFH is a win-win-win for enterprises, GBS organizations, and the workforce. As a result, it seems inevitable that WFH will become an integral part of the services delivery model.
However, before scaling WFH, organizations must understand the interplay of various decision drivers to determine overall potential to scale it. WFH adoption does not come without challenges, such as its implications for employee development and expectations, social capital, leadership development programs, the role of front-line managers, and work-life balance. Further, there are several regulatory aspects – such as data security, labor and employment laws, SEZ norms, and current limitations of the Shops and Establishment Act or telecom departments – that may hinder scaled WFH. Stay tuned – we will cover these aspects in our subsequent blogs.
For more details on this topic, see our "Playbook: Integrating Work From Home in the Global Business Services (GBS) Delivery Model." Or reach out to us with your perspectives and experiences, write to us at [email protected] and [email protected].