On 19 May, Wipro signed a US$400 million+, multi-year strategic alliance deal with Japan's largest pharmaceutical firm, Takeda Pharmaceutical. Wipro will provide infrastructure management services across Takeda's global operations, thereby creating a unified platform across the company. Less than a week earlier, HCL announced a landmark infrastructure deal with pharmaceutical major Novartis. Per the terms of the deal, HCL will provide remote infrastructure management services for Novartis across its entire data center landscape, covering more than 70 countries across six continents.
The Life Sciences Infrastructure Bandwagon 
These deals are indicative of a sharp inflection point for IT infrastructure services in the life sciences industry. Until now, service providers have been largely focused on delivering application outsourcing services such as ADM, testing, ERP, and package implementation. Demand for infrastructure services was largely linear and predictable. However, the winds of change sweeping the overall healthcare landscape have brought about strong momentum to infrastructure uptake.
These winds include regulatory reform, consumerization, market consolidation, and the emergence of next-generation digital avenues. The volume, variety, and velocity of incoming data are fundamentally impacting how life sciences organizations view their infrastructure needs. Exponential growth in data, coupled with evolving engagement and drug development models, has resulted in a significant need for analytics. Dimensions such as real-time reporting, proliferation of mobile devices, and automation are providing additional impetus.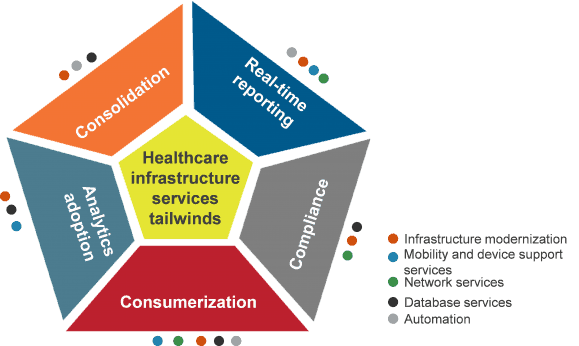 The Opportunity At Hand
Among the various sub-segments of life sciences IT outsourcing, we see infrastructure poised to assume the lion's share of growth in the coming years. While applications and SI/consulting are likely to grow at a healthy rate, the infrastructure opportunity in life sciences could triple in value over 2014-2020. This is likely to be fueled by increasing traction in cloud delivery and storage models, data warehousing efforts, consolidation of information systems, and the move to obtain a unified view of customer data to enable actionable business outcomes.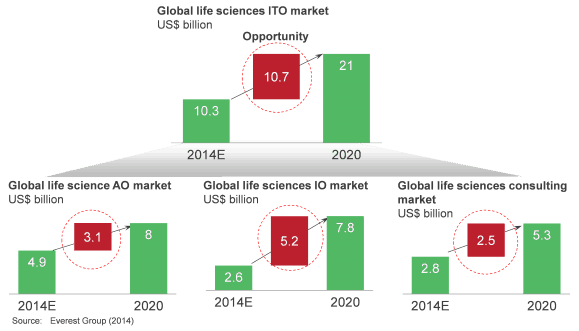 Life sciences has traditionally been a mature IT market. Across medical device manufacturers, pharmaceutical firms, biotech companies, life science firms spend more on IT than typical buyers. Life science companies have innovative R&D efforts at the core of their operating model. Given the rise in personalized medicines, there will be a surge in data storage/processing requirements and, consequently, infrastructure needs. These themes impact life sciences IT infrastructure requirements to give rise to various technology imperatives across the ecosystem.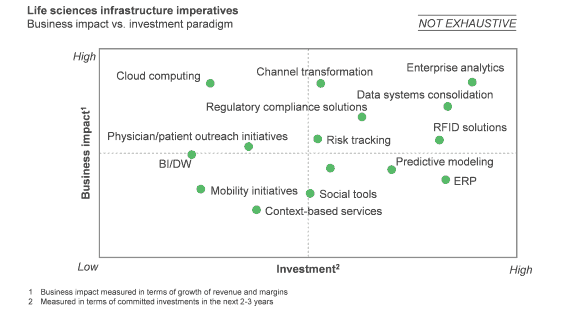 Buyers in the life sciences space need to evaluate their infrastructure services roadmap on a business impact versus investment paradigm. They need to establish meaningful relationships with strategic partners in order to enable the true synergistic benefits of a comprehensive and relevant infrastructure services roadmap.
At the same time, services providers need to expand their infrastructure footprint to partner with enterprises in this transformative journey. They need to adopt a holistic mix of traditional tenets (co-location models, data warehousing, BI, hosting, and network services) along with next-generation services such as multi-tenancy solutions, cloud delivery and storage, and BYOD.
What are you experiencing in infrastructure services? Our readers are eager to hear!