The contact center outsourcing (CCO) industry has been growing at an average rate of 5-6 percent over the last few years. Yet some service providers in the mature, competitive CCO market, where most of the traditional offerings have been commoditized, have managed to expand their businesses organically at a higher pace than the CCO industry average, some to the tune of 10-15 percent. How have some small to mid-sized players with targeted CCO offerings such as HGS or Wipro, and the largest player in the market, Teleperformance, been able to so significantly exceed the average? They've been making right set of differentiating investments.
To set the stage, two key changes in the CCO market explain the reasons these value differentiators make a difference to the growth of the service providers:
Changing consumer mindset – The new tech-savvy consumers seek instant and painless gratification in their interactions, via the channel of their choice. Most providers are ill equipped to manage the expectations of these new-age consumers and are looking for solutions
Changing value proposition – There is growing realization within the buyer community that CCO is not just a cost containment measure, but also a means to drive strategic initiatives impacting business outcomes.
These changes present an opportunity for service providers to have a significant impact on their clients' performance. They also mean a departure from the growth strategy used by providers so far – expanding operations to leverage economies of scale.
The new value differentiators
Through its extensive research, Everest Group has identified five key differentiators that will enable providers to outshine their competitors.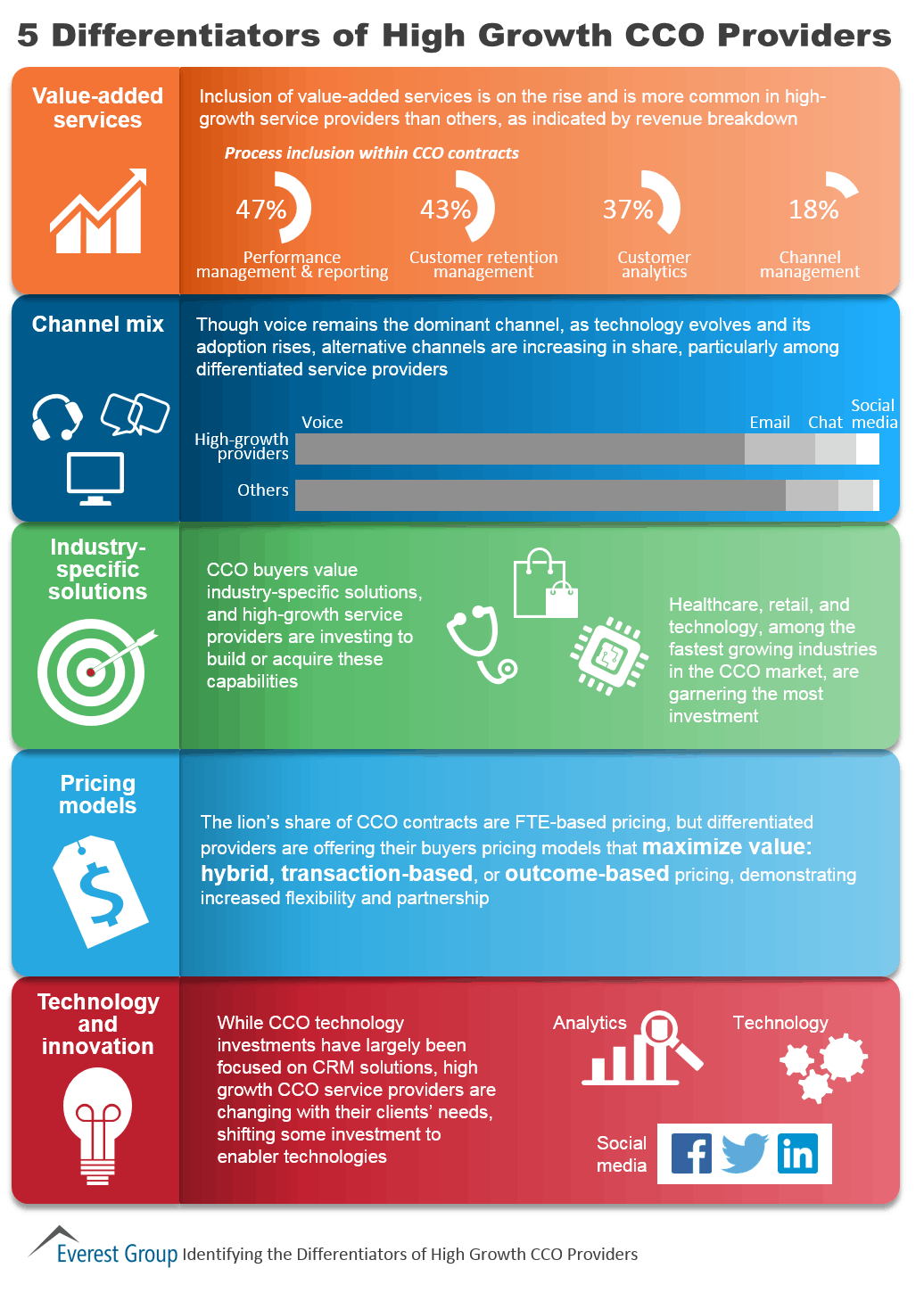 Each of these is focused on providing a best-in-class customer experience to the new-age consumer, which in turn ensures positive impact on the client's business outcomes. For example, high-growth service providers that have made significant investments in higher-margin value-added services – such as performance management and reporting, and customer retention management – have generated 10 percent more revenue than their competitors.

To find out who these high-growth providers are, and how the value differentiators have helped them outpace the market, grab a copy of our recently published report titled "Identifying the Differentiators of High Growth CCO Providers."