TCS has a sophisticated suite of apps and delivery tools. They accept small engagements with the intent to grow those accounts by being reliable and over-delivering. And they're willing to shift away from their comfort zone. But this isn't why TCS is a leader in the services industry.
Why are they so successful? To answer this question, we used Everest Group's framework of six characteristics necessary for success.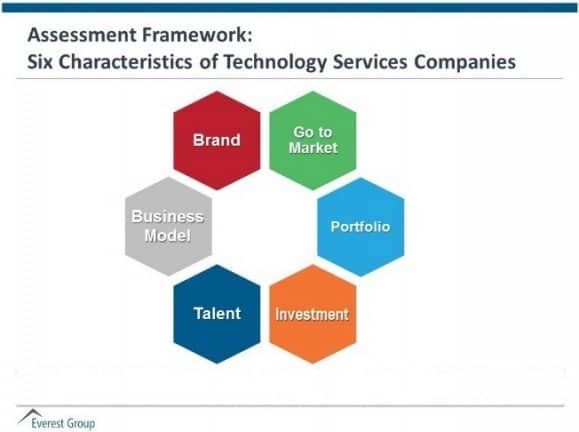 Our assessment is that TCS's success is due to aligning all six aspects in the framework. By doing so, they perfected an industrial global services model in which they are able to take a pragmatic and cost-effective approach to large-scale processes. These processes must have at their core the ability to deploy TCS's local services offshoring model in a highly repetitive or highly predictable consistent-quality manner.
Using this core understanding of who they are, TCS operates in a wide variety of geographies across a wide variety of industries. They apply this core understanding to a bewildering set of disciplines ranging from applications to infrastructure to F&A to customer service. On the surface, these service disciplines look highly unrelated. But when you dig deeper, they all have in common the ability for TCS to apply an industrialized global services model to the benefit of their clients.
This understanding of their essence and their discipline about applying it has allowed TCS to emerge as a true industry services leader.
---
Photo credit: Flickr