The results of Everest Group's recently released research study, IT Outsourcing in Capital Markets – Service Provider Landscape with PEAK Matrix™ Assessment 2013, make it abundantly clear that intensifying competition is putting unprecedented pressure for innovation on IT service providers catering to capital markets. Indeed, this year we saw considerable shake-up among the Leaders, the Major Contenders, and the Emerging Players.
The most notable highlight of this year's PEAK Matrix is the reshuffle in the Leaders category, with Infosys dropping back to the Major Contenders category due to its shrinking capital markets AO revenue and client concerns around leadership talent retention. In fact, the total market share held by the Leaders category was negatively impacted by Infosys' departure. On the other hand, ongoing provider portfolio restructuring by capital markets buyers to address concentration risks and to counter the complacence of incumbents drove growth in market share for Major Contenders.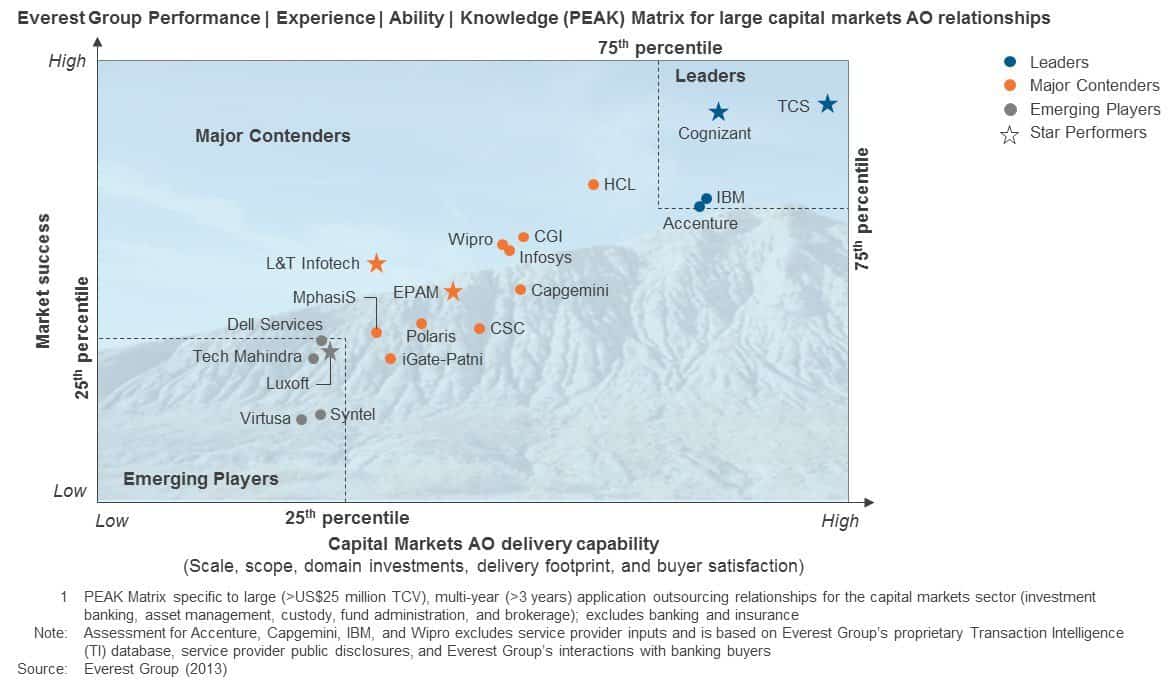 As service providers of all sizes continue investing in next generation themes and honing their transformational value proposition, it is becoming increasingly critical for buyers to look beyond scale alone. This also opens up the opportunity for buyers to diversify their provider portfolio by including mid-sized firms that can play the role of a "challenger," thereby enabling them to manage concentration risks and foster healthy competition among providers.
To cater to the needs, demands, and increasing sophistication of buyers, service providers need to develop customized solution frameworks per buyer requirements, because a one-size-fits-all approach is unlikely to succeed in this evolving AO marketplace.
Following are other highlights from the research:
The Leaders (Accenture, Cognizant, IBM, and TCS) have the largest scale in terms of revenue, FTEs, and number of clients, as well as a wider global footprint, than the other providers. TCS and Cognizant emerged as the "2013 Star Performers" within this group
The Major Contenders reported the highest average revenue growth in 2012, and expanded their market share led both by growth in existing accounts and aggressive acquisition of new clients. EPAM and L&T Infotech strengthened their Major Contender positioning, and emerged as "2013 Star Performers" within the category
The Emerging Players are gaining prominence via their strategic investments in ramping up their capabilities, and per the increasing relevance of the nearshore model. Within this group, Luxoft emerged as the "2013 Star Performer" through increased focus on large deals and a growing client base.
Given the stiff competition among service providers in terms of market share, it will indeed be interesting to see how these service providers will respond to the challengers, and how the new evolving business models will shape the industry.