On May 27, 2016, Tech Mahindra announced it is acquiring U.K.-based Target Group – a financial technology and business process-as-a-service (BPaaS) provider – for US$164 million. The acquisition will significantly expand Tech Mahindra's BFSI (Banking, Financial Services, and Insurance) footprint in the U.K. and Europe, by adding more than 700 employees in the U.K. to its talent pool. Target Group will continue to operate as a stand-alone entity with full operational responsibility.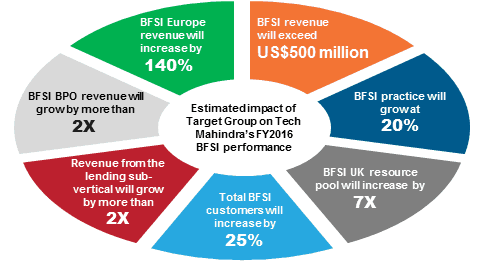 Following is Everest Group's take on how Tech Mahindra's BFSI business will benefit from this acquisition:
1. Revenue growth: One of the key objectives stated by Tech Mahindra's leadership for this acquisition is to drive BFSI revenue growth, which it wants to double by 2020. The Target Group acquisition is expected to increase Tech Mahindra's BFSI revenue by over 20 percent in FY 2016. With over 70 percent of Target Group's revenues coming from BPO and value added professional services, (the balance comes from its software business), this acquisition will more than double Tech Mahindra's BFSI BPO revenues – to more than US$ 500 million – and the added BPaaS capabilities will help Tech Mahindra win larger integrated outsourcing deals.
2. New clients: Tech Mahindra will obtain access to Target Group's 50+ BFSI clients, which include leading financial institutions such as Credit Suisse, Goldman Sachs, and Morgan Stanley, specialist lenders including Shawbrook, and mutual organizations such as Yorkshire Building Society. The client list also includes public sector companies such as DLVA in the U.K. Tech Mahindra can drive more value from existing Target Group clients by cross selling IT services to them.
3. BPaaS capabilities: Target Group is a BPaaS provider to financial services firms, and owns a platform and IP that automates complex and critical processing, servicing, and administration of loans, investments, and insurance. This is a key demand among BFSI clients, and will help Tech Mahindra win new contracts as clients increasingly adopt BPaaS.
4. Talent and professional services capabilities: The acquisition brings domain consultants to Tech Mahindra in areas including lending and insurance. The U.K. lending market is expanding and evolving, with the alternative finance market seeing growth due to financial technology players in areas such as P2P lending, and Target Group has proven capabilities to serve this market. For example, Ratesetter, a leading U.K.-based P2P lending provider, selected Target Group in April 2016 to provide standby servicing.
Everest Group believes this acquisition improves Tech Mahindra's footprint in the European BFSI market, and reduces its dependence on North America. This is a step in the right direction. The augmentation of its BPaaS capabilities with Target Group's platform/IP and BPO capabilities, coupled with its existing BPO and IT services offerings, create a compelling integrated offering for BFSI clients.
However, Tech Mahindra will need to address several challenges to fully benefit from this acquisition:
Aggressive sales pushes to drive synergy in Target Group's accounts may lead to client frustration
Execution difficulties in taking Target Group's proprietary solutions and platforms to other geographies
Ability to retain key Target Group domain experts
Offshoring work to its delivery centers in low cost locations to drive synergies from the acquisition
What's your reaction to this acquisition?