The biggest benefit of Decentralized Clinical Trials (DCT) is the opportunity to enhance the patient experience, but the process is rife with challenges that create disengagement. The problem is not that patients are unengaged, but rather the vendor products are not always very engaging. The solution lies in undertaking a patient-first approach. Discover the tenets of a patient-first design approach in this second blog in our continuing coverage of this timely topic.
The pandemic has propelled decentralized clinical trials (DCT) into the mainstream, and multiple enterprises have transitioned into the virtual model for conducting clinical trials. Both enterprises and DCT vendors have stated that improved patient experience is the biggest benefit of the decentralized model. What do enterprises mean when they talk about patient experience? Read our blog, How Decentralized Clinical Trials Put the Patient Experience at the Forefront, to find out.
To deliver a superior patient experience and derive maximum benefit from this model of conducting trials, enterprises and vendors must be aware of the patient-facing challenges that might pose major hindrances. A closer look at the top challenges will help businesses develop effective measures to improve patient engagement and retention.
Major patient-facing challenges
The entire remote model has reduced in-person interactions. Insufficient communication from sites and sponsors often leads to disengagement among patients. The human touch, an important psychological aspect in healthcare, goes missing in this model. Added to this is the burden of learning about new products and technologies.
Patients have very limited digital literacy and may find it extremely difficult to operate a new sensor, a smartphone, or an application. Vendors are struggling to develop  robust training and support programs while enterprise buyers are more concerned about patient education capabilities and post-implementation support in their sourcing criteria.
All these factors create a general sense of discomfort and disengagement among patients, thereby defeating the principal benefit that vendors and enterprises expect from a DCT solution.
How can vendors overcome patient-facing challenges?
Designing a patient-centric solution is the best way to address these challenges. Having a deeper understanding of patients' journeys and their pain points, while involving them in solution design will lead to greater compliance and engagement. The following exhibit highlights the various tenets of a patient-first solution.
Exhibit 1: Tenets of a patient-first design approach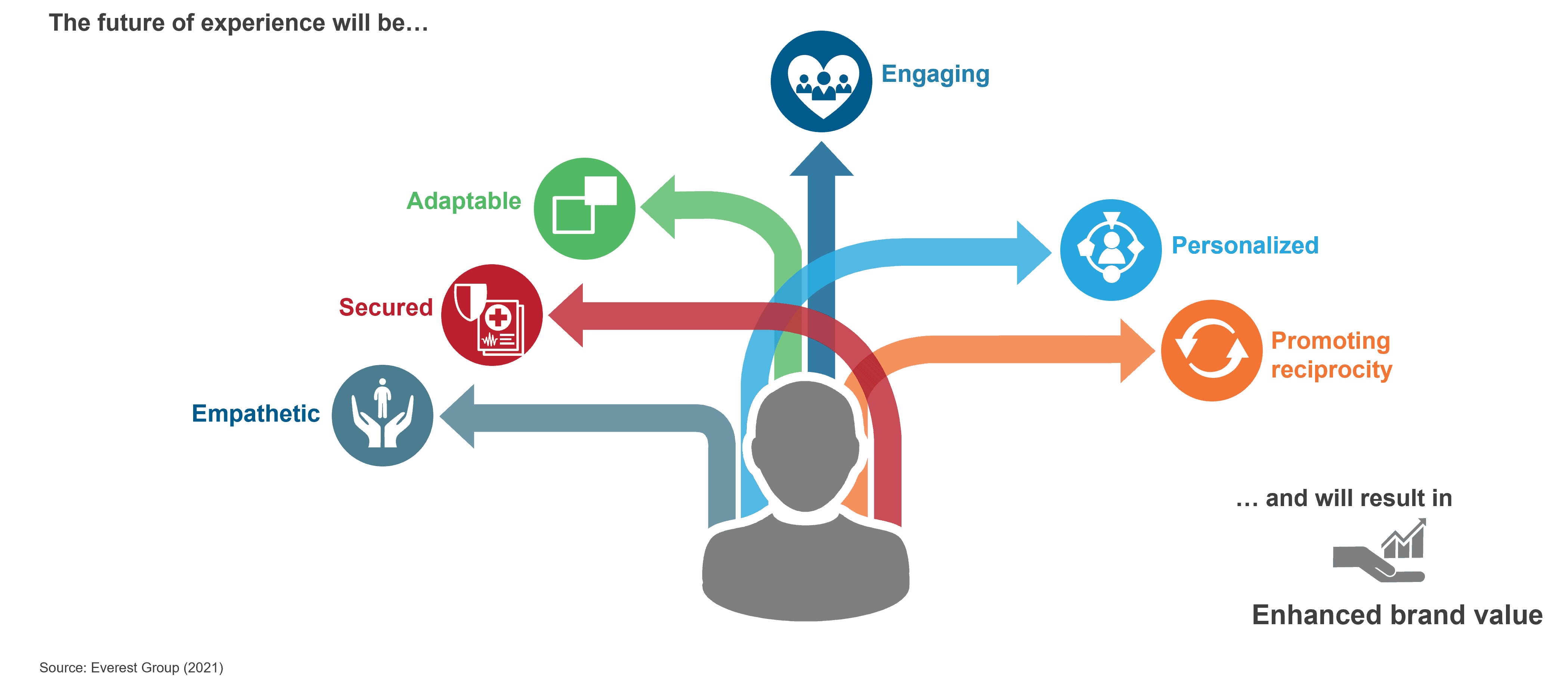 Six aspects of a patient-first design approach
Empathetic: DCT solutions should portray a deep understanding of the needs, well-being, and interests of patients, fostering trust and emotional connection. Vendors need to map the entire trial journey and look at it more holistically rather than logistically. Incorporating patient feedback into designing solutions will reduce a lot of stress and burden on patients
Secured: Concerns with data security, compliance, and privacy have increased with the rise in DCT adoption. Patients fear the consequences of device and network hacking, data leaks, and unauthorized access to data. DCT vendors must incorporate stringent security and compliance measures, secure the networks, and prevent all types of unauthorized access. With precise security measures in place, patients will feel safer with their data and will be more willing to share data for clinical research
Adaptable: DCT solutions must be able to incorporate the changing patient context, needs, and preferences to build fluid experiences. The same solutions should be adaptable and scalable as per the study requirement, ensuring a consistent patient experience and providing long-term sustainability
Engaging: Delivering engaging content is the best way to keep patients motivated in this digital world. Interactive educational materials, timely communication of trial progress (lay summaries), and patient reports go a long way in increasing patient engagement and retention. Patients can be motivated by increasing their trial literacy, setting up patient advocacy boards, and rewarding them for their contributions to the trial
Personalized: A one-size-fits-all solution will not work as patient experience varies at each stage and with each individual. Individualized care and personalized solutions help in building trust, loyalty, and retention rates among patients. Giving patients the liberty to choose their treatment plans (wherever possible), creating patient-specific digital ads, and supporting patients via artificial intelligence (AI) assistants are some of the ways to incorporate personalization into clinical trials
Reciprocity: Patients, vendors, and enterprises should be encouraged to communicate and share relevant experiences. Beyond trial periods, vendors and enterprises can engage patients with information on lifestyle, new developments on drugs or medical devices, upcoming trials, diet plans, etc. This type of communication will increase the willingness among patients to share personal data with AI systems as well as the scope with vendors, leading to more customized solutions that promote relevant and progressive experiences
Patients do not want to be treated as mere statistics. They want the touch of empathy and personalization, pushing DCT vendors to think more 'humanly' and add 'emotional' content while designing DCT solutions.
When all the above elements are incorporated in building DCT solutions, it will not only increase participation and adherence but also improve the brand value and bottom line for DCT vendors.
Over and above the empathy-backed approach toward creating a patient-centric solution, DCT vendors and enterprise buyers can look further at certain initiatives aimed at improving patient experience.
A sheer lack of awareness among patients regarding ongoing or planned trials exists. Enterprise buyers and vendors should spread information about upcoming clinical trials and steps to participate in them while promoting the ease of using digital technologies (via social media, newsroom, public releases, etc.). Home-care nurses or physicians still must make monthly calls or visits to motivate patients and add some scope for face-to-face interactions between patients and healthcare professionals.
Though the pivot or the integral enabler for DCT solutions is technology and connected systems, the focus should be on improving the patient experience and building the future towards a patient-intuitive smart DCT solution suite.
What are your views on how businesses can improve the patient experience? Reach out to [email protected] and [email protected] to discuss further.