Virtual clinical trials – wherein trial data is collected through sensors or remote monitoring devices carried by the patient – can deliver many benefits to pharmaceutical companies, including cost savings, better patient recruitment and retention, and improved data quality.
In 2011, Pfizer conducted the first-ever randomized clinical study that managed participants using mobile phones and the internet. Over the next few years, the virtual approach waned because of limited success stories and the considerable upfront capital investment required for sensors and platforms.
However, with recent technological advances, the proliferation of wearables (smartwatch shipments have doubled in the past several years), and the FDA's urging clinical trial sponsors to keep their research ongoing via telemedicine in the wake of the COVID-19 situation, the clinical trial landscape is ripe for disruption by virtual trials.
Indeed, as a bellwether of growing viability, the first virtual trial conference was conducted in December 2019. During the two-day event, the key discussion points were understanding the decentralized model, regulatory challenges for virtual trials, and ensuring compliance for such trials.
Enter technology companies and Big Tech
To build momentum and drive synergies, pharma companies have started to partner with technology companies to test the virtual trials model. For example, in 2018, Novartis, Sanofi, and UCB individually partnered with Science37, a tech company focused on patient-centric models for clinical research, on patient-friendly clinical trials at home. Boehringer Ingelheim followed suit in 2019.
Numerous startups that address some aspect of virtual trial requirements have emerged. For example, VirTrial, a telehealth platform that allows pharmaceutical companies and Contract Research Organizations (CROs) to create patient-centric trials by replacing some in-person visits with virtual visits, was founded in 2018. Since then, it has ramped up its capabilities and expanded internationally across 31 countries. Also in 2018, IQVIA, a leading CRO, enhanced its portfolio by launching virtual research solutions aimed at patient-centric trial design and execution. And today, numerous companies, including Clinpal, Covance, Medidata, ObvioHealth, PRA Life Sciences, and Transparency Life Sciences, boast their own virtual trial platforms.
Not wanting to be left out of this highly lucrative market, the Big Tech players are also exploring additional opportunities. For example, Apple, Best Buy, and J&J recently collaborated to launch a virtual study to gauge whether the Apple Watch could help reduce a person's risk of stroke. Apple has also been involved in this space through its ResearchKit, an opensource software tool for medical researchers, doctors, and scientists to collect data on people suffering from diseases. Similarly, Verily, a Google sister company, has teamed up with pharma majors to modernize clinical trials and improve patient engagement and recruitment, and aggregate data from wearable devices.
Technological advances
Of course, much of virtual clinical trials' success lies in the strength, viability, and rigor of the technologies that support them. The picture below shows the technologic interventions that enable the virtualization of a clinical trial.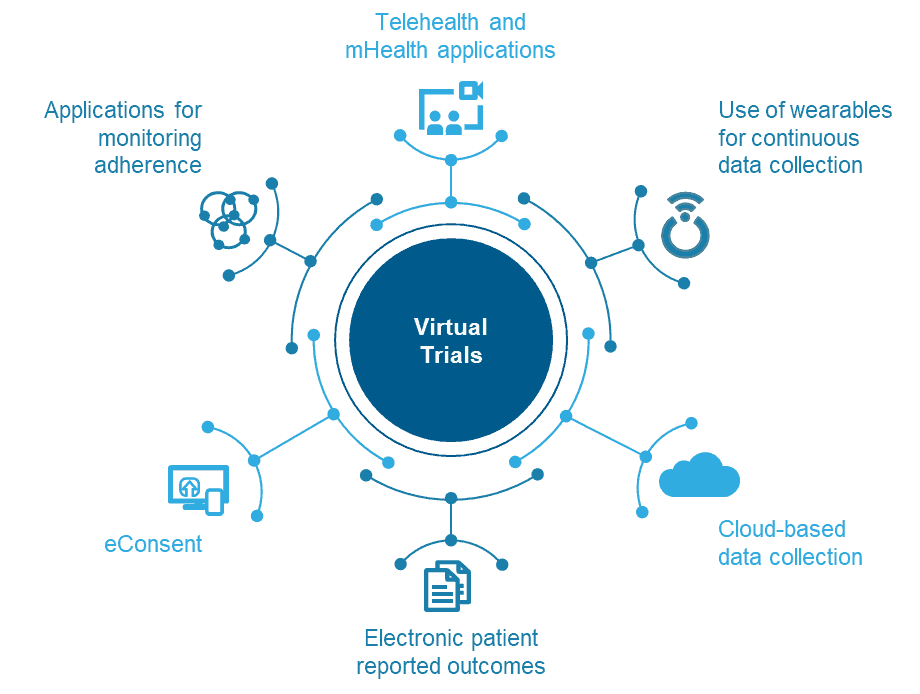 And fortunately, the above technological interventions speed up patient recruitment, improve patient adherence and monitoring, and eliminate data siloes by having a single source of truth in the cloud – ultimately enabling a smooth and virtual experience during a trial.
The road ahead
Delivery model and technological advances and co-innovation among stakeholder organizations have set the stage for trials to transition from traditional to virtual. Technology players are more capable, risk-tolerant, and knowledgeable than before, leading to increased trust and synergies with pharma companies. While pharma companies are resorting to the motto of "fail fast, win cheap," virtual trials hold great promise to revolutionize the trial landscape. And what better time than now, when the field is ready, and the fruit is ripe?