Vendor Management System (VMS) Products PEAK Matrix® Assessment
The Vendor Management System (VMS) market is growing steadily as organizations adopt VMS to efficiently manage and optimize their contingent workforce. Organizations across industries and geographies, including untapped segments such as mid-market, are relying on contingent workers to meet business demands. Consequently, enterprises now expect VMSs to serve their end-to-end Contingent Workforce Management (CWM) needs.
In response, providers are enhancing VMS capabilities to support all contingent categories and meet diverse client requirements. They are developing additional capabilities for compliance management, invoicing and payments, reporting and analytics, talent pool creation, and provider and candidate sourcing. Additionally, they are enhancing their VMS solutions' User Interface (UI) / User Experience (UX), strengthening integration capabilities, and offering mobile-enabled solutions.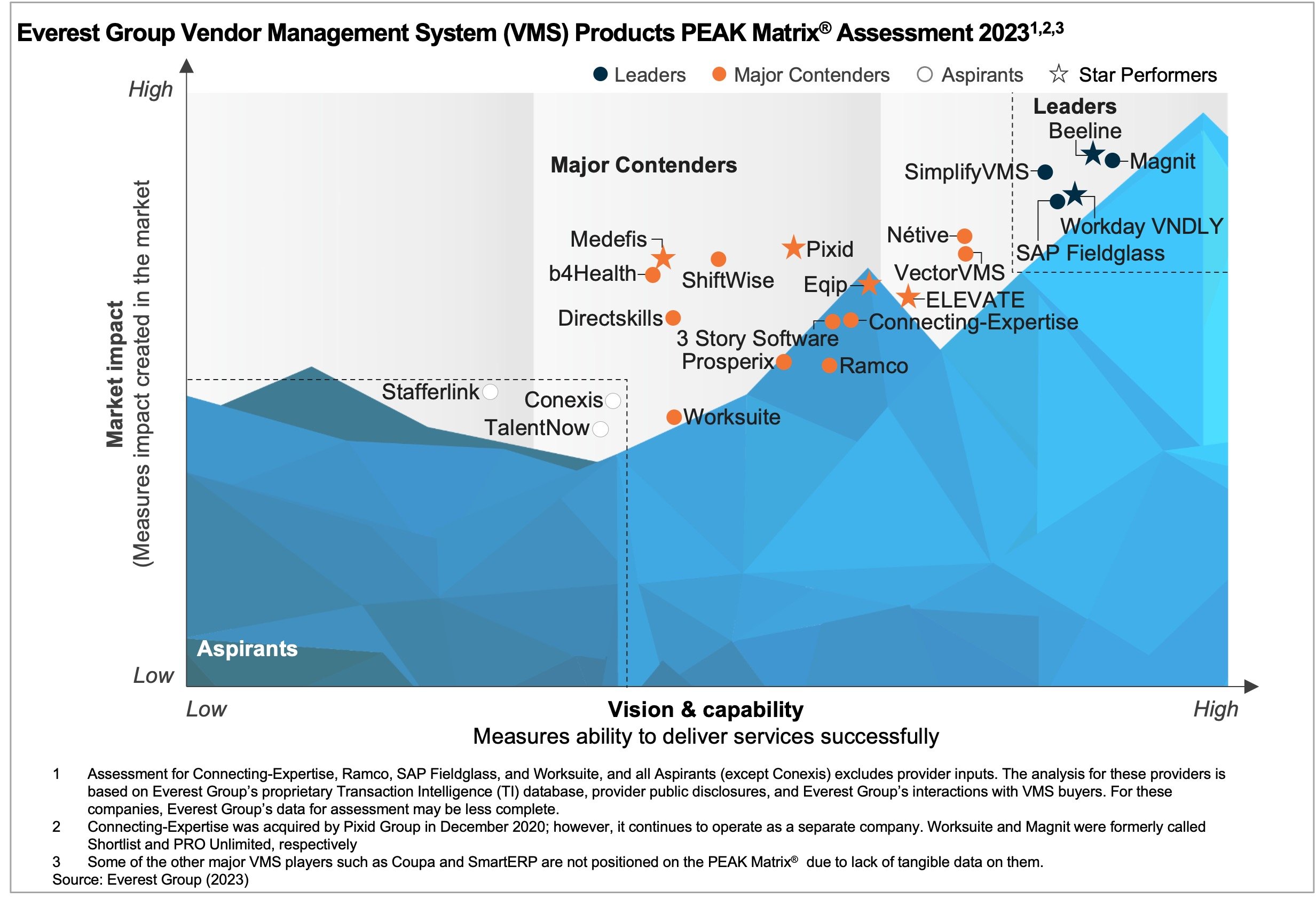 What is in this PEAK Matrix® Report
This report leverages Everest Group's proprietary PEAK Matrix® framework to evaluate 22 VMS providers' capabilities across two key dimensions – market impact and vision and capability. The research will help buyers select the right-fit provider for their needs, while providers will be able to benchmark themselves against the competition.
In this PEAK Matrix® report, we:
Categorize 22 VMS providers as Leaders, Major Contenders, and Aspirants
Examine VMS market's competitive landscape
Study providers' key strengths and limitations
Scope:
All industries and geographies
DOWNLOAD THE VENDOR MANAGEMENT SYSTEM (VMS) PRODUCTS PEAK MATRIX® ASSESSMENT 2023
Related PEAK Matrix® Assessments
What is the PEAK Matrix®?
The PEAK Matrix® provides an objective, data-driven assessment of service and technology providers based on their overall capability and market impact across different global services markets, classifying them into three categories: Leaders, Major Contenders, and Aspirants.