Price competition used to define the competitive dynamics of the P&C insurance industry. However, as margins started squeezing with low interest rates and rising claims costs, it became imperative for insurers to focus on product differentiation in order to attract new customers and drive premium growth.
This is when usage-based insurance (UBI), an insurance product model where the premium varies according to the risk of claims that the insured's policy-related behavior poses, started gaining traction. UBI is noteworthy as it offers a remarkable opportunity for insurers to deliver hyper-personalization and evolve from a product-centric to a customer-centric business mindset.
To date, the auto insurance segment has been the most aggressive adopter of the UBI model, which is enabled by the underlying telematics infrastructure. Telematics technology enables insurers to capture each customer's driving data, which is then used to continually update the customer's risk profile and compute the payable premium. Data collection devices have evolved from black-box to OBD-II dongles to in-built telematics units in automobiles and smartphones.
UBI's Business Case is Strong; however, Sourcing Gets Complicated for Insurers
We expect the market for UBI to grow substantially at a CAGR of ~40 percent during 2018-2020, with an estimated 35-40 million UBI policies in force by the end of 2020. This is certainly impressive growth.
However, to launch UBI products, insurers must make substantial investments in connected devices and data infrastructure. Moreover, not all insurers have the scale, risk-appetite, investable capital, or technology expertise to make significant inroads into UBI. Thus, insurers are leveraging third-party vendors to support their telematics journey.
Yet, the vendor ecosystem is fragmented, making it challenging for insurers to determine what organization to partner with.
Here's the breakdown of the three major categories of telematics vendors:
Telematics Service Providers (TSPs)
These have the capability to manage the entire value-chain, from telematics device sourcing to device deployment and maintenance to end-customer engagement to telematics data management. However, as a single TSP might not be able to provide access to all the underlying connected devices, insurers must pre-strategize their requirements for data depth and breadth. There have been cases where insurers have entered into partnerships with multiple vendors with varying competency to leverage connected devices and technology maturity.
Data exchanges
The core value proposition of this class of vendors lies in their access to huge volume of data and their data handling capabilities, which reduces the burden of data management at the insurer's end. Players that have entered this market also have developed a modest understanding of the insurance sector, which enables them to provide risk assessment support to insurers. However, while data exchanges typically can augment insurers' telematics journey, they cannot provide end-to-end support.
OEMs
OEMs have emerged as significant competitors to the other classes of vendors due to their direct control of the point-of-sale. As the telematics unit is prebuilt into the automobile, insurers do not have to worry about the entire infrastructure management of telematics devices. However, partnering with an OEM could also mean loss of revenue from value-added services.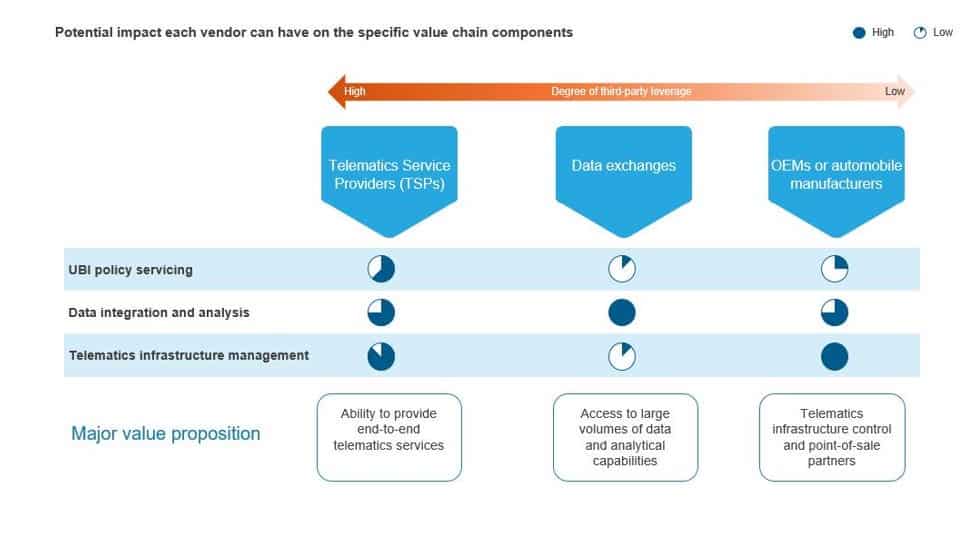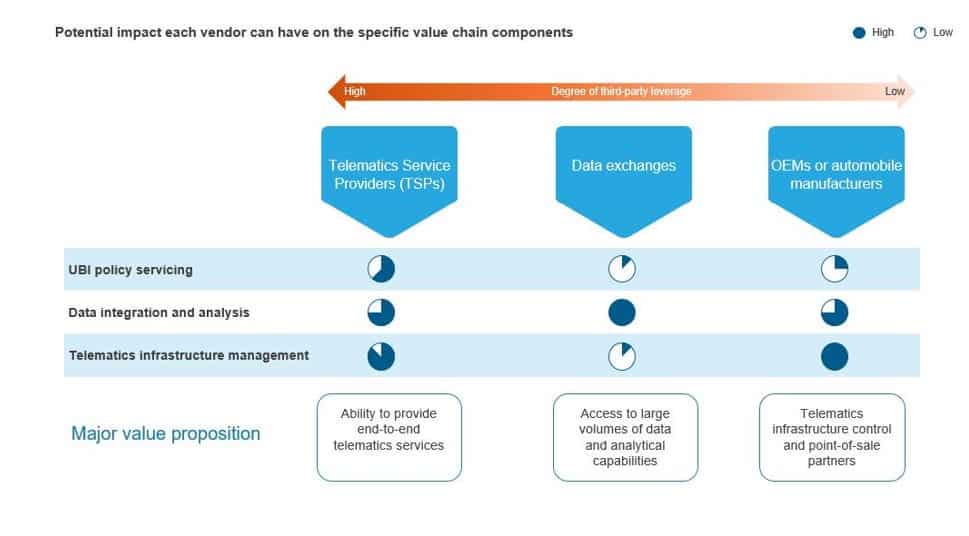 Service Providers as the Orchestrator – Big Opportunity Waiting to be Capitalized
With each of the categories of vendors specializing in specific parts of the telematics value-chain, insurers face a big challenge in connecting with different parties for different values, and in managing the multi-vendor ecosystem.
This is where IT/BP service providers can enter the picture. To date, they have failed to establish a competitive differentiation for themselves in this market. However, considering they have a sound understanding of insurers' businesses, operations, and IT systems, they could provide significant value as the orchestrator of this branched ecosystem.
They could look to source the best value from different classes of vendors by tying partnerships with select technology vendors across the ecosystem. Then, they could serve as a specialist to help insurer wrap their operations around telematics technology to drive product differentiation.
In this model, service providers could – potentially – offer an integrated value proposition that would involve: owning the implementation risk; providing value-added services such as risk assessment and customer management support; managing the complexity involved in coordinating with multiple classes of vendors; and assuming responsibility for the risks (e.g., business risk, technology lock-in, etc.) associated with engaging with niche firms.
This could be a win-win-win scenario, for insurers, end-customers, and providers.
How service providers ultimately decide to capitalize on the telematics opportunity remains to be seen. However, they should be cognizant of not frivolously trying to compete where their expertise does not lie, and instead leverage their strengths to make themselves most relev