As I've blogged before, the healthcare space is at the cusp of a transformative change. Consumers are assuming greater ownership, control, and responsibility of health outcomes. Consequently, the decision making is shifting to the individual. Consumption patterns have undergone a significant change owing to disruptive mobile computing, rapid adoption of social media, next-generation sales/engagement channels, and ''anytime-anywhere'' information access. As individual consumers (patients and physicians) become more empowered, healthcare is transitioning to a principally patient-centric operating paradigm, with focus on cost, efficacy, and equity.
Analogous to what Uber has done to transportation, in progressive (and controversial) ways, there is a fundamental transformation in healthcare, placing patients at the center of all the action. These changes are reflected in the way reimbursements are distributed (moving from volume-based to outcome-based) and the onset of personalized medicine therapies based on real-world evidence. These gamut of changes are also aided by various cultural and socio-economic forces. The disruptive shift – from a healthcare provider-centric to a more customer-centric model – is driving significant healthcare investments in digital enablers of consumerization – social media, mobility, analytics, and cloud.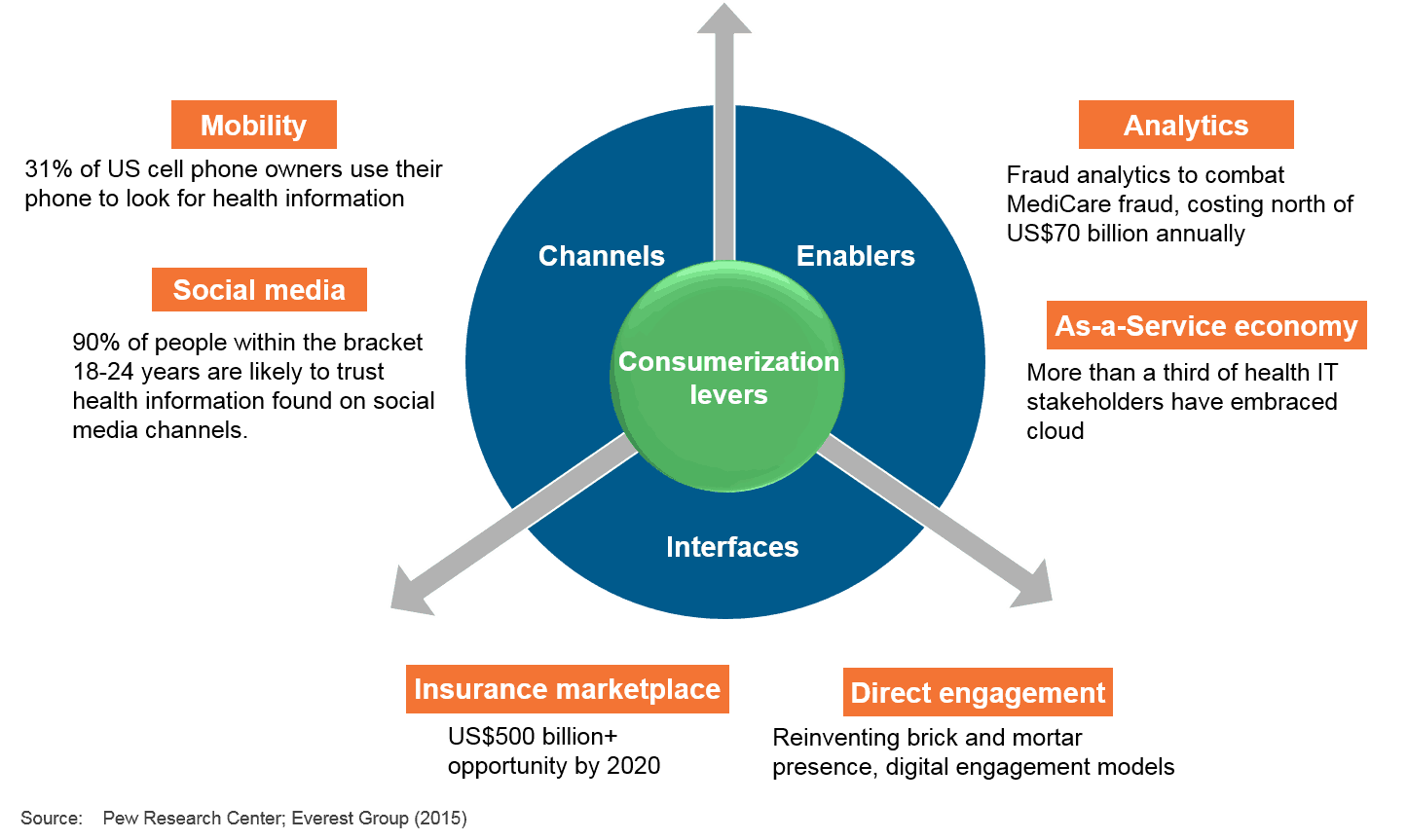 The New Kid on the Block
These winds of change have given rise to an immense opportunity to cater to this new patient-centric paradigm leveraging next-generation technology channels and enablers. Which brings us to Oscar, a New York-based health insurance start-up. Health insurance in the United States has conventionally been complex and non-transparent. With the advent of PPACA and health insurance exchanges (HIX), there has been a greater sense of accountability. Oscar aims to bring big data/analytics, design thinking, and transparency to the often-puzzling world of health insurance, making it smart, intuitive, and simple for consumers.
The idea for Oscar was born when one of its co-founders received his health insurance bill and realized that none of it made sense to him. The complexity and high entry barriers to health insurance can be gauged from the fact that Oscar was the first new health insurance provider to launch in the state of New York in more than a decade. The start-up sells coverage to individuals through insurance marketplaces in New York and New Jersey. The insurance plans offer free basic care including doctor visits, phone calls with doctors, preventative care, and generic drugs.
The company is backed by seasoned venture investors Peter Thiel and Vinod Khosla as it attempts to bring Silicon Valley mojo to health insurance. It was co-founded by venture capitalist Josh Kushner (an early stage investor in Warby Parker and Instagram), Kevin Nazemi (a Microsoft veteran), and Mario Schlosser (MIT Media Lab and hedge fund experience). The company's strong digital health ethos is reflected in the senior leadership team – CTO Fredrik Nylander is a former Tumblr executive, Dave Henderson (ex-Cigna and EmblemHealth) is Oscar's president of insurance, board member Charlie Baker is former CEO of Harvard Pilgrim Health Care, and senior medical executive hires from EmblemHealth, a leading health plan in New York state.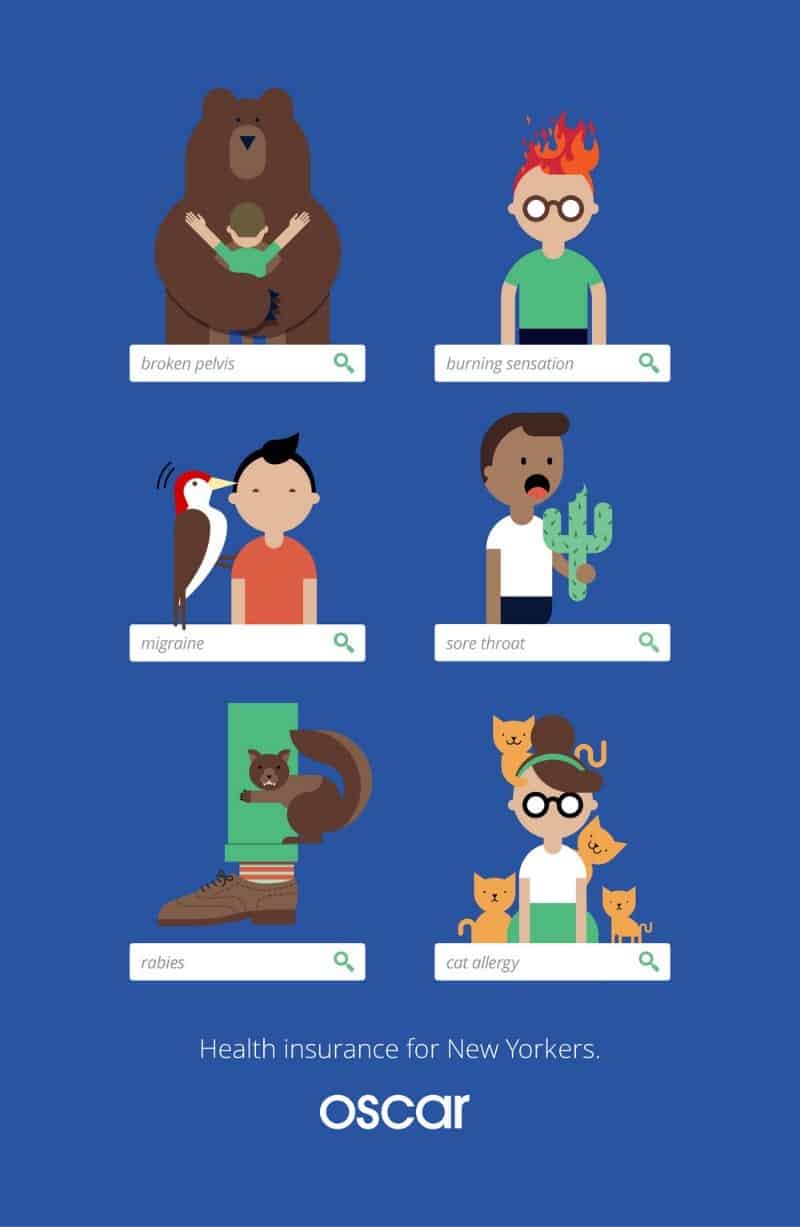 What's different?
Oscar's value proposition is on being a more personalized health insurance provider, with a strong sense of convenience and personal attention, aided by marketing, design, and consumer service practices that are aligned to the needs of the millennial generation. It has a sizable emphasis on telemedicine (offering it free of charge), and lets customers speak to doctors 24×7 with a goal of 10 minute wait time or less. To help answer medical questions, the company has doctors on call to chat online or over the telephone with customers. Oscar also lets customers check prices for procedures ahead of time and offers three free in-person doctor visits and free generic drugs.
The company faced minor bumps in the beginning with poor reviews and complaints (an average Yelp rating of 2 stars), but has instituted a feedback input mechanism based on customer interactions. The company aims to productize every customer interaction by implementing feedback as soon as it receives it. It has a slew of partners and tie-ups in line with its strategic focus.
In December 2014, Oscar announced a partnership with Misfit (a wearable tech company), by offering members free fitness trackers, along with Amazon gift cards, as part of an attempt to incentivize healthy behavior and bring down employee healthcare costs. Oscar also offers services at many hospitals and retail locations such as New York CVS CareMark. It is a health insurance company that resembles a technology start-up rather than a faceless insurance behemoth, sort of a health insurance start-up for "born digital" natives.
The future
Since commencing operations in July 2013, Oscar has had a reasonable start. It had about 15,000 members and estimated revenues of U$72 million in 2014. It doubled that member base to 30,000 in January 2015, with one month of enrollment left to go. Oscar is seeking approval to enter California's individuals exchange by 2016. The primary litmus test for Oscar is going to be the same as for any health plan – managing risk, keeping premiums reasonable, maintaining margins, handling payer-provider convergence, and improving health outcomes. Oscar is a prime example among modern companies looking to shape consumer-driven healthcare in the United States leveraging next-generation technology. As it looks at a reported valuation of significantly more than US$1 billion (implying a handsome 14x sales multiple!), the bet might just pay off.
---
Photo credit: Oscar