As large IT services buyers increasingly embrace cloud-based delivery, offshore IT services providers are being forced to innovate beyond their traditional strengths of labor arbitrage, process excellence, and delivery maturity. Indeed, as these providers witness their application services reaching wallet share saturation in the large buyer market, there is growing perception in the industry that if they do not offer "next generation" services they risk losing even their traditional business.
Granted, these providers are not sitting idle. They have created "cloud advisory" teams and executed multiple application migration/porting engagements as part of their global services contracts. But the crux of cloud opportunity lies in the transformational nature of these engagements, which invariably involves owning IT infrastructure.
Our discussions with enterprise IT services buyers point to three types of roles for offshore providers, which extend beyond typical SaaS implementation and integration. These roles will also require services related to consulting, architecture, application migration, etc.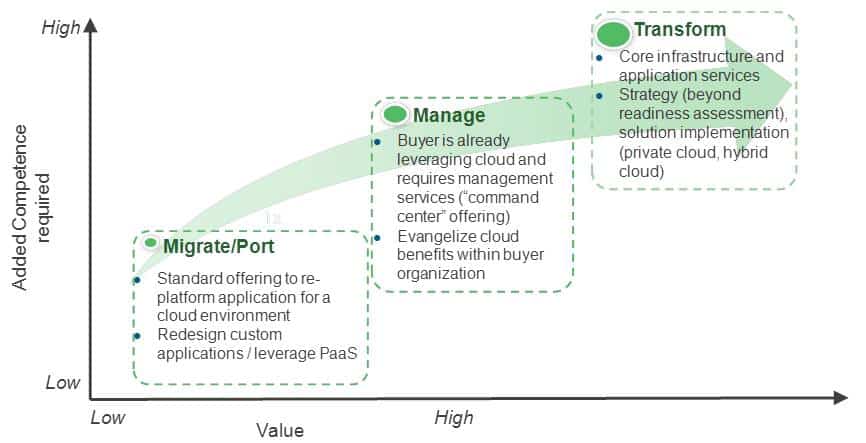 Offshore providers possess varying degrees of competence for these roles, but to remain relevant, they must continue to invest in newer capabilities. Today, a select few are investing in areas such as cloud management platforms, consulting services, readiness assessments, and migration services to move beyond simplistic cloud engagements. However, most lack a comprehensive datacenter-driven cloud infrastructure service, which is needed to drive transformational engagements.
One of the key findings in Everest Group's recently released Cloud Vista research study was that more than 50 percent of large cloud-related engagements – and even most application transformation deals – contain a significant amount of infrastructure transformation, but offshore providers have scant presence in these engagements.

It is becoming abundantly clear that offshore providers need to swiftly tackle the area of cloud infrastructure services. One of the biggest challenges they must overcome is their lack of willingness to invest in owning datacenters, instead opting to relegate core datacenter operations to the partners. Many buyers convey their disappointment with this type of partnership model, believing it can at best support running IT operations, but that it is not appropriate for enterprise class cloud infrastructure services that can assist them to variabilize their costs and access self-service, consumption-linked infrastructure.
Given their general reluctance to own large scale datacenters, offshore providers may at least evaluate "white labeling" hosting providers' datacenters so that they can offer cloud infrastructure services which will allow them to calibrate their investments while simultaneously serving their buyers. Given that white labeling of datacenters is an accepted practice and even large scale datacenter service providers white label datacenters from other core datacenter operators (e.g., Equinix), this model will find acceptance with the buyers.
Offshore providers need to understand that for a game changing paradigm such as cloud, there always will be a risk associated with investments. The days of cherry picking attractive contracts are over, and they can no longer walk away from complex deals that do not meet their sweet spot. Therefore, they must inculcate a culture of risk taking, and invest in areas outside their comfort zone, especially in cloud infrastructure services. The cloud is changing buyers' sourcing strategies, and offshore providers that fail to change accordingly risk losing their relevance and even their traditional business.