Global Business Services (GBS) organizations have a big opportunity to champion Environment, Social, and Governance (ESG) in banking and financial services (BFS) institutions. To learn about six ways GBS organizations can help enterprises reach their ESG goals and unlock greater value, read on.
ESG is creating new opportunities for BFS Global Business Services organizations. Fast-evolving consumer awareness about social, political, and environmental values, emerging regulations, and increased demand for sustainable financial products are pressuring BFS firms to prioritize ESG goals in operations and employment.
Let's explore the significant role GBS units can play in enabling ESG for enterprises.
ESG products and services emerge
To meet new customer and investor expectations along with regulatory mandates, BFS organizations are building ESG products and services – such as green loans, sustainability-linked loans, and carbon-neutral banking – to make their operations sustainable.
Capital market firms are embracing green underwriting, while asset and wealth managers are steadily moving toward ESG investing. These organizations are also focusing on workplace diversity, pay equity, and good governance structure to meet their ESG aspirations.
This has created a big opportunity for GBS organizations to move from being measured for their labor arbitrage and cost efficiency to the value they can deliver to enterprises. These units can become vital to the enterprise's ESG agenda by expanding their sustainable service offerings and conducting ESG-specific due diligence and risk assessment. GBS centers' strong visibility across the enterprise's functions, operations, and capabilities to support their ESG initiatives will drive this new focus.
Six ways GBS organizations can support enterprise ESG goals and commitments
As BFS organizations increasingly look for ways to support and grow their businesses with an impact-driven mindset, GBS organizations should be at the forefront of defining and internalizing ESG goals.
The new environment has opened up many avenues for GBS organizations to maximize the value they can deliver and become ESG enablers for their enterprises. For a deep dive into the opportunities summarized below, please read our newly released research.
See how GBS organizations can promote ESG initiatives within the enterprise in the image below.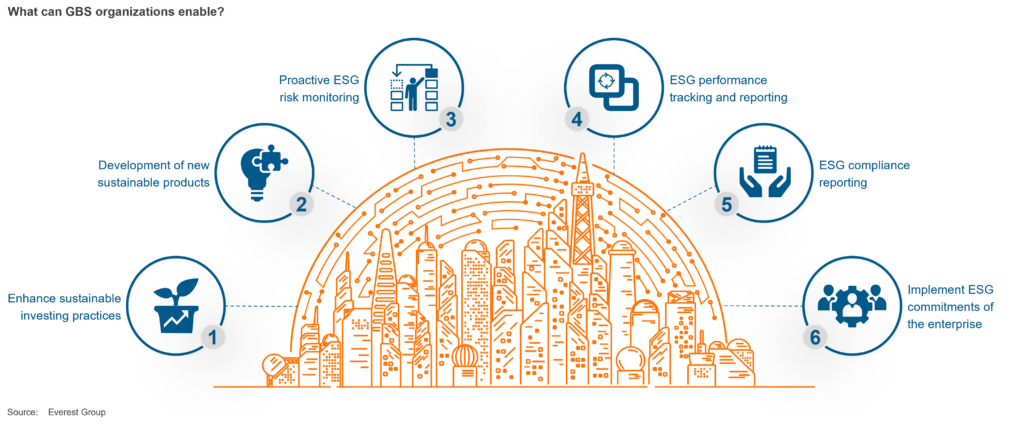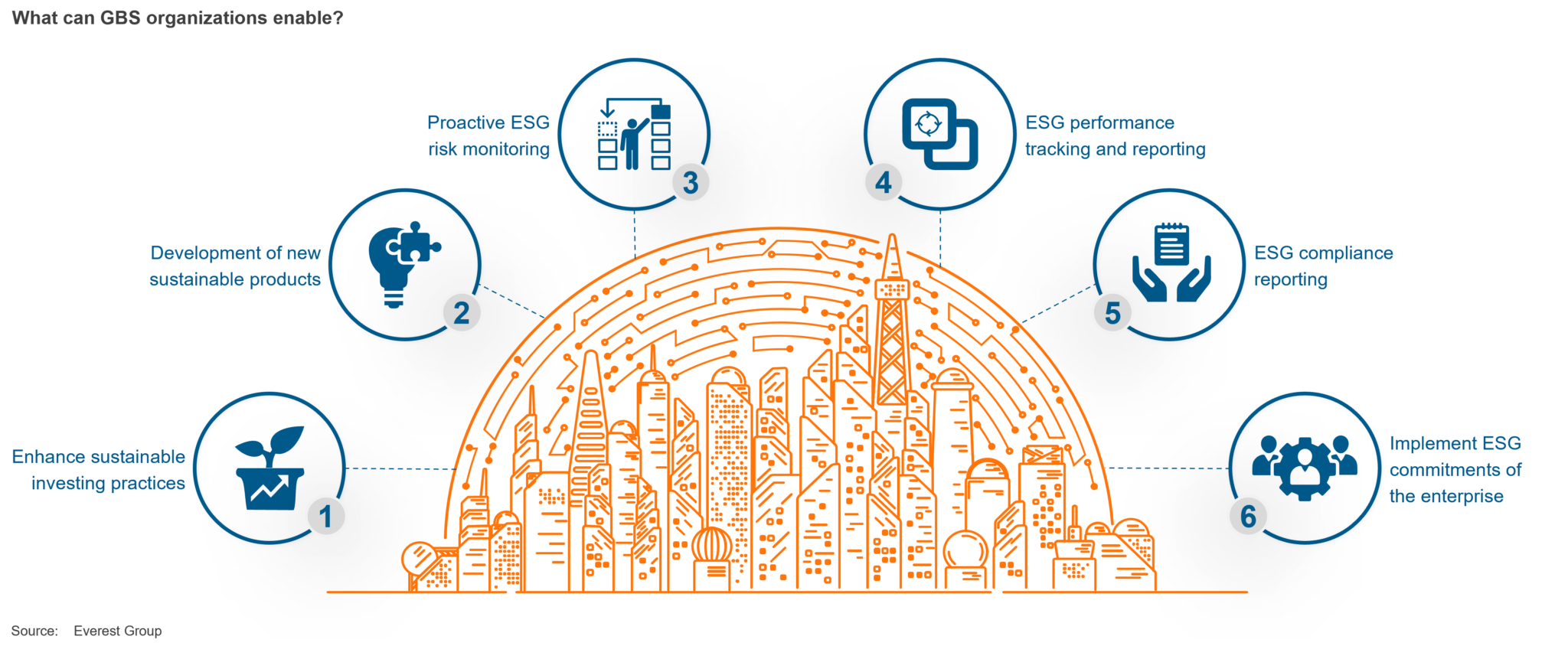 GBS organizations can enable the following key opportunities for BFS firms:
Enhance sustainable investing practices – Support enterprise banks by running/enhancing sustainable investment initiatives, such as portfolio optimization and expansion, and positive and negative screening of these portfolios
Develop new sustainable products – Identify feasible opportunities to expand the green product portfolio for their respective enterprises following the regulatory and competitive landscape
Proactive ESG risk monitoring – Build on their roles in supporting enterprises in managing various risk types such as liquidity, credit, and operational so GBS can be leveraged as specialist ESG risk management centers by enterprises
ESG performance tracking and reporting – Set up dedicated ESG performance reporting teams at GBS centers, which, in turn, will own the management and execution of ESG performance tracking and reporting tasks
ESG compliance reporting – Track ESG-specific regulatory developments across different countries where the enterprise has an operational footprint. Accordingly, it can assess the impact of newly introduced mandates or disclosures requirements on the enterprise's existing compliance processes
Implement ESG commitments of the enterprise – Undertake sustainability initiatives to integrate the ESG goals of the enterprise across its own operations, people, and functions. For example, a leading US investment bank committed to incorporating sustainability-focused features such as energy-efficient lighting and minimized water consumption policies in its new technology base in Poland. Similarly, a major European bank's GBS center has been working since 2009 on a Train Green Program aimed at creating sustainability awareness among school children
Call to action for BFS GBS leaders
As GBS organizations take on more strategic roles, it becomes imperative for them to step up and become ESG enablers for their enterprises. To do this, GBS leadership must champion the development of ESG-specific capabilities and prioritize initiatives to drive enterprises' ESG agendas, while embedding ESG and sustainability practices into their service delivery and operations.
To discuss how we can assist your enterprise with achieving your ESG goals, reach out to Sakshi Garg [email protected], Piyush Dubey [email protected], and Mohini Jindal [email protected].
Discover more about how to integrate sustainability and ESG initiatives into your organization in our upcoming webinar, Driving Larger-scale Adoption of Impact Sourcing from the Inside Out.