As much has already been written about Cognizant and its Trizetto acquisition – including Everest Group's take: The New "Big Blue" of Healthcare IT? – it is time for us to do a post-facto check on Cognizant's healthcare IT services business, and ruminate on the state of the healthcare IT market.
What's up with Cognizant's healthcare business?
Healthcare@Cognizant officially crossed the 30 percent revenue share mark (just behind BFSI at 39.9 percent) in the first quarter of this calendar year
Cognizant is the only WITCH (Wipro, Infosys, TCS, Cognizant, and HCL) company with healthcare among its top three industry verticals by revenue
In fact, after its Trizetto acquisition, Cognizant's annual healthcare revenue (in the range of US$3.2 billion) will be more or less equivalent to the sum of the healthcare revenues of WITH combined
Per Healthcare Informatics' Top 100 Healthcare IT providers: Cognizant's 2013 healthcare revenues, if added to Trizetto's (a sum of US$2.94 billion) make it the second largest healthcare IT vendor on the list. It is behind only McKesson, and ahead of technology and services behemoths such as Cerner, Dell, Optum, Epic, and Allscripts
For the quarter ending March 2015, Cognizant's healthcare topline grew 42.7 percent year on year, obviously driven by Trizetto's numbers. Given the growth outlook company has shared with the market, Healthcare@Cognizant is headed toward becoming a US$4 billion unit in the next 18 months – which is huge.
Is healthcare IT a great market to be in?
Let's put Cognizant's numbers into perspective with our growth estimates for the overall healthcare IT industry. With the healthcare industry set to grow at a CAGR of 12 percent through 2020, and given what we have seen since we published the following in 2013, the market size projections for healthcare appear well on track to humble the pessimists among analysts.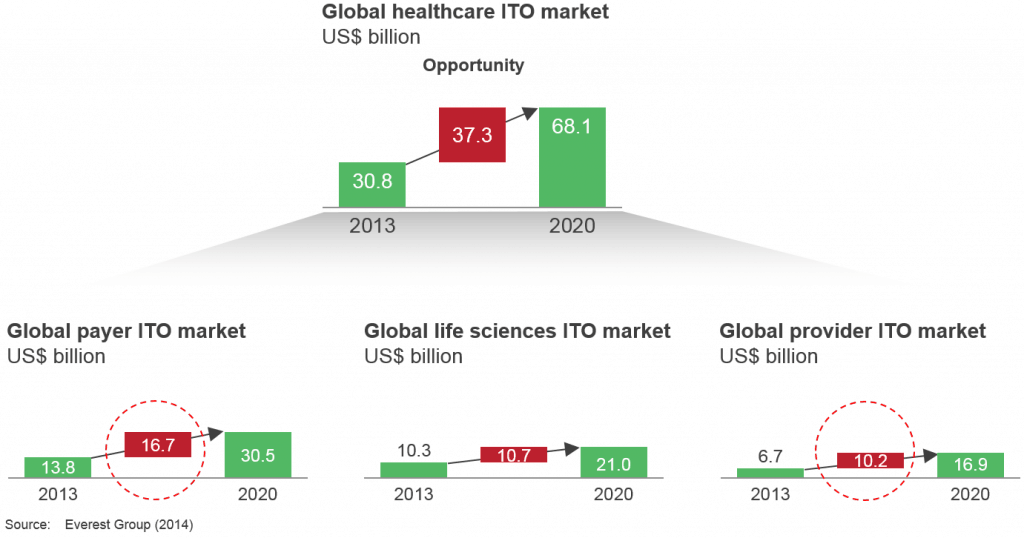 Healthcare – why so serious?
While services spending growth has been steady, especially for the payer and provider markets, the innovation side of healthcare IT has been sulking for a while. Yes, "sulky" is the word that comes to mind when you sit listening to a panel discussion on digital innovation at #AHIPInstitute2015 and not one panelist cites an example of innovation from the healthcare space. They either talk Uber or Airbnb. This is unfortunate.
Despite the huge numbers up for the taking, a big spike in the booming healthcare IT market will not come by unless there is a dawn of new and nimble technology start-ups that change the game of healthcare enterprises looking to move away from bespoke solutions to as-a-service models that reduce their time-to-value exponentially. For good or bad, the healthcare industry in the U.S. has always had an umbilical cord connection closer to Washington D.C. than to Silicon Valley. That is probably what curbs innovation in this industry from breaking out of its shackles to produce its own Ubers and Airbnbs. In my opinion, except for a few fitness/therapeutic/diagnostic wearable-focused investments, little causes titillation in the healthcare technology start-up space. Despite all the brouhaha on the B2C shift, consumer-focused investments are coming more from the enterprise IT side than from third-party innovation. Frankly, do we want to be in a world where Ford not only makes the cars but also drives the cabs? Hence, the question is – in a world dominated by technology vendors (Epic, GE, McKesson, and Philips) are we ready to declutch third-party innovation and let it bloom?
Is this a blog on Cognizant?
There was a reason we titled our blog about Cognizant's acquisition of Trizetto, "The New Big Blue of Healthcare IT?" The simile was not to herald the dawn of a new behemoth, but to provoke the sort of nimbleness and courage in healthcare IT industry that IBM (the original Big Blue) has shown over the last many decades to stay relevant in the overall technology industry. In an industry with a muffled voice of innovation (few exciting start-ups), a few big bullies (large technology vendors, EMRs, etc.), and well-meaning presiding deities (government and legislatures), the push for change will have to come from outside.
Will it be the venture funds and geeks sitting in Silicon Valley who will do the trick?
Will it be the EMRs who open up their platforms for an integrated and interoperable healthcare world?
Will it be IBM's Watson that will change the game?
Will a recently gone private Dell up the ante toward innovation?
Will Cognizant take up the mantle of being an angel integrator for healthcare innovators?
Will it be Infosys' Vishal Sikka, whose US$500 million investment fund will drive traction?
Will Google or Microsoft provide the platforms that will gamify technology innovation?
Why did I harp on Cognizant while writing this blog? It was a rank outsider in the healthcare technology industry (well, almost, given its offshoring, pure play service legacy). Even if it becomes a US$4 billion healthcare enterprise, it will still be a fraction of the market. Via its investments, growth, and outlook, what it has given the industry is a peek into the kind of bravado that can make this market rock. We require more of this bravado. But, if it is going to be just once in a blue (pun unintended) moon, it will be rank boring. So, as the Joker would have said, let's put a smile on that face!
This is the first in a series of blogs Everest Group is publishing on exciting opportunities and implications to watch out for in the healthcare IT services market.