Remote infrastructure management (RIM) services were the disrupter for asset-heavy infrastructure services over the past several years and, in all likelihood, will continue to be for the next few years. However, as we look down the road it appears that RIM will hit the speed bump of automation and cloud, which will impact RIM in much the same way that RIM currently disrupts the asset-heavy infrastructure market. At Everest we believe that about 50 percent of all current RIM workloads are viable and cheaper in the cloud and likely will migrate to the cloud over the next three years. So what's the prognosis for the RIM model?
As shown in the charts below, RIM grew at an average of 27 percent per year while the asset-heavy space lost share at 1.6 percent a year.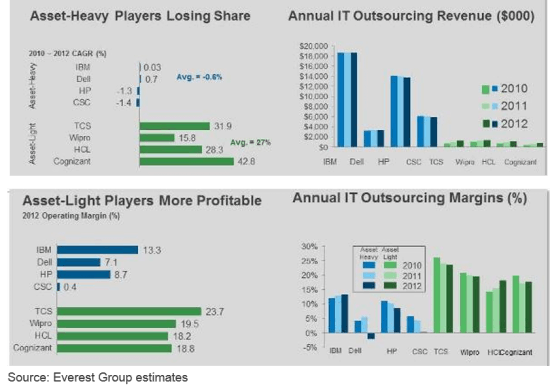 But the cost of operating in a pay-for-usage cloud world is about 50 percent lower than the take-or-pay world of the existing data center. Although the cloud is currently a small part of the global services marketplace, the cloud providers are operating a lot more profitably and thus disrupting the RIM providers. Automation and cloud are the areas of action and investment for growth. We need look no further than the recent acquisitions of IBM and Dell to understand how this market is evolving.
IBM's Strategic Moves. IBM's latest acquisitions include Cloudant, for delivering NoSQL on-demand database-as-a-service (DBaas), and SoftLayer Technologies, a global cloud infrastructure provider. And Big Blue plans to spend more than $1 billion over the next two years to bolster SoftLayer's platform. IBM also scooped up several other strategic cloud companies over the past couple of years including UrbanCode, for software delivery automation; Green Hat, delivering software quality testing for the cloud environment; and Big Fix, providing management and automation for security and compliance software updates.
Dell's Strategic Moves. Acquisitions adding to Dell's capabilities include Enstratius, enabling consolidated management across multiple cloud platforms; Credant Software, providing data protection; Gale Technologies, enabling infrastructure automation; Quest Software, for value-added software solutions and virtualization; and Boomi, for SaaS integration.
RIM's Pulse
To date the power of the cloud disruption has not yet felled the infrastructure services space. But over the next three years, we expect 30-50 percent of the infrastructure services work to migrate to a cloud model. What impact will it have on the RIM market?
First of all, RIM's impact on the existing IT infrastructure market is not finished. We think RIM service providers have at least three more years of significant share gain shifting from IT asset-heavy infrastructure to a RIM model. After that? Not so much. And towards the third year, we expect to see cloud disintermediate the RIM market.
It will be interesting to see whether RIM providers can make the accommodations for the new cloud world. Yes, there will be a role for RIM in cloud, but we believe it will be less than in its current IT infrastructure space. And managing the the automated cloud world will require fewer people, which means lower revenue for RIM vendors.
For vendors and service providers, the non-cloud IT infrastructure space is becoming a very bad place to be.