Application modernization initiatives implemented in the wrong environment are doomed to fail. But these strategies can be transformed to success by starting with the right organizational makeup. Discover why having the right DNA of Dedicated product teams, Next-generation talent, and an A3 culture make all the difference.
With applications increasingly becoming integral to enterprise business strategy, mediocrity has no place when it comes to application modernization. Today's applications are expected to be ultra-fast (millisecond response rate), scalable to millions of users, available globally, and capable of handling petabytes of data. Legacy and monolithic applications are frequently cited as the key roadblocks in achieving these high standards. Accordingly, the race is on to migrate these applications to containerized workloads in the cloud to improve agility and customer experience (CX).
However, many of these proposed transformations don't succeed. Research shows 78% of digital transformation initiatives fail to meet all intended objectives. Monoliths are broken down into microservices, on-premise to cloud migration is executed, and DevOps methodologies are implemented, yet the full expected results are never achieved. What could these transformations be missing?
Just as the healthiest seed may also fail if planted on infertile soil, transformations fail if implemented in unsuitable environments. A successful application modernization strategy needs the right structure, the right environment to support that structure, and the right people to be part of that environment.
How to unlock value in applications
We have identified three focus areas for organizations seeking to unlock value from their applications – team structure, culture, and talent strategy. To achieve best-in-class results, application modernization strategy needs to be backed by a solid organization DNA that has the following elements: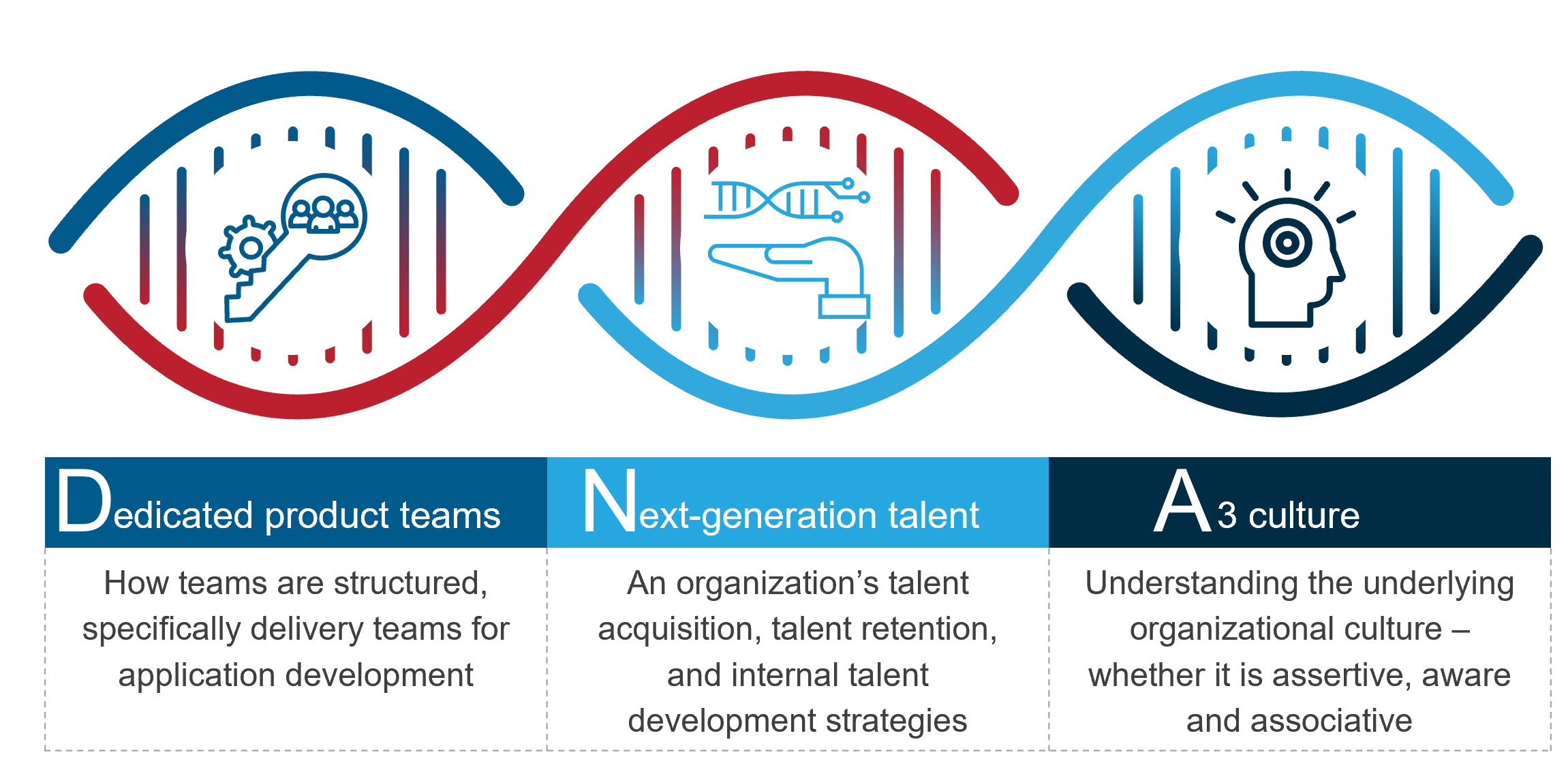 Dedicated product teams – Persistent teams that remain intact over the product's life cycle should replace traditional factory models with periodic talent rotation. By developing trust and expertise organically, these teams can then use their expertise to lay the right product roadmaps
Next-generation talent – A meticulous talent strategy focused on managing the entire talent lifecycle (upskilling, retention, acquisition) is vital to overcome the key challenges in scaling agile practices (such as lack of right talent and skills, cited by about 77% of executives)
A3 culture – High-performing generative cultures embrace novelty and avoid stagnation (Assertive); are open to introspection (Aware), and cut across silos by being highly cooperative (Associative)
Without these DNA components in place, application modernization initiatives run the risk of resulting in process change rather than outcomes change. Agile practices may sacrifice quality for speed, avoid documentation, and micromanage progress. The same practices in the right environment will deliver scalable, people-centric development with better business-IT alignment and systematic change management.
Application modernization transformation with the right DNA in place can make a world of difference. Innovation becomes faster. Employees can collaborate with increased synergy and achieve hyper-productivity. With the focus thoroughly shifted to outcomes, the end-customer realizes a significantly enhanced experience. Transformation without DNA backing is like driving a sports car in second gear where all the right technical components are in place, but they are not being utilized optimally.
Learn more about the many different aspects of ensuring transformation success in our recent report, Unlocking Business Value through DNA-backed Transformation. You could also learn more in our webinar, Resilient Digitization – Your Highway to Enterprise Transformation.
To share your thoughts on application modernization initiatives and discuss our research related to organizational DNA, please reach out to [email protected] and [email protected].