Put aside for a moment the growing noise about social networking being the next bubble, as users are flooding to social networks like there's no tomorrow, and both corporations and non-profits are jumping on the bandwagon at a dizzying rate to build brand and interact with customers and targets. What's surprising to us is that although global service providers have invested heavily in creating well distributed global delivery models, they have largely neglected social networking's capabilities to improve and augment this delivery model. Rather than building out valuable social network or collaboration platforms, they instead have continued to invest in knowledge repositories and Q&A forums for answering queries, mostly technical in nature.
Everest Group's just completed research report analyzed the key challenges with today's global delivery networks, and evaluated the role a well designed social network can play to address these challenges. Key global delivery network challenges include:
Project delivery: The distributed nature of a global delivery model makes the difficult task of project delivery even more challenging (e.g., decision-making, accountability, inconsistent practices, coordination, and collaboration costs).
Staffing: Service delivery managers cite staffing as their biggest challenge. They believe that the needed resources are available in the system, but identifying and on-boarding required staff members in a reliable time frame are a critical challenge in a distributed delivery model.
Communication overload: Efficient global delivery requires finely-detailed process, methods, documentation, and communication. While this is of course advantageous to clients, it creates tremendous overhead for the provider.
Training: As the churn rate is high, service providers keep on hiring new talent, but all new hires require basic training to become productive.
Knowledge sharing: There is a plethora of knowledge available within providers' systems across service lines. Yet, apart from the typical Q&A forums, little investment has been made to enable tapping this vast source of knowledge during a project life cycle.
To address these challenges, service providers need to revamp their existing silo based social networks and enable them for global delivery. Indeed, a social network can have positive impact on delivery management, staffing, communication, training, and knowledge sharing.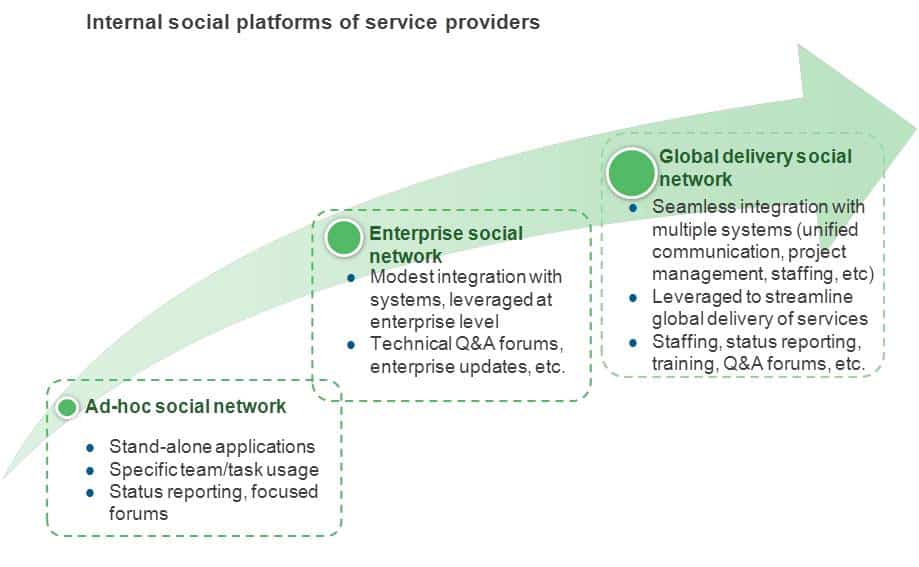 The crux of this next generation platform is its integration across different global delivery management and other systems to support staffing, skills training, unified communication, and project management. Service providers can even extend these platforms to their strategic clients, enabling improved project governance, a partnership model, reduced management overhead, and co-creation of IP.
Our research suggests use of an Integrated, Tracked, Cool, Holistic (ITCH) framework to create next generation social platforms that can seamlessly integrate with global delivery systems and enhance the delivery of services.
Bottom line is that those service providers that transform their stand-alone and silo-based social platforms to enable them for global delivery of services will be the winners in the game.
To learn more about social networking and global services delivery, download the report Social Networks for Global Delivery – Get that ITCH.