In a major statement that reaffirms its vision of becoming the backbone of the modern digital enterprise, Salesforce acquired MuleSoft, a leading application network platform, for a hefty US$6.5 billion. This is the software giant's largest ever acquisition.
Strategic Intent Behind the Deal
It is evident that MuleSoft will complement Salesforce's PaaS agenda, per Salesforce's statement that it will leverage MuleSoft to create the "Salesforce Integration Cloud." MuleSoft's AnyPoint Platform, which connects different cloud applications via APIs, is a good fit with Salesforce's platform offerings.
In addition to strengthening Salesforce's PaaS portfolio, the acquisition will enable the combined entity to:
Enhance its value proposition: Drive a more compelling digital transformation story across enterprises around personalized customer experiences, a single platform for a 360˚ enterprise view, and an enhanced industry-specific suite of solutions
Derive synergies from focus on the API economy: Aid enterprises' need for faster time-to-value by enabling ease of data access across cloud and legacy systems, as well as enhance revenue by cross-selling / bundling across MuleSoft's 1,200+ customers
Gain a stronger competitive foothold: Salesforce has been competing with Oracle and Microsoft in the CRM space. With players such as ServiceNow and Workday pivoting towards platform services, this deal enhances Salesforce's platform play.
Crunching the Numbers
Salesforce CEO Marc Benioff has been chasing hyper-growth, with ambitions to nearly double the company's current revenue to US$20 billion by 2022. While Salesforce's growth has been relatively muted growth recently (~25%), he application network platform business grew by an impressive 37 percent YoY in Salesforce's Q418. This presents a strong opportunity for Salesforce to enhance its PaaS portfolio, beyond the headway it's been making in infusing AI and IoT capabilities across its platform to deliver a more personalized experience for customers.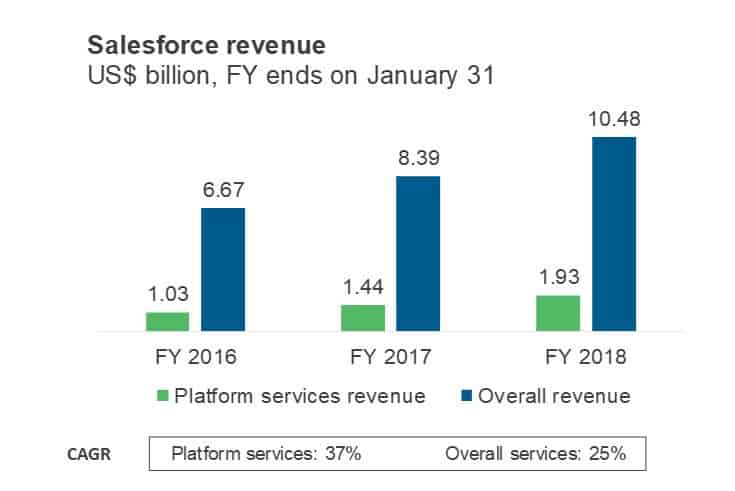 Naturally, the next smart move for Salesforce would be building or acquiring a strong API integration engine that helps it access and connect data across enterprises, regardless of its location. Evaluating its acquisition chronology, it was time for Salesforce to start owning the integration experience as well, while also trying to stitch together an integration cloud and potential iPaaS offering. The acquisition of MuleSoft gives it just that, with the added advantage of ensuring a faster time to market and a broader customer base. Additionally, MuleSoft was growing at a fast clip, clocking revenue of US$297 million for FY2017, 58% YoY growth, with guidance of US$405-415 for FY2018 (with an aim to reach US1 billion in revenue by 2021).
The growth story notwithstanding, Salesforce is paying a premium for MuleSoft, with an enterprise value to sales multiple over 20x, which is a reasonably high compared to typical deals in the segment. Salesforce is not alone to tap into the API ecosystem. Google acquired Apigee in 2016 for US$625 million, while Red Hat acquired 3Scale in 2016.
You Can't Just Patch-fix in the Digital Era
This interest in tapping into the API and integration economy is not accidental. Enterprises have realized that they cannot move the needle meaningfully when it comes to digital transformation if they don't get their technology estate in order. As we've opined before, creating the next breakthroughs in digital requires collapsing the stack to eliminate friction across the value chain. Digital needs to be enabled through convergence of emerging technology themes to drive efficiencies across back-office and core mid-office business processes and enhance competitive advantage by impacting market-facing front-office processes. To do this, it is not enough to invest in a solitary mobile app for customers or an internal gamification initiative, it requires efficient plumbing (e.g. DW/BI, creating data lakes, etc.) as a precursor to meaningful digital transformation. Our recent enterprise research also indicates that front office digitalization or Digital for Growth (DfG) is just the tip of the proverbial iceberg (less than a fourth of the spend), while a significant share is focused on the nuts and bolts (Digital for Efficiency / DfE and Digital enablement).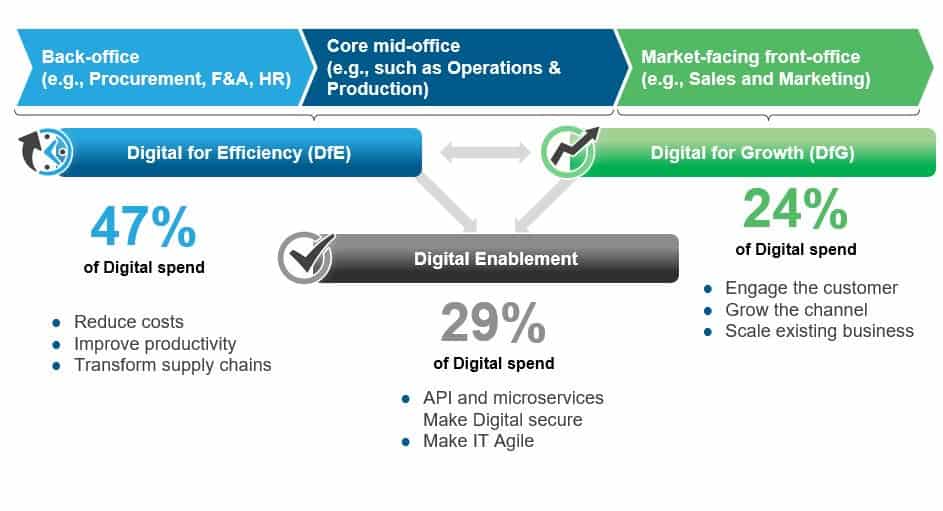 A Word of Caution for Ecosystem Stakeholders
Although there is a general optimism around the business value of the acquisition, the stakeholders need to be wary of some of the potential roadblocks that will emerge:
Enterprises: With Salesforce aiming to be their digital transformation partner, the threat of lock-in becomes stronger and their bargaining power dynamics change
Competitors: The deal allows Salesforce to look beyond the CRM landscape and aid the digital transformation push, increasing competition with Microsoft, Oracle, ServiceNow, etc. MuleSoft's peers, such as Sensedia and WSO2,will also be looking to compete with the might of the merged entity and evaluate their strategic growth options
Salesforce-MuleSoft: Managing enterprise lock-in concerns, anti-incumbency, and talent integration will be crucial to unlocking significant value through this ambitious deal. Also, integration in the modern enterprise, while a fundamental success requirement, is often riddled with tricky organizational inertia, data silos, fragmented systems, and change resistance
The Way Forward
The size and intent of the deal has certainly piqued the market's interest. With the aggressive stance Salesforce is taking to expand its PaaS portfolio while playing the customer experience card, it wouldn't be surprising if we see it forging more acquisitions and/or partnerships, including other companies in the API economy. Enterprises will need to keenly evaluate this landscape to choose the right partner in their digital transformation journey.
What is your take on the Salesforce-MuleSoft deal? We would love to hear from you at [email protected] and [email protected].