Our latest enterprise survey revealed that more than 40 percent of large enterprises have already implemented IoT and another 25 percent have piloted IoT use cases and will likely make meaningful investments in the technology in near future. All these enterprises have invariably invested in building an ecosystem of partners, made technological and business process changes, and trained their talent to sustain the investment.
However, 75 percent of these enterprises are realizing benefits limited to cost reduction, better visibility at the operational level, and access to more data for better decision making. This, unfortunately, is a massive underestimation and under-utilization of the potential of connected ecosystems.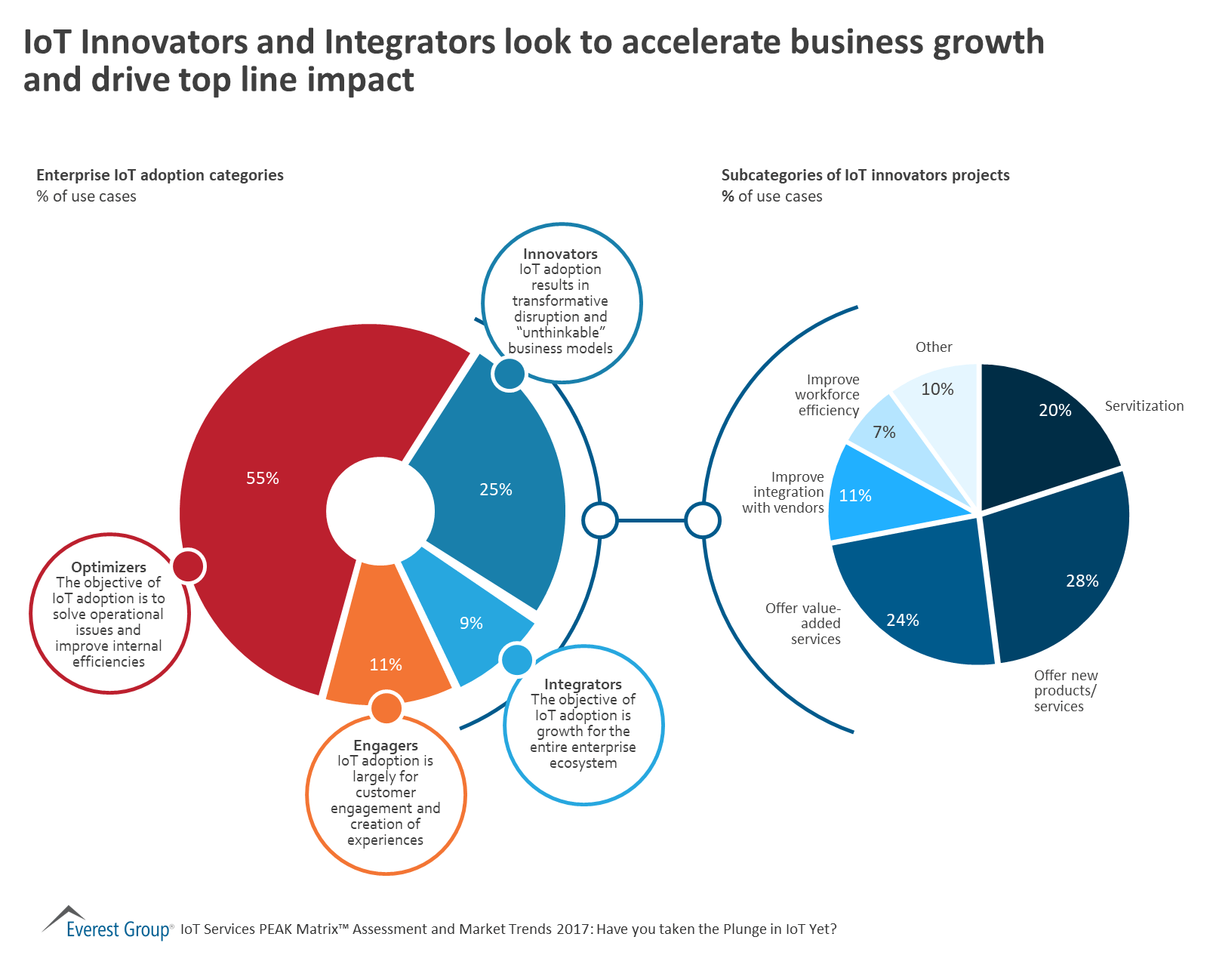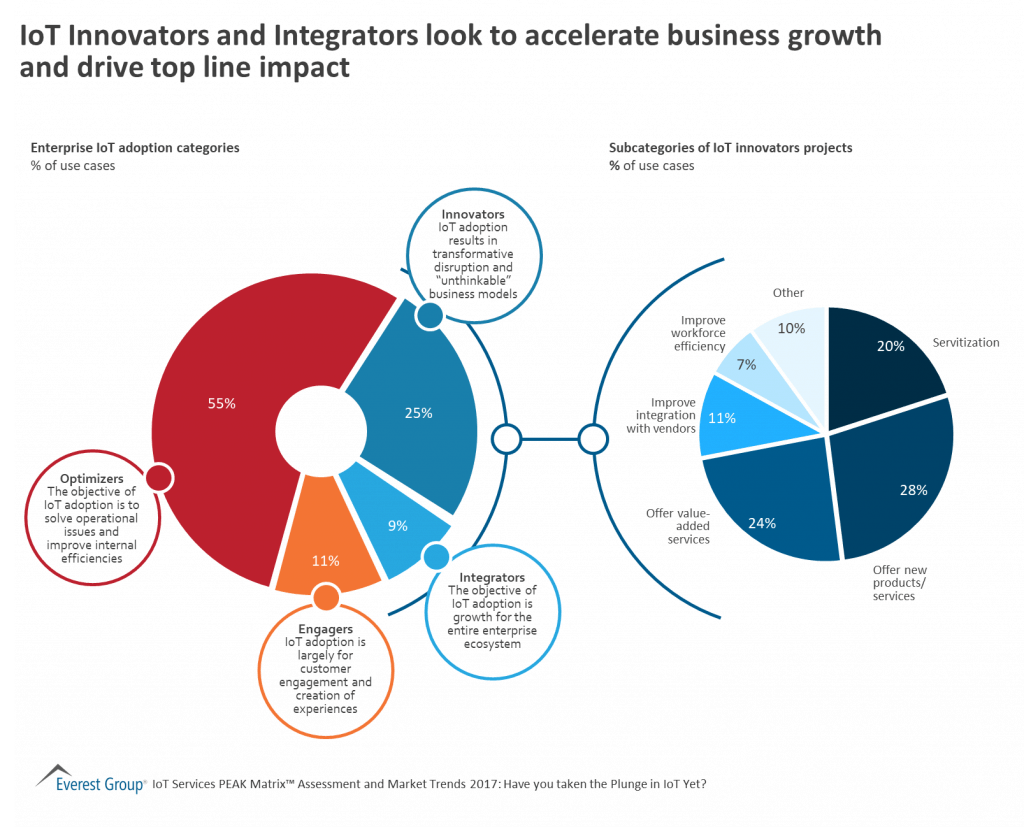 On the other hand, the other 25 percent of the enterprises, we call them "Innovators," are realizing IoT-driven outcomes with substantially greater business impact, such as identifying alternate revenue sources, offering new products and services, and increasing customer intimacy. These enterprises have undertaken a holistic approach to technology adoption, and have designed connected systems with in-built cognitive capabilities and next generation technologies such as machine learning, augmented reality, virtual reality, natural language processing, and blockchain.
The convergence of these technologies with IoT has created a multiplier effect by building further strength and adding new capabilities in the connected ecosystem, thereby, enabling these enterprises to re-visualize their businesses.
Achieving transformational impact with IoT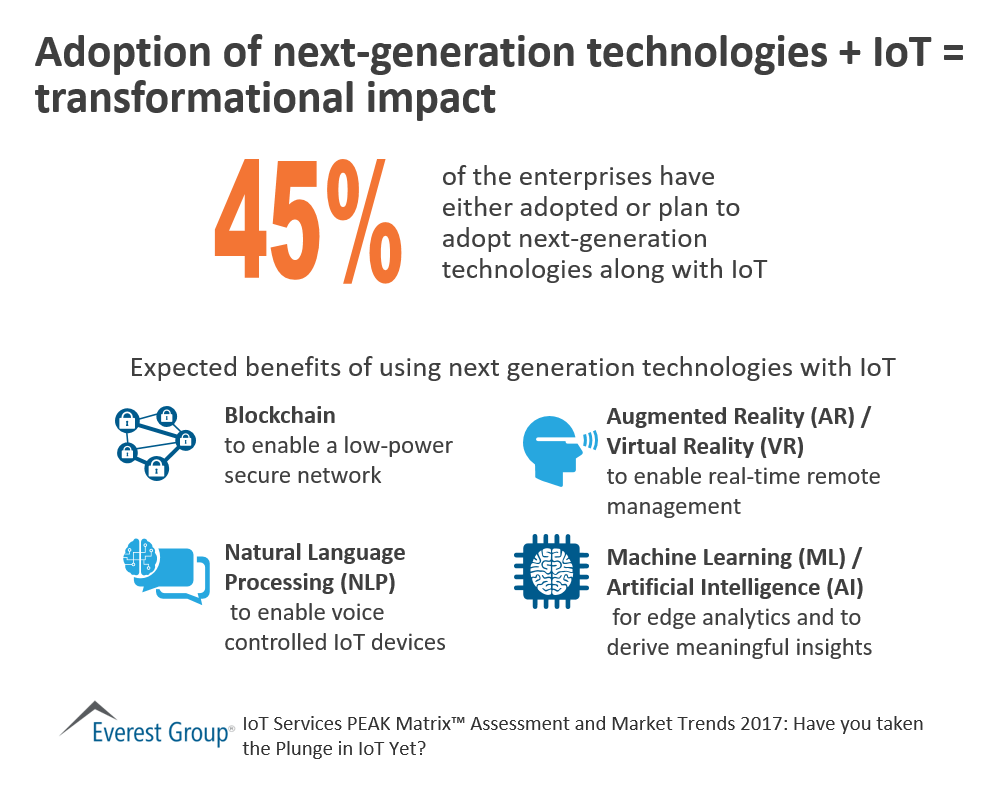 Leveraging next generation capabilities with IoT
A noteworthy 45% of these Innovators are exploring these next generation capabilities to derive higher value from their IoT investments. Some model transformational use cases by leading industries have paved the way for others to make higher bets in IoT. For example:
Blockchain, in combination with IoT, is being used extensively by the logistics industry to achieve a low power secure network for transaction recording and timestamping. The insurance industry is set to be disrupted once the supply chain network reaches its desired level of transparency with accountability with this application.
Augmented reality, in combination with IoT, is recognized as the crucial technology to attain the "factories of the future" objective. Remotely accessing a visual overlay of the connected asset enables real time issue identification, remote service provisioning, and an exponential increase in operational efficiency.
Machine learning has enormous applications, many of them yet to be identified by enterprises. Enabling continuous process improvement, customization of services or messages, and helping experts take the most suitable action are the known use cases being implemented today. ML with IoT can be the defining moment for personalized service provisioning for every enterprise in the services industry.
Natural language processing can help enterprises deliver on customers' expectations for connected devices to be interactive and intuitive. The world would be a different place if this technology were used in parallel with connected devices for meaningful value delivery.
With macro-economic changes and massive financial pressure to ensure sustainability, the travel & transportation and manufacturing sectors have been at the forefront of conceiving new revenue streams and launching products in as-a-service mode with IoT adoption. Changing customer preferences and competition from players across industries have pushed retail enterprises to adopt IoT with AR/VR technology to enable delivery of interactive and personalized experiences to customers. Infusing data security with blockchain adoption has enabled healthcare & insurance and energy & utilities enterprises to bring about continuous process improvement and ensure business sustainability.
To sustainably implement these systems of technologies, leading IoT adopters are building technology adoption roadmaps with an enterprise-wide view aligned to a unified vision. Their clarity in their business objective/s has helped them extract more from their IoT investments. These innovators have also laid considerable focus on transforming their people in tandem with the technology transformation, and have placed organizational change management at the core of IoT adoption.
For more insights on the possibilities and value potential offered by IoT, read our latest report "IoT Services PEAK Matrix™ Assessment and Market Trends 2017: Have You Taken the Plunge in IoT Yet?"