An interesting offshore/nearshore locations strategy dichotomy is emerging for today's major third-party service providers and enterprise firms, as well as their GICs. On one hand, they are continuing to set up delivery centers in new and unexplored locations due to increasing competition, business continuity planning, and risk diversification. On the other hand, the pressure of new disruptive technologies, changing consumer demands, and need to maintain points of parity with competitors is pushing them to consolidate their footprint in the top 10 locations.
Growing Oligopoly of Offshore/Nearshore Locations Driven by the "Digital Winds of Change"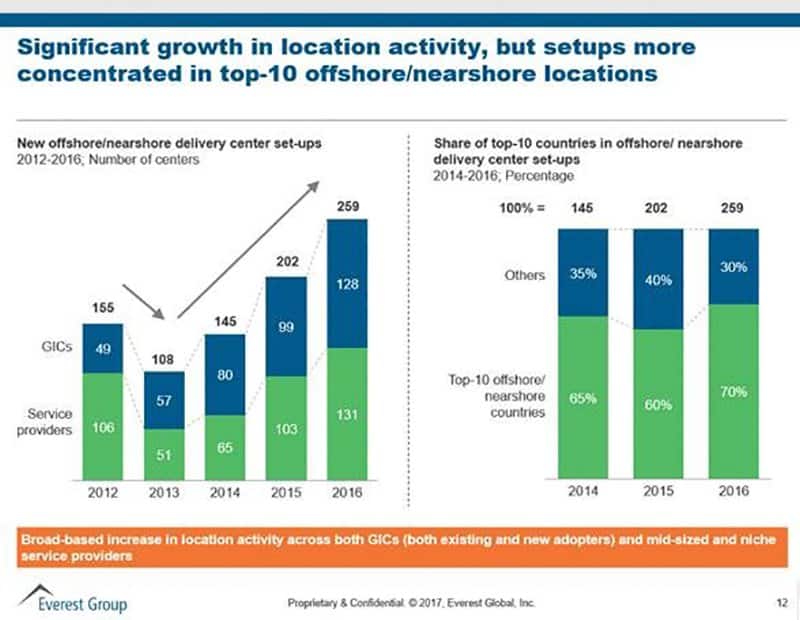 Top-10 offshore/nearshore locations include – India, Poland, Republic of Ireland, the Philippines, Costa Rica, Singapore, Romania, Malaysia, Mexico, and China
In the past few quarters, new center setups in the top-10 locations have jumped by ~10 percent, from 60 percent in 2015 to 70 percent in 2016. The key driver of this change has been availability of talent; only selective locations currently have the capability to support complex digital services. Thus, both external providers and GICs are leveraging these locations for digital services centers and setting up relevant centers of excellence. While several other non-top-10 locations are also investing in building digital talent, they are still not considered a viable option for digital delivery.
The major gainers from this shift have been India, Poland, Singapore, the Republic of Ireland, Romania, and Costa Rica. Analytics and cloud are the leading digital services segments in these offshore locations, primarily core software-based analytics. Both types of providers are also building centers in these locations for mobility, social, IoT, and cyber security.
The major losers from this shift towards digital have been China and Brazil, given providers' caution around language constraints and political uncertainty, respectively.
Going Forward, Concentration and Diversification
While most firms are investing in the emerging technologies/digital space, they are still in the nascent stages of building capability. As they mature, they will start diversifying and distinctively leveraging different locations for supporting elements of digital, thus driving a uniform distribution amongst top-10 locations in the next three to six years.
Following are highlights of our research on the future of digital services delivery destinations:
India and Singapore will be large scale offshore hubs. Analytics, cloud, and mobility will continue to hold strong, while other technologies, (e.g., IoT, cybersecurity, and blockchain,) will, ultimately, be broadly and deeply supported
Nearshore locations such as Ireland, Poland, Mexico, and Costa Rica will support real-time innovation and product development, and provide multilingual service delivery for social media and mobility services
Offshore locations such as Tel Aviv, Cairo, and the Baltic states are currently the "dark horses" in the race towards the top-10, and will gain momentum in the future. Look for them to deliver regional content contextualization, especially for mobility and social and interactive segments. Some of them will deliver digital technology R&D as well.
To learn how locations activity spanned in 2016, please refer to Everest Group's report titled Market Vista™: 2016 Year in Review: Global Services Industry Facing "Winds of Change."