India, China, and Philippines are often lumped together in regard to their roles in global services delivery. The reasons are not hard to fathom – these three geographies are consistently featured as leading locations for global services delivery (both new centers and expansions). In addition, their common availability of large talent pools coupled with low-cost operations make them highly relevant in global services delivery discussions.
However, a deeper analysis of the source markets served by these countries reveals some country-specific findings that are relevant for incumbents as well as new players with plans for these geographies. The chart below provides the distribution of IT-BPO services revenue in these countries in terms of source geographies served.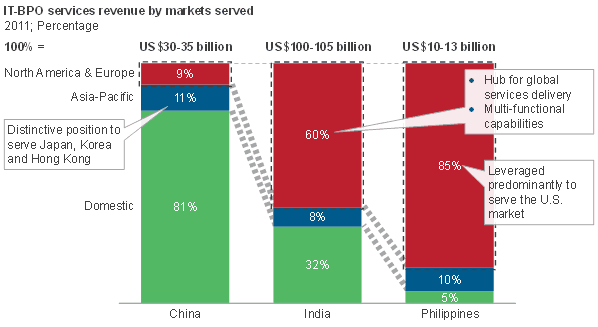 More than four-fifths of the global services delivery in China is focused on the domestic market with a limited scale of global delivery to North America and Europe. The availability of an English-speaking workforce continues to be a concern for global organizations as are perceptions related to IP / data protection regulations. There is a distinct value proposition for China to serve  its regional markets (e.g., Japan and South Korea) given factors such as time zone similarity, cultural affinity, and language availability.
In contrast, the Philippines is almost exclusively leveraged to serve the United States. Voice BPO has been the traditional growth engine for the Philippines, given cultural affinity and a large English-speaking workforce. However, of late, the Philippines market has also seen traction in BPO functions (particularly industry-specific non-voice BPO) and IT services, indicating diversification of service portfolio beyond voice.
And lastly, India has a distinctive value proposition around serving both the domestic and global markets. Leading players have multi-function scaled operations for global delivery to North America and Europe. In addition, India also sees large demand from the domestic market, particularly for technology and voice operation, and players typically leverage multiple cities within the country (including tier-2/3 cities) for serving this demand. However, unlike China, a very small proportion of service delivery from India is targeted towards the Asia Pacific market primarily due to the constraints around East Asian languages.
Global adopters are increasingly accepting a multi-location approach towards building their portfolios. As they think about their location strategy for Asia, they would be wise to consider roles for India, China, and Philippines based on their unique factors related to source markets and functions for delivery.