Earlier this year, we conducted a research study on how insurance companies are faring in their digital transformation journey. Using our Digital Pinnacle ModelTM analysis framework – which assesses digital maturity – we evaluated 23 insurers that operate globally across 18 dimensions including strategy, innovation, process transformation, organization and talent, and technology adoption.
Our key findings included that:
approximately 70 percent of those we evaluated will increase their investments in digital technologies by more than 6 percent in 2018
although the digital budget is managed by the CIO and CTO organization, 45 percent of it is primarily influenced and led by the CMO, CDO, and business unit leaders
there will likely be a significant increase in demand for some the next-generation technology themes, including artificial intelligence (AI), cloud-based IT infrastructure, Internet of Things (IoT), big data analytics, and robotic process automation (RPA), across the insurance value chain.
While these findings all point to positives in the move to digital, insurers, just like companies in all other industries, are facing significant challenges in finding the right talent and skills to accelerate their pace of digital adoption.
In fact, more than 60 percent of the insurers we studied are facing this major roadblock. We mapped their digital adoption investments against the skills gaps and discovered that they're in the red zone in cognitive and AI, IoT, RPA, and cybersecurity technology skills.
Now, consider the impact of these skills deficiencies. Cognitive and AI are the future of data and analytics, they will enhance the way insurers operate as well as reach out to consumers. RPA is creating impact by reducing the overall cost of operations, it will help drive significant bottom-line results for insurers. Lack of skills in these areas shall hinder the digital transformation journey for insurers since they are intertwined with each other. For instance, automation is expected to the bedrock for the increased adoption of cognitive technologies in insurance. The lack of cybersecurity skills will hamper insurers' digital adoption efforts, as security is one of the key demand themes that will provide increased robustness and resilience to their technology architecture.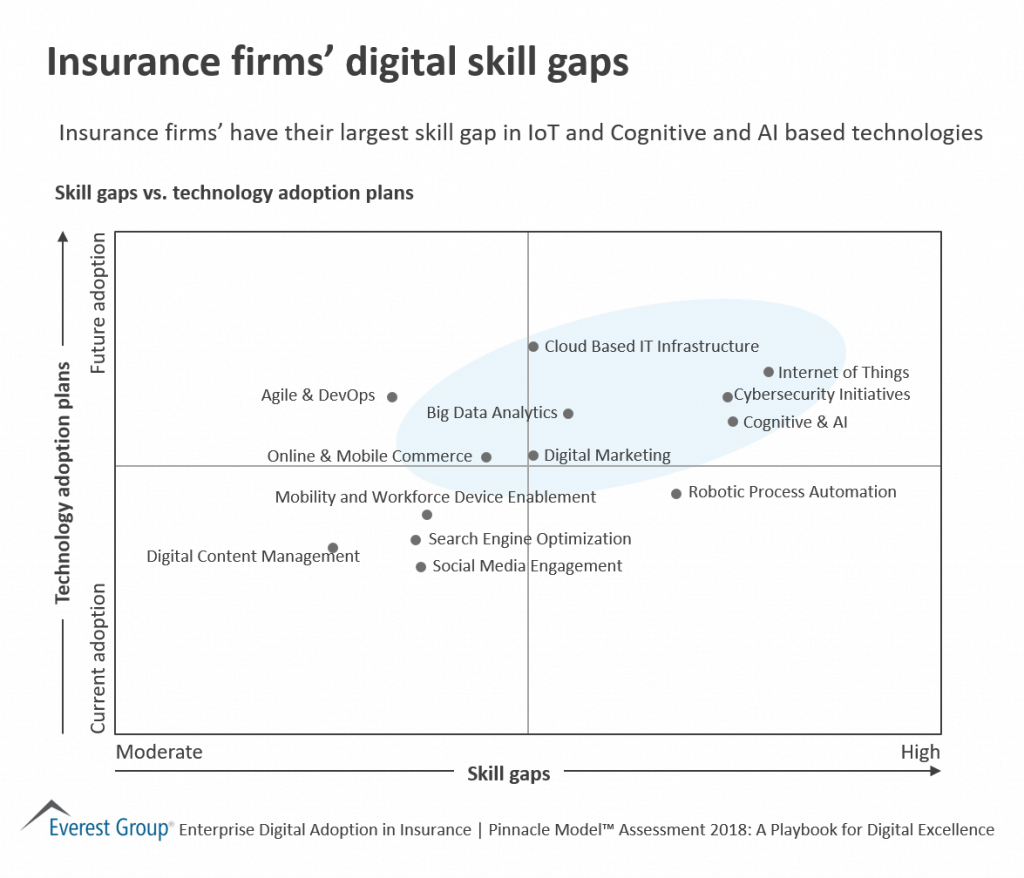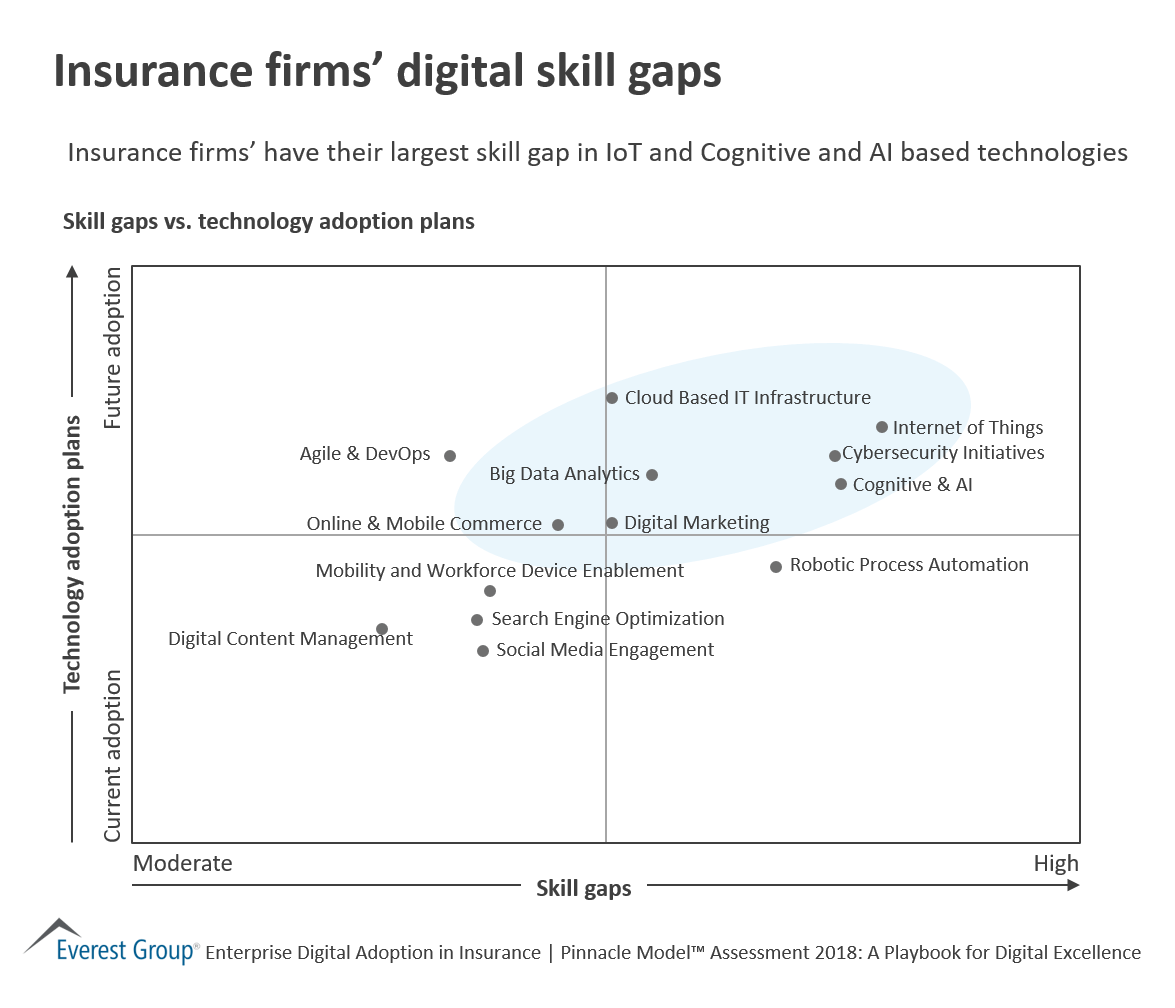 We recommend a four-fold approach for insurers to succeed in bridging these significant skills gaps.
Adapt
Insurers must adapt to the digital-first talent mandate by prioritizing digital literacy through investments in training, re-skilling, and up-skilling efforts. Insurers must harness the power of technology to bring about change in their business processes. Also, as the playing field in the insurance industry is rapidly evolving, business responsiveness and agility has become a focus area for insurers. Digital Pinnacle Enterprises™ in insurance have prioritized digital learning, and infused areas like intelligence, data, design, and agile with highly skilled resources. They are in a far better position to leverage the investments and manage the trade-offs required in the digital age.
Invest
Insurers must invest in building a talent pool ecosystem through acquisitions or partnerships with niche technology firms (InsurTechs), set up innovation labs, and solve problems using the wisdom of crowd through hackathons and crowdsourcing platforms. One good example of open innovation for lacking digital skills is Allianz offering parts of its Allianz Business System (ABS) through APIs to other insurance companies. Another is Lemonade's launch of its public API, which allows seamless sales of insurance products on digital media. Still another is AXAs' use of KASKO's platform (KASKO is an InsurTech offering digital middleware services) for its travel insurance products, all of which have been branded under the AXA Travel umbrella.
Partner
Insurers need to partner with IT and consulting services providers, and staffing firms, to gain access to a pool of specific next-generation technology talent that will accelerate their time-to-market and time-to-digital-success. Many providers are investing in building solutions/accelerators and assembling digital adoption best practices to partner with insurers on their digital transformation journey. Because of their domain knowledge, the providers can also deliver significant support in identifying redundant processes that could help optimize insurers' overall IT portfolio.
Cultivate
As talent with digital skills is in competitively short supply, tapping new university and college graduates with digital training is an important way for insurers to fill in gaps. In fact, insurers can partner with universities to drive research and innovation. For example, in 2017, Allstate Insurance Company partnered with the Intelligent Systems Laboratory at Stanford University to better understand the implications of connected cars and autonomous vehicles. Collaborations like these can help foster talent at a very early stage and deliver benefits later.
Digital talent is one of the critical prongs of a viable, sustainable, competitive digital strategy. It will drive the difference between the leaders and laggards, and the survivors and non-survivors, in the rapidly transforming insurance industry.
If you'd like insights on how mature your firm is on its digital journey, please feel free to reach out to [email protected] and [email protected].