"The Times They Are a-Changin" is an appropriate idiom to borrow from the great (and now Nobel Laureate) musician Bob Dylan to describe a conversation I had just a few days ago with a senior executive who leads sourcing for one of the largest pharmaceutical firms in the U.S.
Context: As you see in my most recent blog, I have been very cynical of the innovation strategies adopted by both service providers and enterprises. I have accused service providers of digital and cognitive "washing" that just pays lip service to innovation, and enterprises of resting in comfort zones where commodity and arbitrage still rule the roost.
I had no reason to tweak my view, until the discussion with this senior executive.
He was picking my brain on how to infuse innovation into his company's existing application services engagements. He has been struggling to do so with some of the best-known names in the service provider world. When he asked, "Is there something I can do to make the service providers change?," I responded:
Change is difficult in a business environment in which service providers must play both the arbitrage and digital games
The "arbitrage-first" service providers will push for traditional models if you blink
And "digital-first" providers will proactively offer innovative solutions even though they keep their arbitrage strengths handy
IT Innovation Maturity in Applications Services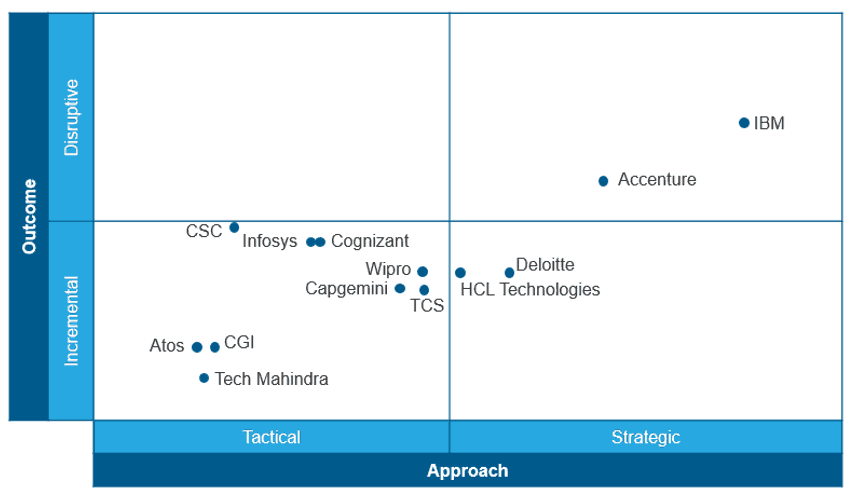 The challenge is, there are more of the former than the latter, and the incentives for falling for arbitrage-driven models are still high for both procurement and service providers, irrespective of which of the above categories they belong to.
Hence, unless sourcing executives do the following, innovation will be difficult to come by.
Anchor: Define an innovation roadmap
Organize: Contract with service providers on a formal innovation program
Seek co-investments: Ask service providers to co-invest (put a financial stake) in your innovation roadmap
At this point, the senior pharma executive had an epiphany, and stated, "Aha. I don't want to put it this way, but if I have to make my vendors change, I must institute an "Innovation Tax."
There, my friends, is the sign of things to come. Enterprise sourcing executives are increasingly feeling compelled to show business value. If service providers refuse to bring value to the table, they will have to be ready for an "Innovation Tax."
By the way, these recommendations are not a bunch of my opinions. The above was validated through a survey of 100 senior enterprise executives Everest Group conducted in late 2016.
See our reports, "How to innovate – A Comprehensive Guide to Innovation in Application Services," and "Cracking the IT Innovation Code" for more details on how to infuse innovation into your existing and future sourcing contracts.