Leading bank – "We have grown our sourcing footprint to over 20,000 FTEs across multiple locations in the last 15 years. We definitely have a mature global sourcing model."
Leading insurer – "We have evolved in the way we source global services, from transactional work to highly complex and niche services. Ours is a highly mature global sourcing model."
Leading retailer – "We started our global sourcing journey only five years back by outsourcing our IT work. We are still struggling to define if there is a GIC play needed in our global sourcing model, which most of our peers have adopted. I think our global sourcing strategy is still in its nascent stages."
Everest Group hears statements similar to the above on a regular basis from many of our enterprise/buyer clients. That's because most organizations measure the maturity of their global sourcing model in terms of a few simple metrics, like scale, age, type of work, and models adopted.
While FTE scale is often the most commonly used yardstick to measure the global sourcing maturity, in our experience it's the most misleading one. Why? Most organizations fail to understand global sourcing components beyond scale, scope, and model (GIC vs. third-party.) But we believe global sourcing is a much more complex play of multiple factors, and that an organization's approach toward each of them helps determine its overall maturity.
The following diagram depicts the factors that are important to assessing the sophistication and maturity of global sourcing model of enterprises.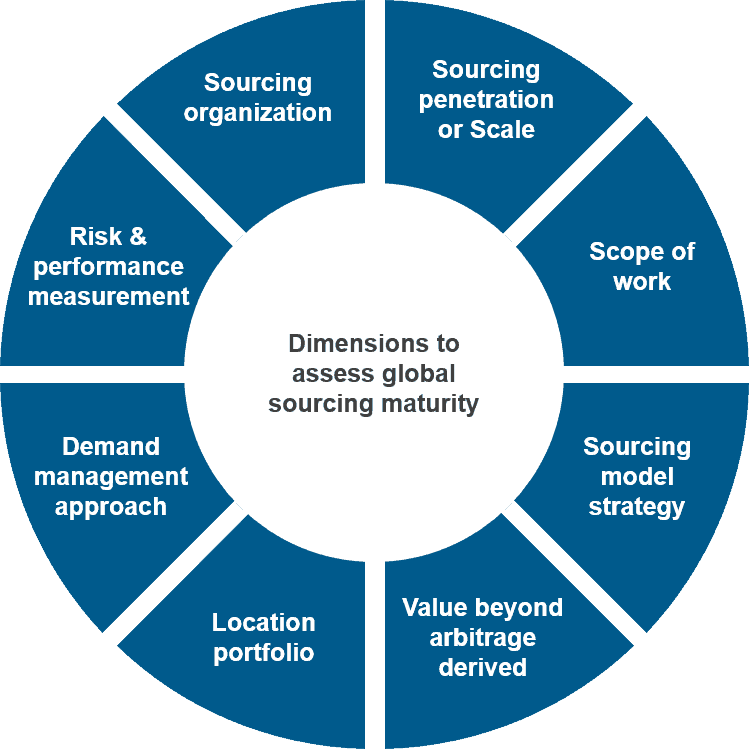 First, scale. Yes it is an important aspect, and to a large extent indicates the level of investments and commitment to the model. However, on an absolute basis, scale alone can be misleading. When the same number is viewed as a percentage of headcount in back-office/middle-office functions in an enterprise, it represents the true penetration of global sourcing model. For example, two organizations with similar global sourcing FTE scale can have different (%) values for global sourcing penetration.
Other important components of global sourcing that can determine its maturity are:
Scope of work: Both breadth and depth of work sourced are important to assessing maturity. However, more important is the approach through which organizations decide the scope of work to be sourced. Mature organizations have defined frameworks/toolkits to achieve this, and make decisions based on assessment of risk and benefits while avoiding any stakeholder biases.

Sourcing model strategy: Does using both sourcing models (GIC and third-party), and even their complex avatars such as virtual GIC, make the sourcing model mature? Not really! Irrespective of the model, the measure of sophistication is in the manner it is used to achieve sourcing objectives, the type of engagement with the model (strategic partners versus provider of services), and approach to model selection.

Value beyond arbitrage: Mature adopters of global sourcing have moved beyond the cost savings-only play and are looking to create wider business impact through their sourcing strategy.

Location portfolio: Leveraging India or the Philippines does not make any organization more or less mature. The hallmark of mature organizations is their ability to build a location portfolio instead of a "collection of locations." Each location in the portfolio has a designated role, and helps meet one or more global sourcing goals (e.g., savings, access to niche talent, risk diversification, etc.)

Demand management approach: This is often the most neglected parameter, or the one in which organizations tend to have a myopic view. Immature enterprises not only lack demand-profiling skills, but also tend to take a short-term view (12-18 months). Mature enterprises take a longer-term view, and align the demand for global sourcing with the organization's overall business and growth plans.

Risk & performance measurement: Successful and mature organizations measure risk as well as performance of the global sourcing strategy, and leverage it to influence/inform their future global sourcing initiatives.

Sourcing organization: Last but not the least, the sourcing organization (or lack of it) is also a determinant of sourcing maturity. Successful organizations are able to create a distinct yet well-amalgamated team which can not only bring together sourcing needs of multiple BUs/LOBs in the organization, but also make the sourcing program efficient and effective.
The next time you hear someone make a comment about the maturity of an organization's global sourcing strategy, point him or her to this blog. Remember that not all organizations have the maturity to measure maturity!
If you would like to know more about our global sourcing maturity assessment methodologies, share your experiences, or have a discussion on this with one of our analysts, please contact us.