As Indian service providers announce their results for the year, one can't but be amazed by their spectacular growth. For fiscal 2011, TCS's annual earnings grew by 29 percent year over year (YoY), and Wipro's IT services revenue grew by 19 percent YoY. While North America and Western Europe have traditionally fueled growth for the Indian heritage service providers, the focus is increasingly turning to Asia to capitalize on the growing economic shift.
In this context, the next several years are set to be quite interesting for the Asian markets, as we estimate that more than 500 first generation ITO and BPO contracts, worth US$25-30 billion, are up for renewal in Asia (Middle East, India and South East Asia) through 2014.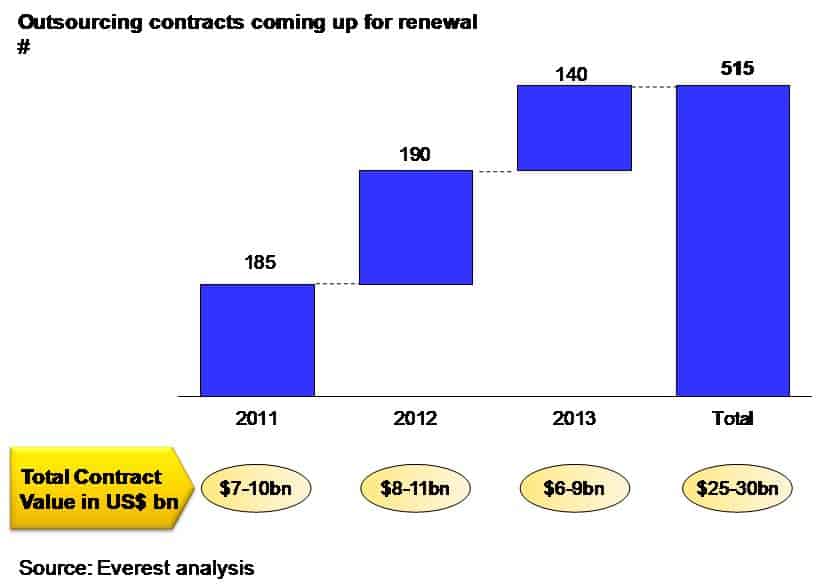 As we ran an analysis of potential renewals through our deal databases, some interesting trends emerged:
India, Malaysia, Singapore, Saudi Arabia, and Israel, in that order, have the largest renewal opportunities; and India is the largest market by far, possessing 50+ percent of the potential renewals by value.
In India, a large number of early stage telecommunications deals are coming up for renewal; in the rest of the region, financial services will likely dominate renewal activity.
IT contracts will likely contribute nearly 80 percent of these renewals, with infrastructure being the most significant component.
Clearly, large buyer enterprises (Forbes 1000 firms or private firms with revenues of over US$5 billion) will dominate these deals, except in Middle East Asia, where there is a greater presence of small-to-medium sized contracts.
What makes renewals unique in the Asian market?
First, over the last decade, Asia has undergone a much more rapid change in service provider capabilities than developed markets. Today, most global IT-BPO providers have sizeable Asian market practices, and have brought global offerings to service regional buyers; a decade ago, it was just a select few.
Second, buyer maturity in the region has increased significantly. Asian buyers today have had multiple deal experiences with providers, and consequently understand sourcing and governance in far greater depth than in the early 2000s. Today, transformational deals are not unheard of, and sophisticated service management frameworks are the norm, not the exception.
Third, consider changes in the global context that also affect the environment in Asia: the growing adoption of virtualization; the emergence of the Cloud; enterprise-scope BPO services; and consolidations in the provider landscape.
Together, all these factors make the case for a careful look at contractual parameters as end-of-engagement terms approach. Typical end-of-term alternatives include:
Renew: Resign the existing contract with minimal changes.
Renegotiate: Modify a limited number of elements of the contract.
Restructure: Rethink the structure of key contract provisions and key business terms.
Recompete: Terminate the existing contract and enter into a fresh competitive bid process.
Repatriate: Terminate the current contract and bring previously outsourced services back in-house.
As Asian buyers consider these options, they need to carefully evaluate market capabilities (given significant market changes), and take a closer look at deal robustness to ensure that market best-in-class service management/contractual frameworks are incorporated. This implies that restructuring and recompeting are very real options in the Asian context.
Everest Group's experience indicates that end-of-term evaluations take nearly six months in typical global deals. Given added complexities in regional deals, buyers would be wise to begin their evaluations up to a year in advance.
Historically, it is not uncommon to see buyers continue with their incumbent service providers. While some fail to leverage the market effectively, others get bogged down with challenges of repatriation or risks of changing service providers (such as business continuity risks, contractual lacunae for transition-out or incumbent provider hold-up). However, heightened competition, changing service provider landscape, newer delivery models (e.g., cloud) and increasing maturity in the Asian and Middle Eastern markets could well change this going forward.