On April 23, Genpact announced it had signed an agreement to acquire Pharmalink Consulting, a global provider of regulatory services to the life sciences industry. The move brings Genpact valuable expertise in supporting life sciences research and development functions including regulatory strategy, filing submissions, complex compliance services, and post-licensing activities management. And it well complements Genpact's traditional stronghold in FAO BPO for major pharma clients.
This strategic play is in line with a wider move by generalist IT-BPO service providers to compete with life sciences technology and process majors such as Accenture and Cognizant. These generalists are ramping up their capabilities in domain-specific areas including drug safety, regulatory services, pharmacovigilance, and clinical data management, to enable more broad-based engagement with pharma customers.
Life Sciences Regulatory Imperatives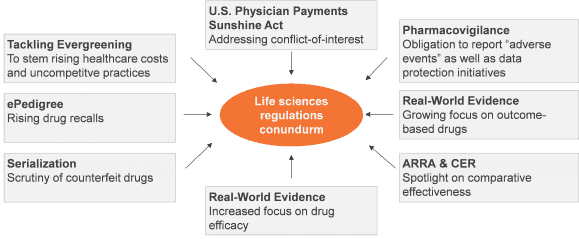 The already complex life sciences regulatory landscape is further compounded by stringent quality measures, new drug approval regulations, restricted sales force access to physicians, increasing scrutiny of manufacturing processes, improving collaboration among regulatory agencies, and enhanced pharmacovigilance legislation. We estimate that compliance-related IT spending amounts to nearly 15 percent of the total IT budget of life sciences firms, with three to five percent annual increment.
Recent European data protection regulations call for greater control of personal data. Newer provisions include use of health data for only "absolutely necessary" purposes, as well as an additional onus on data controllers to formulate methodologies to adhere to "data minimization" practices. Pharmacovigilance, drug safety, and clinical data management have become key imperatives in this scenario. New technologies and systems can enable organizations to tackle the regulatory puzzle. 
The Inorganic Route to Enabling Domain Expertise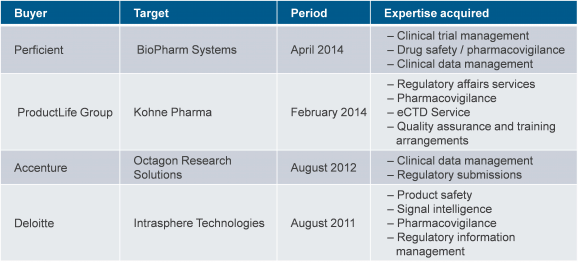 In a significant change and recognition of new market realities, nearly all IT majors have separate business verticals specifically targeting clinical data management and pharmacovigilance. In 2011, Accenture even tied up with the Institute of Clinical Research in India (ICRI) to jointly develop a pharmacovigilance and clinical research program for the Indian market.
And in the last couple of years, there has been an increasing impetus on behalf of service providers to look at M&As to acquire these specific areas of expertise in the life sciences domain. For example, the Accenture/Octagon deal in 2012 signalled an important shift in focus as Accenture attempted to combine its life sciences offerings by adding elements of regulatory management and SI/consulting to have a more integrated portfolio with a cross-functional view. This is based on the belief that the marriage of functional expertise in conventional process-oriented outsourcing services with industry expertise across regulatory, drug safety and clinical trials, make for a very compelling business case. Additionally, regulatory work has been largely project-based, and typically short-term. The enhanced value players bring to the table can translate into longer and more meaningful IT-BPO engagements.
The moves by Accenture and Genpact herald the transformation of life sciences customers' expectations for greater consolidation and efficiency in the aspects of regulatory activities management, bringing together different tenets such as clinical data management and pharmacovigilance. Service providers that seek to explore, leverage, and consolidate adjacencies in current scope of work, and assume a consolidated and integrated approach to IT-BPO services, will end up with a greater share of the life sciences pie.