Last week Convergys announced it plans to acquire Stream International. This combination of two large U.S.-based providers creates the world's second largest Contact Center Outsourcing (CCO) provider, with a combined revenue topping the US$3 billion mark. Convergys stands to gain an expanded set of service delivery capabilities, client segments and regional presence.
As competition in the CCO market heats up, service providers are actively looking around for attractive opportunities for acquiring their way to growth and expanded offerings. Over the past two to three years several CCO M&A deals have been announced. These deals target a number of specific objectives, which Everest Group categorizes into three types – capabilities augmentation, scale enhancement and footprint expansion. Capabilities enhancement was the primary driver for nine of the more recent deals, making it the most prevalent investment area.
Key M&As in CCO space in 2011-2013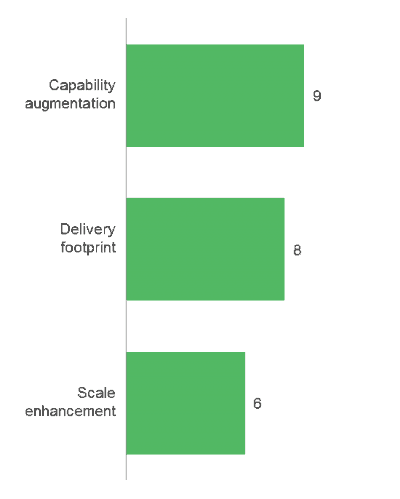 Two key objectives drive Convergys' acquisition of Stream, scale enhancement and client base expansion. On the other hand, the other CCO mergers in the past year and a half had different sets of objectives. Concentrix's acquisition of IBM's CCO (October 2013) business and Sykes' acquisition of Alpine Access (July 2012) were driven by capability enhancements. In contrast, Webhelp Group's acquisition of HEROtsc (February 2013) and Capita's acquisition of Full Circle (June 2012) were driven by delivery footprint expansion.
While the deal ensures top line growth, we wonder how Convergys plans to tackle bottom-line growth. In our opinion, CCO leaders will need to balance scale-driven growth with more profitable organic growth among the existing client portfolio. The trick to achieving this growth involves effectively addressing ever-increasing client expectations around customer experience management and end-to-end multi-channel customer interaction. Everest Group research shows that over the past few years CCO clients have expanded the number and nature of the processes included in their engagements, with value-added services growing the fastest among all process areas.
For the gears to keep powering growth long after acquisitions have been digested, CCO service providers will have to focus on value-added services that expand existing client engagements and create differentiation in the market.
For more analysis, download our complimentary viewpoint on this topic.