Is M&A required for growth in the hyper-competitive, increasingly digitalized contact center outsourcing (CCO) market, or are there still organic growth opportunities available to service providers?
This is a key question we pondered when developing our recently released annual CCO Service Provider Landscape with PEAK Matrix Assessment 2017 report. Before we address that question, let's first take a look at the numerous changes that are impacting the (CCO) space:
Customers are demanding a seamless and consistent customer experience
Disruptive technologies are continuously redefining customer and buyer expectations
Buyers are shifting their focus towards better insights and increased agent performance
There's a movement towards fewer but more meaningful CCO relationships, including vendor consolidation.
To address these phenomena, service providers continue to rely on acquisitions to bolster their capabilities in order to remain relevant and grow. Some of the large-scale acquisitions in 2015-2016 included those of EGS by Alorica, Minacs by Concentrix, and GoExcellent by Webhelp. Each of these acquisitions were focused on multiple pillars of capability enhancement – expanding geographic reach and delivery footprint, deepening industry focus, and boosting next-gen technology capabilities.
The following exhibit highlights the nature of these multi-capability, and other single capability, acquisitions that took place in the last 12-18 months, and how they are positively impacting the provider's short- and long-term growth.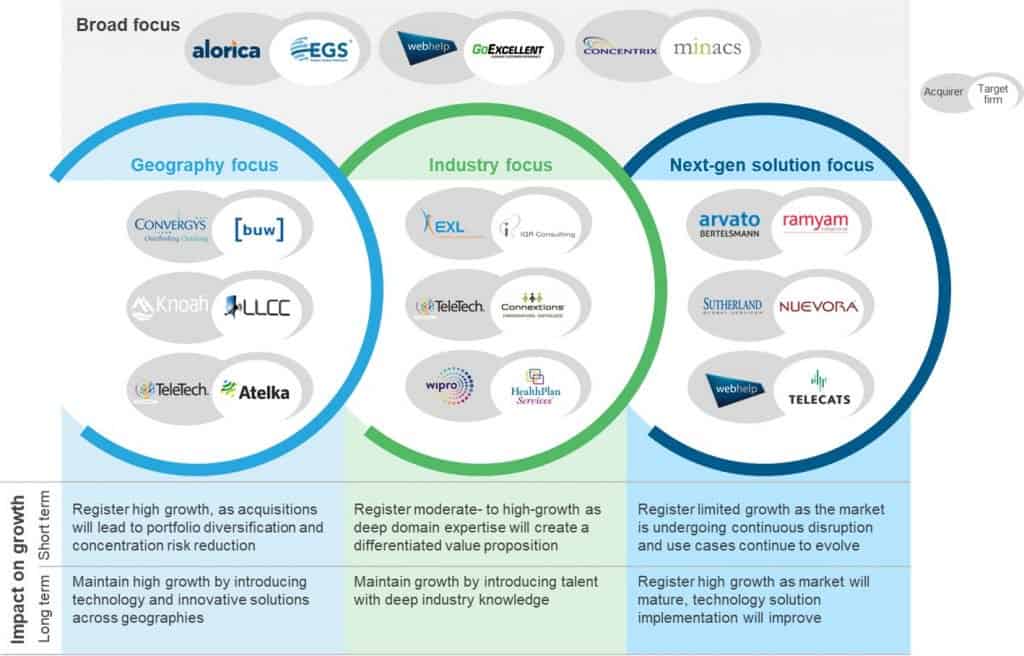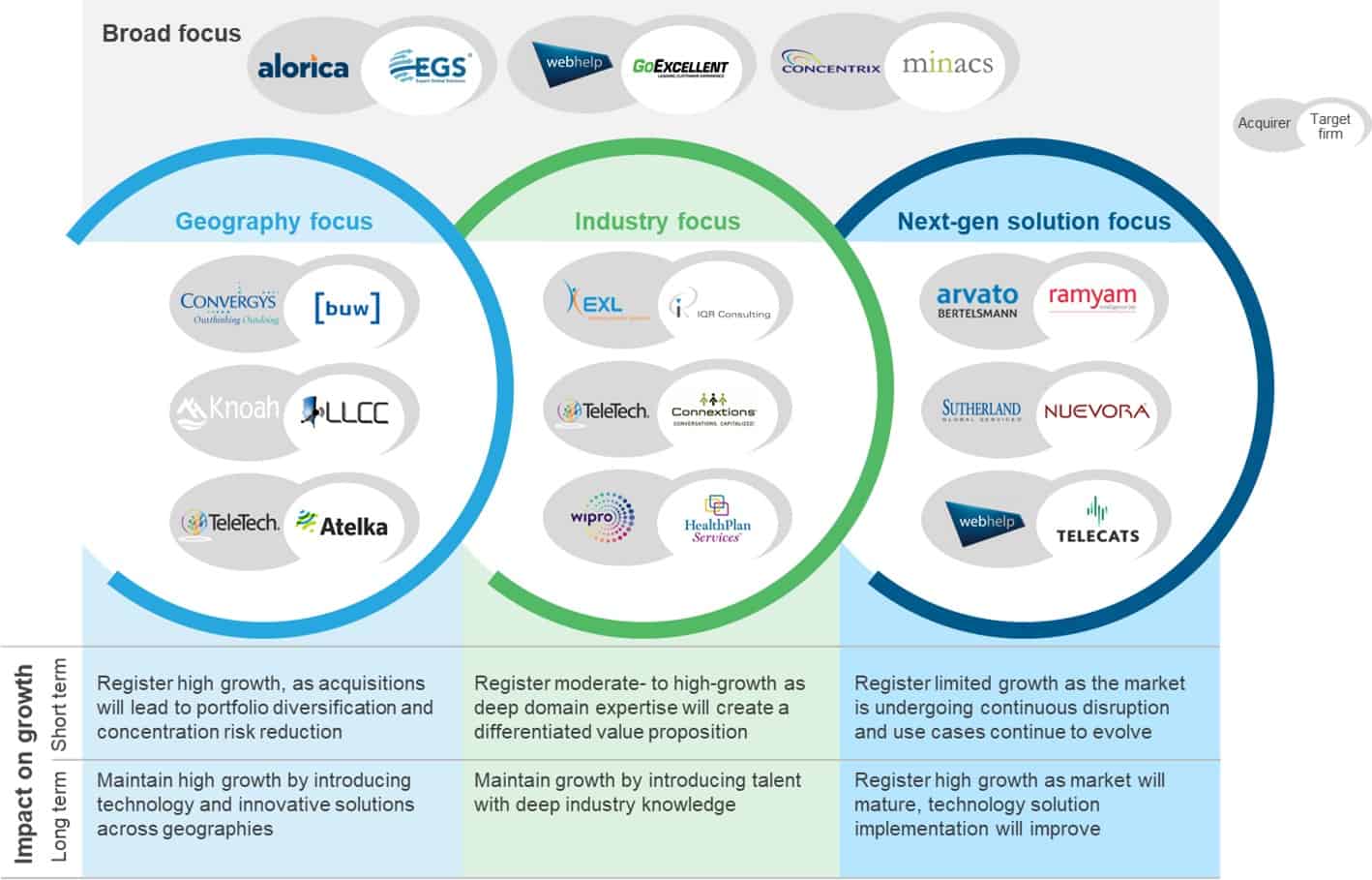 In addition to M&A activity – which delivers varying degrees of short- and long-term growth – many service providers are increasing their investments in multiple next-gen technology solutions. While these moves result in stronger client relationships that do grow over time, they don't drive immediate revenue growth; this is often because these very solutions are around lower price point non-voice and self-service offerings which, inherently, challenge the providers' growth rates.
Given the degree of competitiveness in the CCO market, we believe that M&A will continue to remain intrinsic to the growth of service providers and their capability enhancement strategy. But, as the market evolves and the competitive consolidation wave troughs in the next 12-18, service providers need to prepare themselves for sustained organic growth in the digitally-enabled business environment.
And, circling back to the question with which we opened this blog…organic growth is indeed still possible. Some service providers, such as HCL, HGS, Sutherland Global Services, and WNS, are registering strong organic growth driven by focused internal investments over the last few years. But the way forward for all service providers is to bring together a blend of people, process, and technology changes in order to transform themselves as strategic partners able to support their clients' quest to achieve best-in-class customer experience.
Here are Everest Group's recommendations for CCO providers' organic growth strategy:
Move towards a consultative-led approach to engage with buyers as strategic partners, and understand key customer pain points and how to improve the customer experience through each one of them
Evolve the client engagement model to a more agile and business outcome-oriented sales and solutioning model
Invest beyond traditional enabler technologies such as analytics and multi-channel solutions, and focus on next-gen solutions such as robotic process automation (RPA) and artificial intelligence. If these capabilities cannot be built in-house, look at partnerships
Redesign the agent talent model to achieve the right skill set by relooking at recruitment strategies and learning & development practices to ensure the agent of the future has domain and technology expertise.
The contact center services market is at an inflection point which is creating both challenges and opportunities for service providers. M&A has played a key role helping leading players counter market disruption, but is not a long-term growth path. They need to bring out changes in their outlook, and enhance their capabilities to position themselves as strategic partners for enterprises. How well and swiftly they manage these changes will determine, which providers win in the market, and which ones risk falling off the radar.
To learn more about the growth strategies the leading and contending CCO service providers are employing, please read our report, "CCO Service Provider Landscape with PEAK Matrix Assessment 2017."