Embracing sustainability in the insurance industry is not just a choice, but a necessity for a resilient future. By integrating Environmental, Social, and Governance considerations into their practices, insurers can mitigate risks and foster long-term value for customers, shareholders, and the planet.
Sustainability has been a pivotal issue for years, but the recent conditions induced by the storm of the COVID-19 pandemic's economic effects and the escalating climate change impacts across the world have increased pressure on industries across the globe to be aware of their Environmental, Social, and Governance (ESG) footprint. The financial services sector has not been behind in the race to drive the global sustainability agenda, largely driven by the BFS industry in the past. However, over the past few years, the insurance industry, being a key player in this sector, has also recognized the importance and urgency of embracing various practices in its operations to contribute to a sustainable planet. By integrating sustainability into various aspects of their operations, insurers are not only mitigating risks associated with climate change and environmental degradation but also fostering long-term resilience and contributing to a more sustainable future. This blog will explore how the insurance industry is driving the sustainable change through technological investments, product innovation, business processes, and disclosures.
With the increasing pressure from regulatory authorities, customers, employees, shareholders, and other market participants, insurance enterprises are striving to incorporate various aspects of sustainability into their business. Insurance firms are embracing sustainable change in a variety of ways, including through their investments, underwriting choices, and the structure of their insurance products, as well as using their own office buildings and making the vehicle fleet available to executives and staff. By integrating ESG considerations into their risk management, product design, internal operations, long-term strategies, and workforce management, many insurance firms have already started their journey toward becoming purpose-driven organizations and have begun to integrate sustainability with their core businesses.
Incorporating sustainability in workforce management and internal processes has been the first step in creating sustainable change for most insurance enterprises. However, with the high awareness and responsibility in the play, insurers are now also increasingly moving toward adding sustainable insurance products in their catalog that address environmental and social challenges to become champions in the maturity continuum [Exhibit 2]. For instance, insurers offer green insurance policies at lower premium rates to incentivize environmentally friendly practices and offer coverage for renewable energy installations, energy-efficient buildings, and sustainable agriculture. Similarly, parametric insurance products provide rapid and efficient payouts in the event of natural disasters, helping communities recover faster and build resilience against climate change impacts. These innovative products not only protect clients against risks but also encourage sustainable change behaviors and contribute to a greener future.
Another impactful way in which insurers can increase their top line while promoting sustainability is by incorporating sustainability criteria into their investment policies, divesting from environmentally harmful industries, and investing in renewable energy projects. These actions not only align with the insurers' values but also offer potential financial returns while mitigating climate-related risks.
Insurers need to prepare for sustainable change with the right technology and data architecture to achieve their sustainability goals, maintain transparency, and stay ahead of the regulatory disclosures requirements.
Insurers have been leveraging consulting partners to help them define their roadmap and strategies to achieve their sustainable agenda. But one of the biggest challenge  insurers face in this pursuit is the lack of robust data architecture to provide an understanding of the current ESG footprint, such as carbon emissions, energy consumption, energy mix, and employee well-being. As more insurer enterprises move toward becoming sustainability champions and provide transparency and disclosures to the regulatory bodies and other stakeholders, there will be increased opportunity for data and analytics providers to partner with the insurers to help them align their insurance portfolios with sustainability goals and manage ESG-related risks.
Additionally, collaboration with technology and IT service providers can help insurers build new products and solutions by leveraging cutting-edge technologies such as data analytics, AI, cloud computing, AR/VR, and blockchain that can boost the sustainability agenda along with unlocking fresh opportunities for generating revenue. Moreover, using technologies such as green/sustainable cloud to minimize operating expenses and carbon footprint while optimizing energy demand, predictive/prescriptive maintenance of equipment using IoT to limit energy and materials waste, and processing claims efficiently and sustainably by uploading photos and videos of damage through an AR/VR interface are some of the ways insurers can leverage technology to achieving their internal sustainability initiatives as well.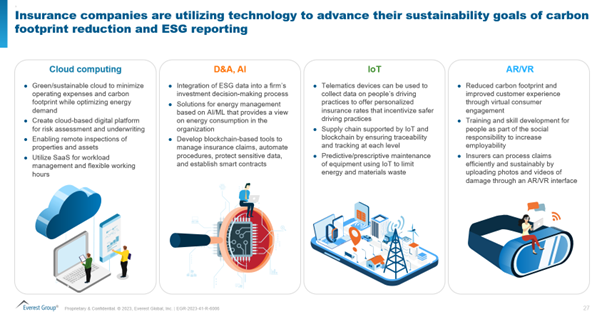 The insurance industry has recognized the urgent need to embrace sustainability and is taking significant steps to drive positive change. By integrating sustainability into investments, leveraging technological innovation, offering sustainable products, adopting environmentally responsible business processes, and promoting transparency through disclosures, insurers are playing a crucial role in addressing global sustainability challenges. As the industry continues to evolve, the integration of sustainability practices will become even more critical, enabling insurers to manage risks effectively, foster resilience, and contribute to a more sustainable future for all.
For more details on how the insurance industry is moving toward driving sustainable change and insuring a sustainable tomorrow, please refer to our report Insuring a Sustainable Tomorrow: How the Insurance Industry is Driving Positive Change.