While nearly all industries are dealing with a talent dearth, the mortgage industry is faced with unprecedented layoffs. Rising interest rates, high housing prices, and a shortage of listings have cooled mortgage and refinance activity from the pandemic boom, leading mortgage lenders to cut thousands of positions in recent months that are no longer needed. Learn five tactics companies can take to remedy the layoff crisis in this blog.
Let's take a look at the market factors that have contributed to the current situation.
The overall mortgage industry was ignited during the pandemic by two years of low-interest rates that somewhat bolstered originations. But the increase in interest rates early this year has since curtailed the short-lived volume increases, reducing the demand for both new originations and refinancing.
Dwindling demand has been exacerbated by the limited housing supply, skyrocketing house prices, declining home values, increase in frauds, a detreating secondary market, and uneven and untimely mortgage payments.
To better understand where the market is headed, we looked at the Annual Mortgage Origination estimate from 1990 to 2019 before the pandemic. The estimates in the chart below show that even if total new originations have increased every year, new originations and refinancing growth has been somewhat cyclical. The exception is the steep decline from 2005 to 2008, when the US mortgage industry experienced a financial crisis.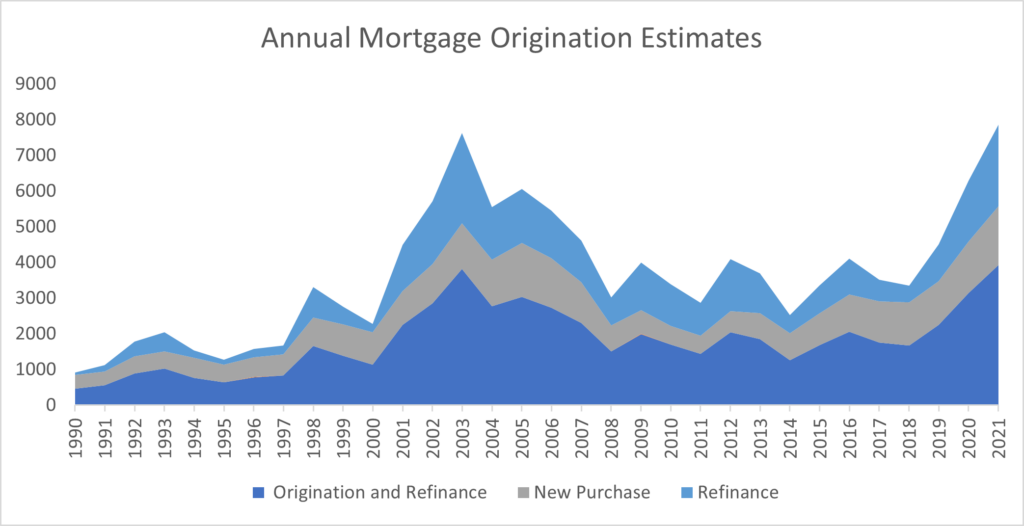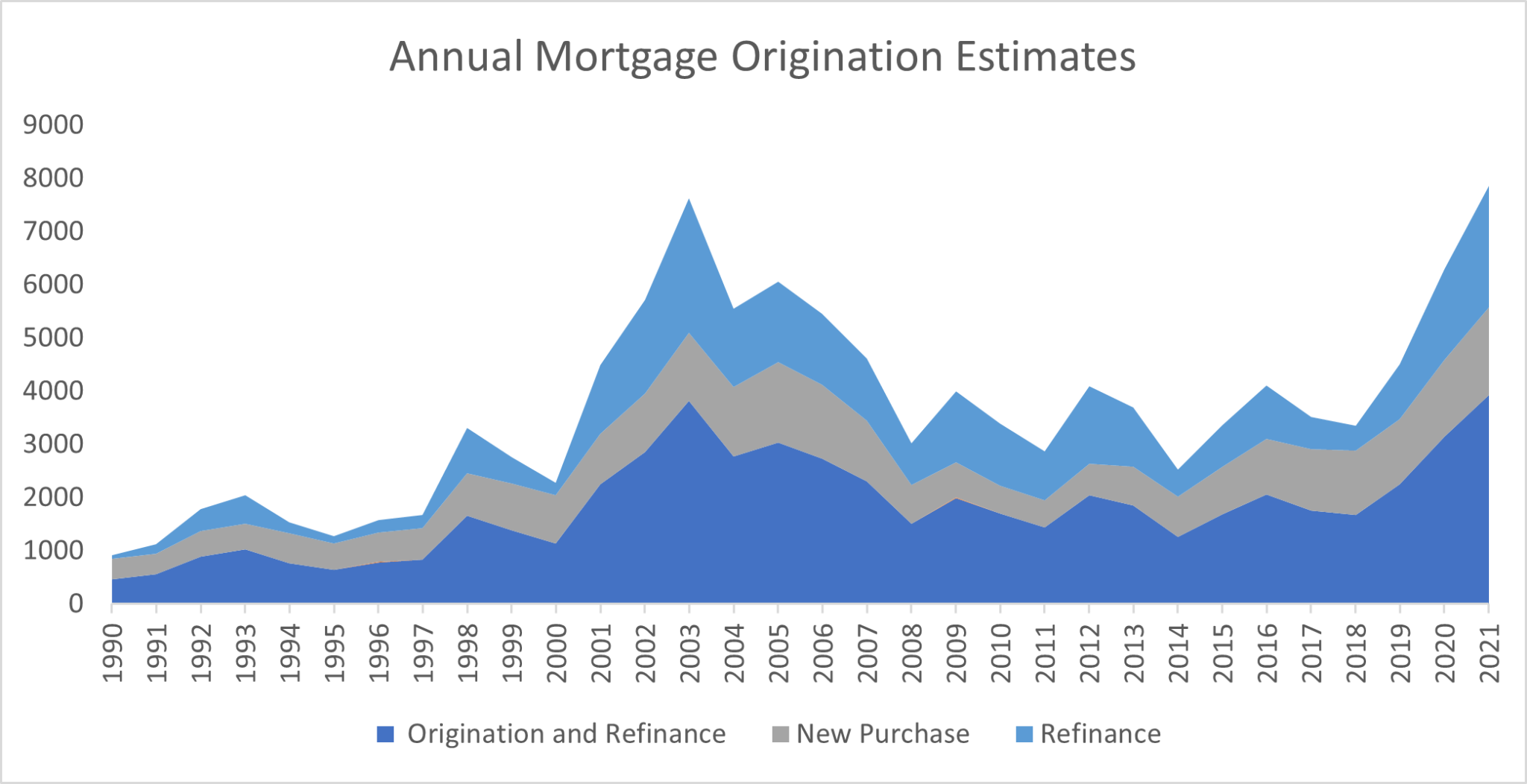 Looking at the 30-year mortgage fixed rate, interest rates have been steadily declining over the past few years – until the sharp increase in early 2022, where rates were first hiked in December 2021 to 3.11% and steadily rose to 5.30% by the end of May 2022.  With US inflation at an all-time high of 8.26% in April 2022, the consequential rise in mortgage rates contributed to the purchasing power crunch and reduced demand for new originations.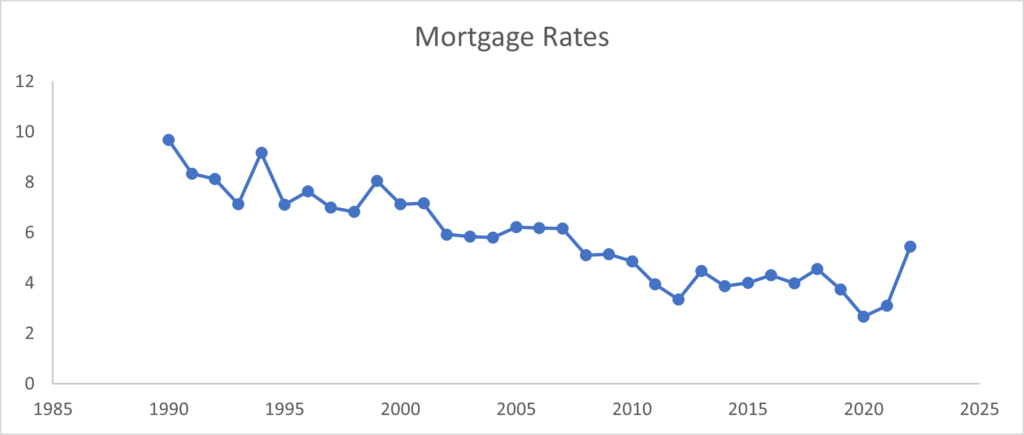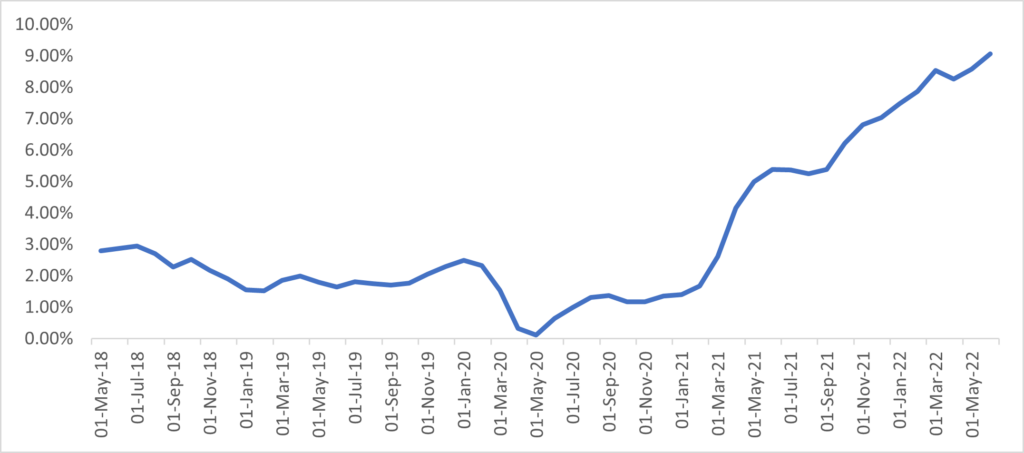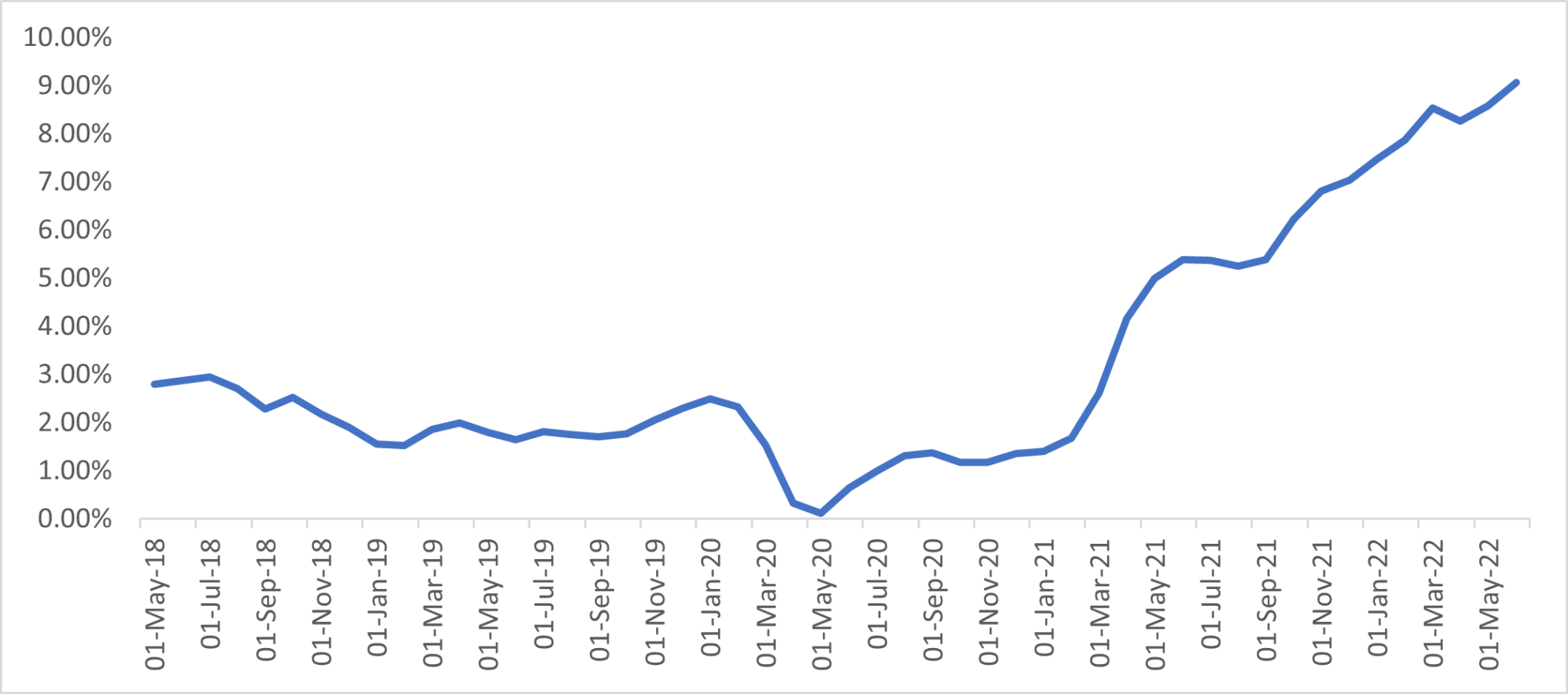 Mortgage industry trends contributing to increased layoffs
Faced with the combined problem of rising inflation and the corresponding mortgage rate increases by the Federal Reserve, mortgage companies have resorted to slashing an overabundance of positions that were added during the pandemic uptick.
This is not the first time the mortgage industry has faced mass layoffs. Recent estimates show that since January 2022, more than 10,000 employees in the industry have been displaced from their roles across enterprises and providers.
Mortgage industry experts, enterprises, service providers, and analysts cite the following factors for the recent job eliminations:
Cyclicity: The mortgage industry appears to go through two- to four-year cycles, as shown in the above graph. After the low-interest rates through 2020 and 2021 that propelled activity, the industry is now facing the brunt of less activity in early 2022
Limited housing supply: Given the limited availability of in-demand housing and the steady increase in new originations, house prices have shot up. This, in turn, is pushing home buyers out of the market
Uneven hiring: Companies increased their workforce strength exponentially during the pandemic to keep up with the home-buying surge. The Bureau of Labor Statistics reported that the US home lending industry witnessed a rise of more than 50% in total employment – from 130,000 workers in July 2019 to more than 425,200 in February 2022. Now, as the market is slowing and mortgage rates are rising, the industry is forced to let go of its surplus workforce
Macroeconomic factors: The impact of COVID, the Russia-Ukraine war, rising oil prices, and inflationary pressures have had an impact on overall consumer purchasing power, further impacting the mortgage industry
Services shift: Even though the volume is low, buyers are shifting their expectations and demand from originations to specialized services such as quality assurance (QA), quality control (QC), title insurance, securitization, and others. Enterprises solely relying on origination as their core services are faced with lower volumes, leading to increasing layoffs of employees working in areas with reduced demand. Providers need to acknowledge this shift in mortgage operations and plan their labor force accordingly. Watch this space for our future report focused on the emerging needs for specialized services in mortgage operations
Five remedies for layoffs in the mortgage industry
Despite the various factors that ignited the mass layoffs, companies can approach market fluctuations with the following remedies:
Outsourcing: Instead of embarking on a hiring spree and allocating huge volumes of resources for specialized staff, mortgage companies should opt to outsource processes to established mortgage service providers. This can reduce fixed costs while using existing resources to the fullest and saving money by only paying for services they use. Through outsourcing, enterprises are shifting the onus to the service providers. Since providers bring experience in managing and redeploying employee pools across multiple industries and processes, they can often distribute and redeploy employees instead of outright firing them
Develop adaptable and interchangeable skills: Service providers and enterprises need to align their labor force to industry needs, such as planning for the anticipated shift from originations to upcoming services like securitization and servicing. By developing adaptable and flexible skills, employees can find jobs in other industries and services if their positions are eliminated
Upskill and reskill talent: Enterprises and service providers are providing the labor force with executive courses and mortgage-specific training to keep them on track with industry needs and requirements. Employees should complete internal training programs and seek external training to keep their skills updated so they are relevant to the company's requirements
Alternate hiring strategies: Instead of hiring based on the market ebbs and flows, companies should follow a lean approach and hire judiciously. Companies should implement hiring freezes for non-essential positions when there is a hint of a demand slowdown. They can also hire contractual employees when they anticipate a boom and make temporary positions permanent when the market stabilizes
Digital transformation: To accelerate productivity and growth, it has become imperative for employers to leverage digital transformation. Digital tools can be used to automate mundane voluminous tasks, freeing employees to handle more analytical and important tasks, thus reducing the chances of hiring and allocating huge volumes of resources for mundane tasks
Mortgage industry outlook
While the layoffs and financial crisis have led to a negative sentiment of the mortgage industry among buyers and investors, service providers who are developing digital strategies and enhancing the customer experience can help change this perception. To learn more, see Everest Group's recent report on leading service providers in the mortgage industry.
To discuss mortgage industry trends, contact Shrey Jain at [email protected].
Explore more of our latest insights in our blogs and webinars.