"A customer is not an interruption in our work. He is the purpose of it. We are not doing him a favor by serving him. He is doing us a favor by giving us an opportunity to do so."
….Mahatma Gandhi
The above quote by Gandhi takes a whole new meaning in the current banking and financial services (BFS) landscape. There was a time when banking customers were plagued by issues such as obscure contract terms, hidden costs, and protracted complaints handling. While this may still continue to be the case, a confluence of different forces has created a new era in which all efforts by banks seem to point in one direction – customer centricity.
Exhibit 1: Key forces driving customer centricity in banking and financial services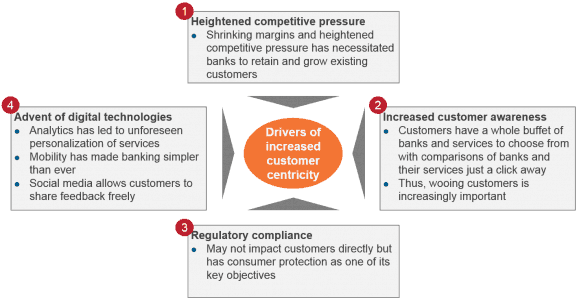 Drivers of discretionary IT spending in BFS
In such a scenario, almost all banks are investing in one or more customer-centric initiative to enable a differentiated customer experience and servicing:
Data management and customer data analytics: Aggregation and analysis of customer information lying in silos across different departments helps to personalize products/services, offer better customer service, conduct customer due-diligence, manage risk, and drive loyalty programs. Creating a 360° view of the customer has become essential
Mobile banking: Banking has been brought to customer's fingertips. Key investments include mobile payments, applications, websites, mobile wallets, etc.
Omnichannel experience: Enables uniform experience for customers across different communication channels such as retail branch, ATMs, mobile, online banking, call center, etc. A customer should be able to initiate a transaction in one channel and finish it in another
Front office modernization: Banks have equipped their salesforces with mobile devices and tablets to offer a unique selling experience to customers. Banks are also undergoing modernization of their core banking platforms. All of this leads to better customer service
The table below shows select examples of technology initiatives taken by banks and financial institutions to drive customer centricity.
Exhibit 2: Key customer-centricity focused IT outsourcing transactions announced in 2013
Investment theme
Buyer
Service provider
Deal value (US$ million)
Duration (years)
Scope of services (Among other things)
Data management and customer data analytics
Banorte
IBM
1,000
10
Investment in master data management (MDM) software to create a 360-degree view of the customer
Janalakshmi FS
Accenture
N/A
5
Implementation of CRM software and MDM enabling customer onboarding
Springleaf Financial
Acxiom
N/A
N/A
Customer/prospect database management support, including customer acquisition, engagement, and development through analytics
Mobility
ING Vysya Bank
IBM
N/A
N/A
Development of mobile banking channel to reach into untapped markets, such as remote cities and rural areas
Omni-channel experience
Industry Bancshares
FIS Global
N/A
N/A
Upgrade of core banking system which enabled real-time access to customers across various channels
Large Middle East Bank
Atos
N/A
3
Atos implemented Backbase Customer Experience Platform enabling a multi/omni-channel environment for the bank
Front-office modernization, omnichannel experience
BBVA Group
Accenture
25
4
Upgrade of core technology for the bank. Improved customer service through reduced account opening time, centralization of customer account information, creation of a multichannel environment
Front-office modernization
Maybank Singapore
NTT,  Dimensions Data
47
N/A
Upgrade of Maybank's IT infrastructure to improve service reliability and customer user experience
Source: Everest Group's proprietary Transaction Intelligence Database
Service providers have identified the market need for technology that enhances customer experience and have developed capability accordingly either organically, inorganically or through partnerships.
But we challenge the providers to further think how they can become partners in achieving business outcomes for their clients. As for the banks, how successful have they been in implementing these initiatives? In the current whirlwind of regulatory compliance and governance, are some finding it too difficult to innovate customer facing functions?
---
Photo credit: 10ch