Enterprise buyers are increasingly realizing the need to improve their application outsourcing (AO) productivity levels in order to curb the spiraling costs of their application functions, whether they are delivered by the internal IT organization, global in-house centers, or a service provider. Many buyers are also decreasing the volume of work that they outsource, due to their increasing frustration with their external service providers' lack of ability to deliver greater productivity.
Some of the traditional measures buyers have adopted to mitigate these issues include automation of ADM processes, service provider consolidation, sourcing mix optimization, and application rationalization. However, they are not entirely satisfied with the outcome of these initiatives, and believe they can further improve. Everest Group believes they must not only augment these initiatives, but also start an organization-wide reform of application service delivery processes that includes development models, enterprise architecture, sourcing strategy, best practices, etc.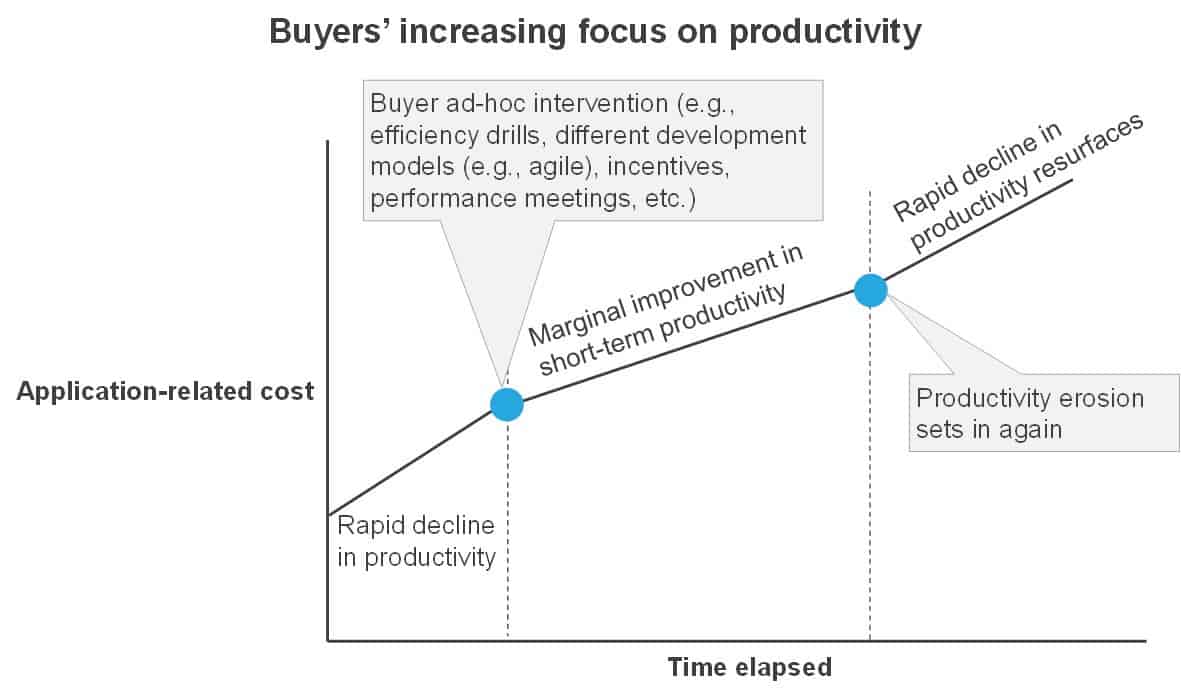 In order to derive meaningful impact and achieve sustained AO productivity improvement, buyers must:
adopt arduous measures such as increased centralization of the sourcing function;
implement organization-wide strategies (e.g., Six Sigma and lean operations);
even completely revamp their application service-related processes, if need be.
Such measures could be initially painstaking and effort-intensive, but are bound to provide sustainable benefits in the long run.
Moreover, buyers need to hold their service providers accountable for productivity enhancement. Most buyers believe that their service providers lack the capability to provide further cost and productivity improvements. Therefore, as noted above, a significant number of buyers are bringing select pieces of work back in-house to gain better control of their processes.
Everest Group believes that if service providers are unable to match buyer's expectations around productivity improvement, they will witness a significant churn in their client portfolio. Service providers need to first deploy the tried and tested methods of improving productivity (e.g., automation, delivery mix, etc.). However, they need to adopt additional measures, as outlined above, in order to bring about sustained productivity improvement.
For further insights, please read Everest Group's, "Application Outsourcing (AO) – Annual Report 2013: Declining Productivity Rising Anti-incumbency." The report discusses the limitations of conventional strategies being adopted by buyers to improve the productivity of their AO functions, and the need for enterprises to evaluate broader organization-wide strategies in order to boost AO productivity.
The report also highlights other interesting trends including a rebound in the European market and the increasing impact of mobility and analytics on application services.