Summary report now available | Download
---
As you may recall, in December Everest Group announced that we were partnering with Shared Services & Outsourcing Network (SSON) to launch the industry's first-ever survey to investigate Vertical Industry-specific Strategies for Shared Services and Outsourcing (or "VISSSO" for those who like acronyms that hiss like a snake).
The survey covered not only traditional horizontal functions like F&A, HR, and IT, but also industry-specific functions like order management in hi-tech, merchandising analytics in retail, and loan and mortgage servicing in banking. In total, it addressed 164 vertical functions and 8 horizontal functions. Scope, sourcing model, technology strategy, organization model, improvement initiatives…all that stuff for each function across 28 industries.
Quite simply, it was a huge effort, and we are just now climbing out from underneath the avalanche of data.
Starting tomorrow at the North America Shared Services & Outsourcing Week in Orlando, we will begin unveiling the findings. We will follow with similar sessions in other SSOW events around the world, plus release the summary report later in March.
Enough about what is to come, let's jump into some of the insights we have uncovered.
Looking across the 164 vertical functions, the responses reveal that services industries like financial services, transportation, and healthcare (in comparison to product-oriented industries like manufacturing and energy) include over twice as many vertical functions in their shared services and outsourcing strategies. Why? To over-simplify, the mid-office of services industries is simply larger and more important than that of product-oriented industries.
This means the mid-office is more closely tied to the financial processes typically at the heart of both shared services and outsourcing efforts. Or as we have hypothesized in our earlier research, "operational finance" processes of services industries are a critical component of value delivery and due to their linkage with other finance process, they are most commonly aggregated into the more general finance activities.
We also broke apart the data based upon the organizational maturity for delivering services (see the graph below). Interestingly, mature organizations are twice as likely to use end-to-end models for delivering F&A services. Further, mature groups are somewhat less focused on consolidation (and re-engineering – not shown), but more focused on increasing collaboration with their user groups. Further, they believe they are more than four times as successful in implementing change.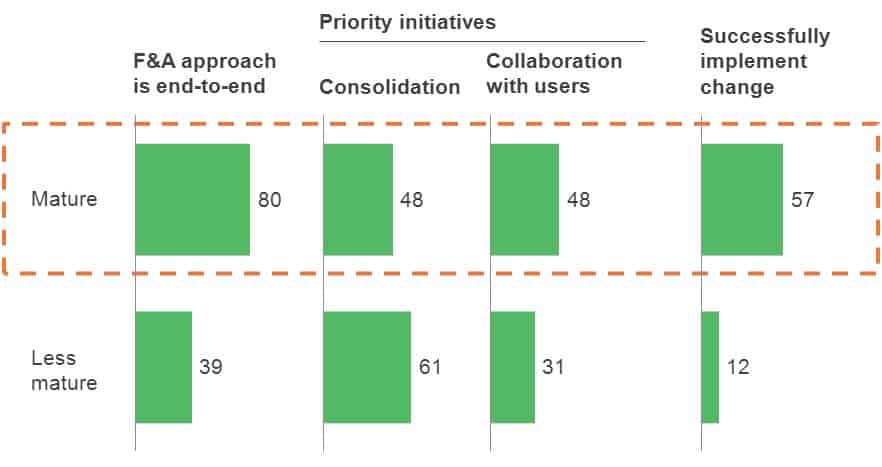 What does this tell us? Our belief is that shared services and outsourcing professionals are segmenting into two groups. One has been successful in creating change for their organizations, plus implementing and optimizing a new delivery model. The second has not only implemented a new model, but is actively trying to create ongoing change by engaging their users and seeing change as a day-to-day competency instead of a painful and one-time transition.
Consolidation and process re-engineering will not quickly go out of style, but they are far from the end of the story. And, by the way, the more mature group reports greater focus on cost savings, greater ability to meet financial targets, and more increased inclusion of non-cost value drivers in their business cases.
There are many other findings that will be featured in our summary report; some additional interesting factoids in the interim include:
Of all sectors, public sector is most focused on cost savings (tax payers rejoice!)
Not surprising, the hi-tech industry has much more aggressive plans to pursue Saas/cloud solutions
More mature organizations are largely focused on soft factors like user engagement and change management, but they are not more inclined to implement new tools, adopt analytics, or prioritize Saas strategies
All for now…looking forward to sharing more as we work through additional analysis. Please don't hesitate to contact me if you have questions or wish to debate the findings.