On January 30, 2018, Amazon, Berkshire Hathaway, and JPMorgan Chase & Co.  announced a partnership to address healthcare for their U.S. employees. The goal is simple – provide their employees and their families with simplified, high-quality, and transparent healthcare at a reasonable cost, through technology solutions. They intend to pursue this opportunity through an independent company that is free from profit-making constraints.
The rationale behind this move
While this might not be the big Amazon-disrupts-healthcare reveal the market had been hoping for, it is still a meaningful move. Employer-sponsored health insurance currently covers around 157 million people in the United States, and people are not satisfied with the present state of affairs:
Insurers and employers are shifting the burden of increasing healthcare costs to the employees. Employees are now facing much higher deductibles and insurance contributions.Employers are moving towards programs with narrower networks. And if employees choose to visit a doctor outside the network, they have to spend more out of their own pocket.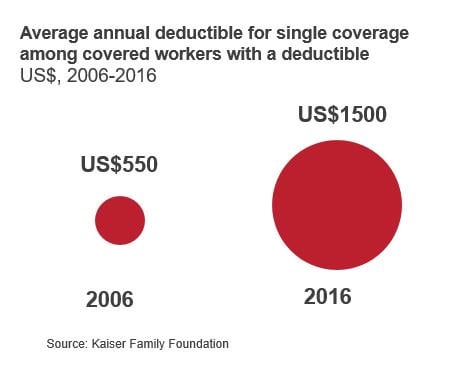 Health insurance premiums are growing faster than employee wages for both private and public workers. On average, premium as a ratio of wages has increased by four percentage points in the last five years.
The new healthcare normal calls for a fresh approach
Amidst rising costs, evolving consumer preferences, changing operating models, and an uncertain regulatory environment, stakeholders in the healthcare ecosystem are trying to create innovative partnerships and business models. For example:
CVS is buying Aetna for US$69 billion, creating a mini healthcare ecosystem
Anthem broke up with Express Scripts, its long-term pharmacy benefit management (PBM) partner, and is building its own PBM capabilities with some help from CVS
Intermountain Healthcare is leading a collaboration with Ascension, SSM Health, and Trinity Health, in consultation with the U.S. Department of Veterans Affairs, to form a new, not-for-profit generic drug company. The goal is to make essential generic medications more available and more affordable, bringing competition to the market for generic drugs
At last count in 2017, there were 923 accountable care organizations (ACO) covering approximately 32 million lives.
The Amazon-Berkshire Hathaway-JPMC trio could well lay down a marker on how employers shape and drive their own healthcare mandates. Consider the firms' complementary skill sets:
Amazon has the deep technology expertise and experience-first approach crucial to addressing needs of an evolving workforce and consumer base. And from a data standpoint, AWS has already stated interest in leveraging longitudinal health records for population health and analysis efforts. E.g., it could use expertise in logistics to rethink warehousing and distribution to make drugs more cost efficient.
Berkshire Hathaway and JPMC can help improve the financial engineering that underpins the new endeavor, provide scale, and improve collective bargaining power.
 How might the mega-alliance play out?
This alliance can potentially have a huge impact on all the healthcare stakeholders.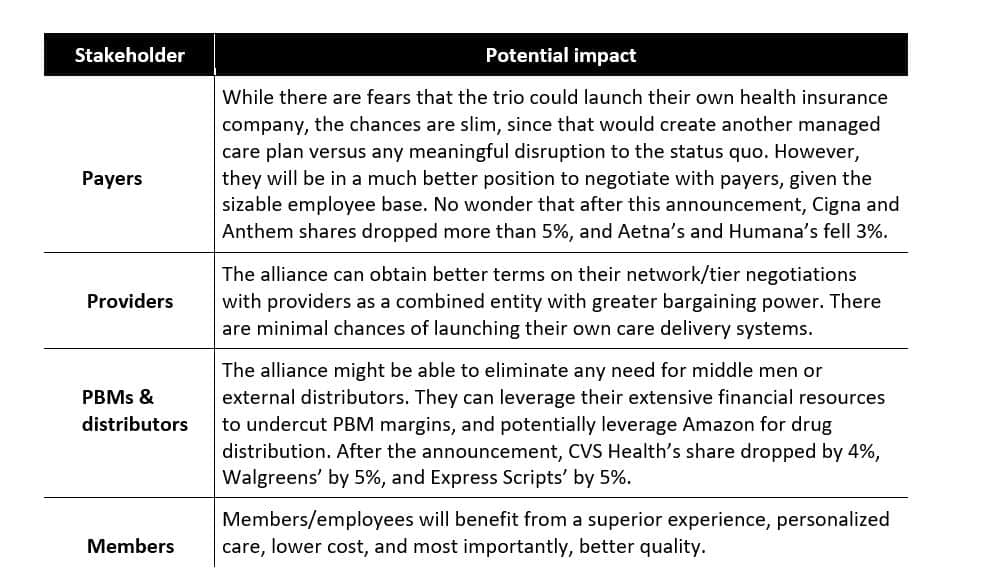 The road ahead
The mega-healthcare company will currently focus on its combined employee base of approximately 1 million employees – plus their families – in the U.S. If it's successful, it can take the model to other employer groups to help them address inefficiencies in their current healthcare setup.
However, it's critical to keep in mind that healthcare differs from other areas disrupted by tech. It is often messy, fragmented, and lacks interoperable/standard data. Strikingly similar initiatives have faced hurdles and shut down (…remember Dossia?) Many initiatives to reimagine healthcare from outside have failed to move the needle meaningfully.
Given the lack of clarity around specifics of this partnership, some amount of skepticism is warranted. But for now, everybody's looking at what the future holds.
What is your take on this mega-alliance? We would love to hear from you at [email protected] and [email protected]