Over the last few years, the outsourcing sector in Europe has been deeply impacted by the global economic downturn and the sovereign debt crisis in many countries. And as highlighted in Everest Group's Market Vista report for Q1 2011, outsourcing transaction activity in Europe has been on the decline for the past several quarters, with transaction volumes in continental Europe dropping by 9 percent in the previous quarter alone.
At the same time, service providers have announced increased focus and commitment to Europe, with regional and global majors striving to maintain their stronghold. For example, IBM opened up new analytics centers in Europe, Atos merged with Siemens IT solutions to strengthen its position, and Capgemini made key acquisitions (Artesys and Avantias) in France. The offshore-centric Indian heritage providers are also not far behind their multinational counterparts in articulating the importance of Europe in their portfolio. These service providers have made investments in expanding their European operations, developing strong expertise in specific sectors, and exploring potential targets to achieve inorganic growth in the region – TCS announced its intent to expand operations in Europe in vertical sectors including healthcare, Infosys top management suggested the company is seeking acquisitions in Europe in areas such as cloud computing, and HCL is aiming to get one-third of its 2011 revenue from continental Europe.
This demand and supply dichotomy begs the questions: Have the service providers been too aggressive in their outlook toward Europe? Did the providers misread the demand environment? Will their investments turn out to be imprudent?
Our answer to all the above questions is "NO." While the numbers for Europe in total indicate an uncertain demand environment, some specific countries within the European Union are registering healthy growth and stable demand for outsourcing services. For example, as highlighted in Everest Group's report on Outsourcing and Service Provider Landscape in Germany, the number of outsourcing transactions in the country grew 31 percent year-over-year (Y-o-Y) in 2010. And our report Outsourcing Landscape in France: Global Sourcing and Service Provider Assessment suggests France's outsourcing activity remained largely unaffected by the global recession.
These disparities can be attributed to the diverse cultural, political, social, business philosophy and economic landscapes among European countries. Thus, buyers and providers alike must gain a more nuanced understanding of the outsourcing environment in each, rather than applying a broad-brush characteristics profile to all. For example, take Germany and France. These two countries are distinctively dissimilar in the languages they speak (German is regarded as highly scientific, while French is more poetic), their respective business interests (Germany's economy is mostly manufacturing driven, while France has the world's third largest tourism income), and even in the way they play their football (Germany currently has a more agile team, while the French seem to be playing more fluidly these days). And let's not forget Germany's focus on precision, structure, and order, as compared to France's flair, artfulness, and panache.
The two markets are also equally different in their outsourcing demand and supply profile. Stand-out points of distinction include: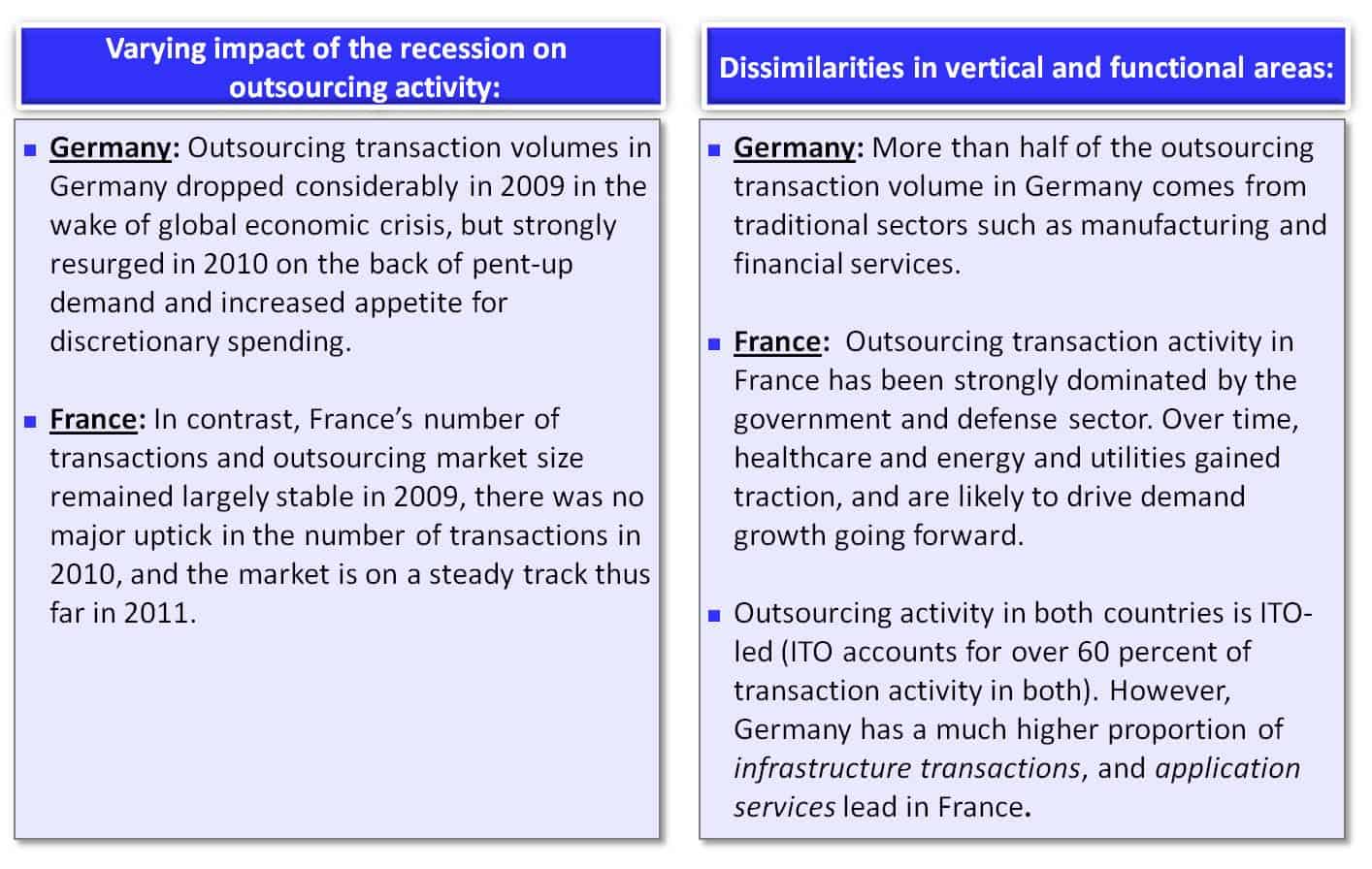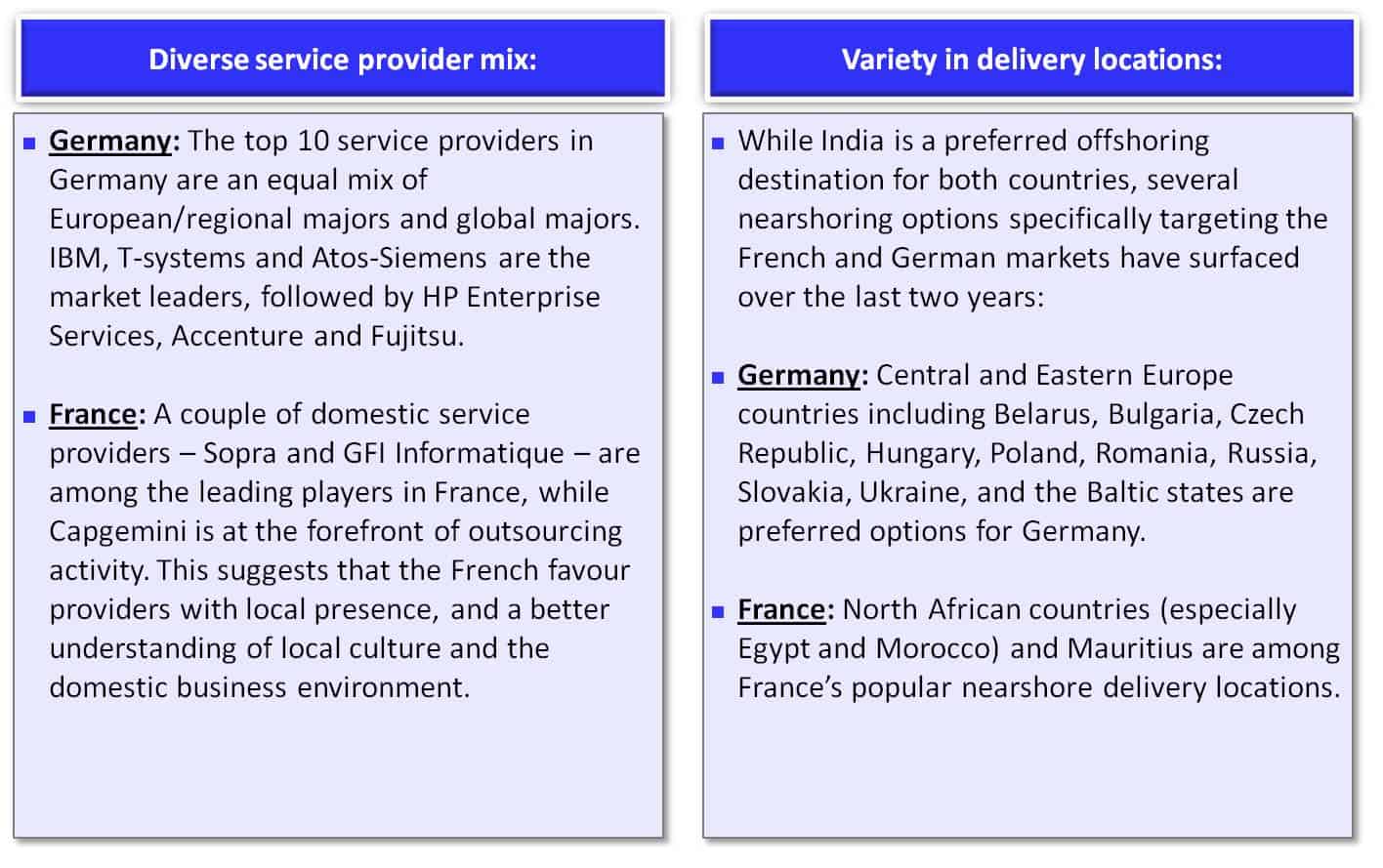 The above dissimilarities between Germany and France illustrate the rule rather than the exception in Europe. Thus, it's not surprising that the ~US$200 billon European outsourcing sector remains a conundrum for service providers. Will the significant investments made by service providers in Europe bear fruit? While only time will definitively tell, we believe every dollar spent wisely (with careful and informed evaluation of individual countries) will be more effective than any ten dollars squandered on uninformed pursuits. Starting with basics, service providers must avoid the pitfalls of a broad-brush approach to global services in Europe, and instead develop a laser sharp understanding of target countries based on robust facts and informed perspectives.