Accenture's set of service offerings is incredibly broad-based. They serve clients in an incredible number of business processes. They provide services in every geography. They deal with a huge variety of industries. How can a firm do so many things at the same time with such excellence?
Simply put, the answer is people. Using our framework assessing companies' characteristics necessary for success, Accenture's team of exceptional talent stands out. The provider is able to deal with a profusion of diversity in processes, industries and geographies because it aligns its brand, go-to-market approach, portfolio and business model with high-performance talent.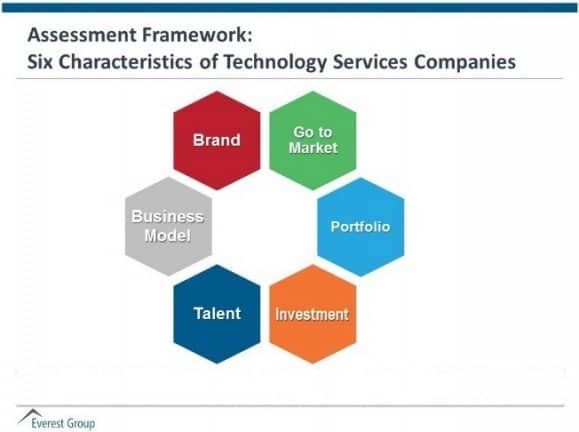 Accenture takes on clients' big problems that require a transformational journey. Typically the challenge has a technology component or basis. And typically it requires the use of exceptionally deep talent.
Accenture's relentless focus on high-end talent deployed against big business problems enables the provider to make decisions around what not to do. They are a talent engine, so they let others take on the roles of owning the technologies and servers. They play well in the ecosystem.
They also exit spaces that are highly commoditized where a provider can deploy less talented, cheaper resources. Accenture stays focused on big problems that require transformational journeys, which require high-end, exceptional talent. That's why they're extraordinarily successful in providing services in a bewildering variety of processes and industries.