With the rise of smart machines and robotic technologies replacing labor arbitrage, multi-sourcing becoming a norm, and "as-a-service" models increasing in adoption, the IT services (ITS) market is undergoing radical change. And it could wreak havoc on – or mean opportunities for – ITS providers nearing deal renewal time.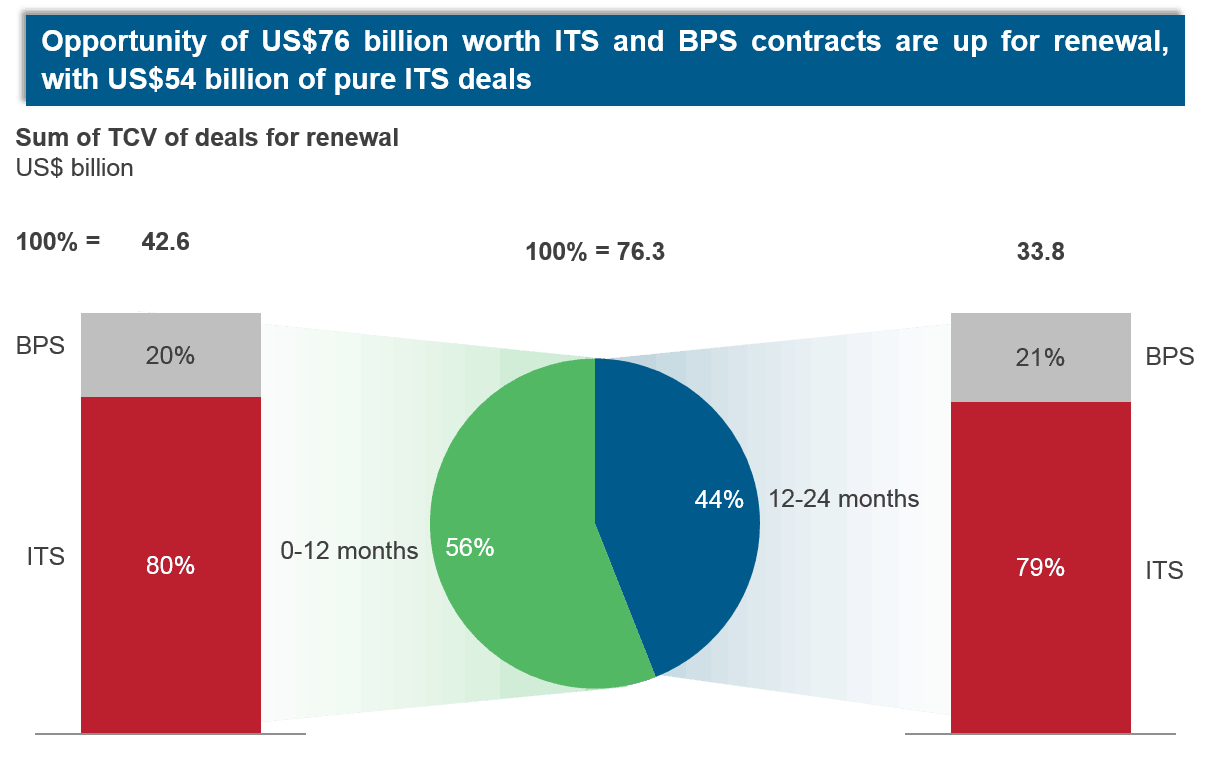 It's abundantly clear to us that multiple hunters over the last few months have been eyeing big portions of the US$76.3 dollars in IT services contracts soon to be up for renewal. And if they're not careful, it could mark the end of millions or billions worth of business for several companies. The verticals primarily at stake are BFSI, Healthcare, and Energy and Utilities, which have a combined share of more than 55 percent of the total pie.
But before we talk about how these providers can fend off their attackers, let's take a quick look at the state of the market, per our recently released Report on Upcoming Contract Renewals (ITS) – 2015:
BFSI continues to remain the dominant vertical in the total value of deals expiring in ITS; 94 percent of the deals in this sector are with large service providers (with revenue of greater than US$5 billion)
Western Europe is the dominant market for expiring high value IT deals, accounting for 55 percent of the total number of expiring billion dollar deals
Infrastructure services are included in the scope of more than 77 percent of the total value of ITS deals, and 55 percent of these deals are due to expire over the next year. Data center and network services are the primary components in more than 70 percent of the total expiring ITS contracts
Pure application services (AS) comprise 25 percent of the total value of the entire ITS pie. Large service providers of BFSI and Travel and Transport support services will drive 60 percent of the total AS renewal spend over the next two years, concentrated primarily in North America and Western Europe. In fact, the highest valued IT deal expiring in the next two years is a pure AS deal with a French Travel and Transport provider
With so much renewal money up for grabs, who will win the hunting game? A David versus Goliath story is currently playing out in the deal renewal industry. Incumbent service providers want to expand their footprints across clients and fend off the attacking competitors. Attackers are desperate to penetrate newer opportunities by eating away share from the incumbents.
The reality is, the incumbents have a lot more to lose than the attackers. Given high anti-incumbency sentiment in the deal renewal market (~40 percent of deals are not renewed with incumbents), these providers need to take a serious look at their traditional deal renewal strategy, taking into consideration:
Enterprises are no longer willing to sign up large IT services deals spanning multiple years due to factors such as vendor lock-in and lack of transparency; as a result, best-of-breed solutions may emerge as the better option
These massive service contracts have tapered off over the last decade, since customers are now more willing to disaggregate the requirements into different IT towers or services
Enterprises realize that these large deals may not be able to flex to changing business requirements.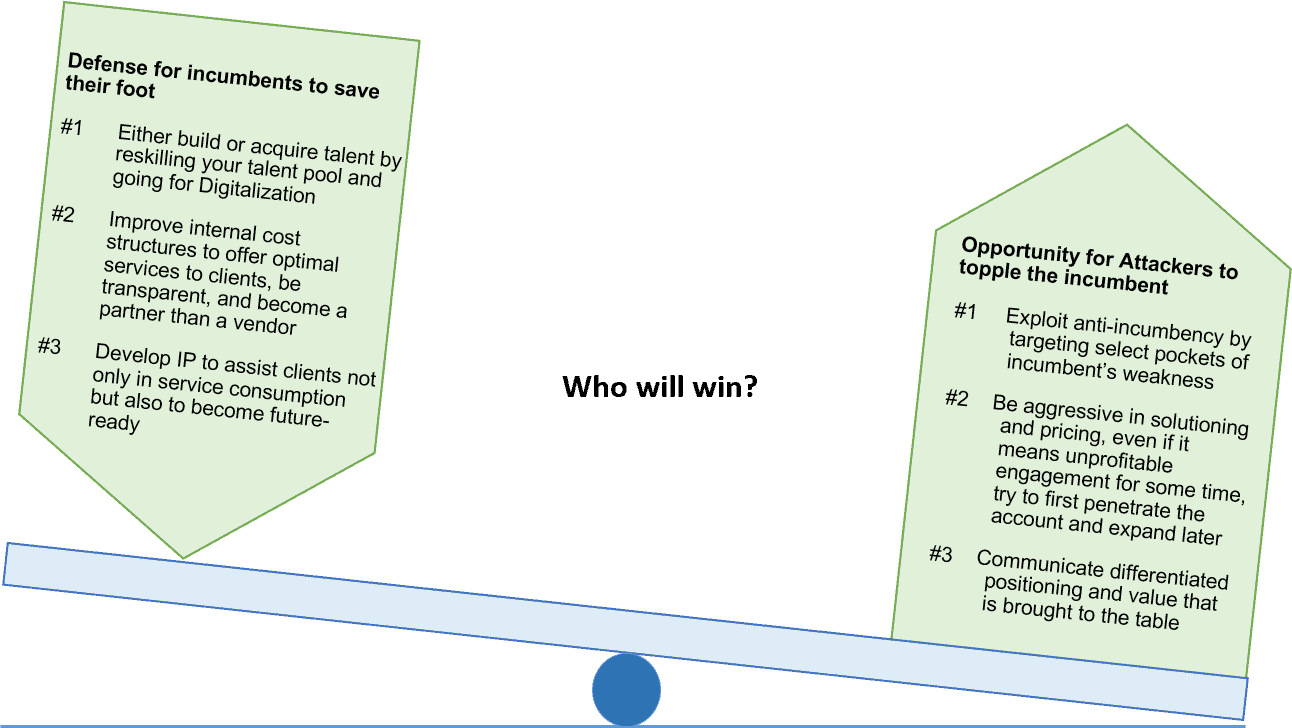 At the same time, attackers can't reduce their efforts and investment in winning new clients. Despite all the challenges with incumbents, enterprises typically default to them fearing cost of change management and disruption. The onus lies on the attackers to demonstrate value beyond niche positioning or price aggression. Attackers need to invest early in building credibility with the enterprises. They need to communicate value in tangible terms beyond cost savings. And they need to make themselves visible to gain mindshare of their target clients. It's a cultural overhaul where attackers must promote both their vision and their delivery capabilities in the market.
It is difficult to predict what lies ahead in this hunting game. But there will certainly be winners and losers. If you're an IT service provider, will you be one of the winners?