Although five years ago it was difficult to differentiate among the WITCH (Wipro, Infosys, TCS, Cognizant, and HCL) providers, Everest Group last year identified a variety of clearly emerging and meaningful distinctions in its May 2011 examination of the top five Indian IT providers.
Our just released second annual analysis, Report Card for the Indian IT Majors: Pecking Order Analysis of the "WITCH" Group, found that the top ranked provider in each of the dimensions we evaluated – financial performance, industry vertical performance, and geographic performance – remained the same, but the rankings among the five have shifted. While the rankings are not necessarily the most effective gauge of current capability or future success, the position shifts tell important, company-specific stories.
So which of the WITCHes is where in our 2012 (April 2011 through March 2012) analysis? Let's take a quick look.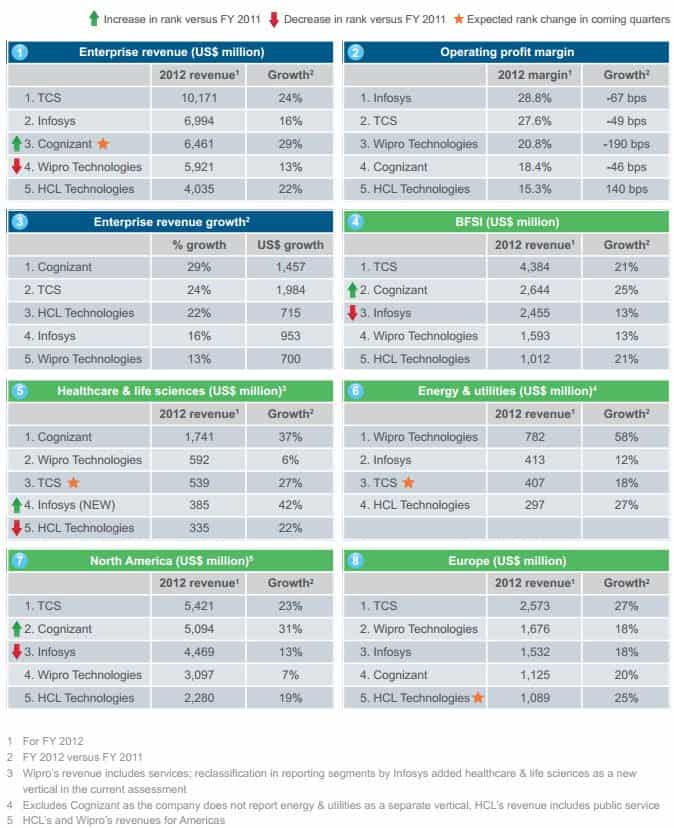 Financial Performance
TCS retained the top spot in terms of total revenue, exceeding US$10 billion for the 12 months ending March 31, 2012. It also widened the enterprise revenue gap with #2 Infosys by ~ US$1 billion, as compared to last year (the total gap is now over US$3 billion). Cognizant's 29% revenue growth is significantly higher than that of the other Indian IT majors, and the company, which overtook Wipro on enterprise revenue rankings last year, seems to be on track to overtake Infosys to become the second largest WITCH major. On a quarterly run rate basis, this may happen as soon as the coming quarter.
Infosys continues to be the most profitable. Note: We don't believe that being the most profitable translates to being the most successful. Sustainable growth and success is rooted in a prudent balance of short-term profitability and longer-term investment priorities.
Industry Vertical Performance
In BFSI, TCS retained its #1 ranking with more than US$4 billion in revenues, Cognizant overtook Infosys' #2 place at the table, and HCL is showing good momentum. But it's also important to note here that the Indian IT majors stack up differently in the BFSI sub-verticals. For example, TCS and Cognizant are the leaders in the insurance applications outsourcing space, while Wipro marginally edged out Infosys on recent insurance industry wins, growth, client quality, and investments in domain solutions and intellectual property.
Cognizant again topped the leader board in the healthcare and life sciences space with a practice that is nearly three times the size of second-placed Wipro's. And although Infosys' healthcare practice is fourth in terms of revenue (US$385 million), it is also the fastest growing among the WITCH group, with 42% year on year growth. TCS' rapid growth rate in healthcare indicates that there may be a rank change with Wipro in coming quarters.
In energy and utilities, Wipro not only retained its #1 position but also significantly increased the gap between itself and #2 Infosys, in large part due to its acquisition of SAIC's oil and gas services business in early 2011. Interestingly, we see TCS inching closer to Infosys in this space.
Geographic Performance
While TCS won the top spot in both North America and Europe, it's an interesting mixed bag among the other WITCH players in the two regions. Cognizant has overtaken Infosys in North America, rising to the ranks of #2, and now only lags TCS' North American revenue by $325 million. In Europe, all providers except Cognizant achieved higher growth than in North America, with Wipro and Infosys coming in second and third, respectively.
To read a detailed analysis of the what's and why's of our WITCH group rankings, please download the complimentary report at: Report Card for the Indian IT Majors: Pecking Order Analysis of the "WITCH" Group.