Highlights of Everest Group's Insurance AO Market Outlook and PEAK Matrix Assessment 
2010-11 has been a trying year for global insurers. Even though the industry returned to growth in terms of written premiums, challenges abound. Increasing competitive pressures, changing consumer preferences, need for multiple distribution channels, and a stricter regulatory regime have created a complex operational environment for global insurance companies.
As discussed in one of our recent research reports, IT AO in Insurance – Trends and Future Outlook, outsourcing activity is picking up across insurance business lines (see Exhibit 1 below), with the consolidation in the life insurance segment, and increasing price competition in the property and casualty segment. At the same time, the industry has also witnessed a lot of M&A activity, and faced pressures on underwriting results – which is prompting investments in sophisticated analytics, business intelligence, and consolidation /rationalization initiatives.
Exhibit I: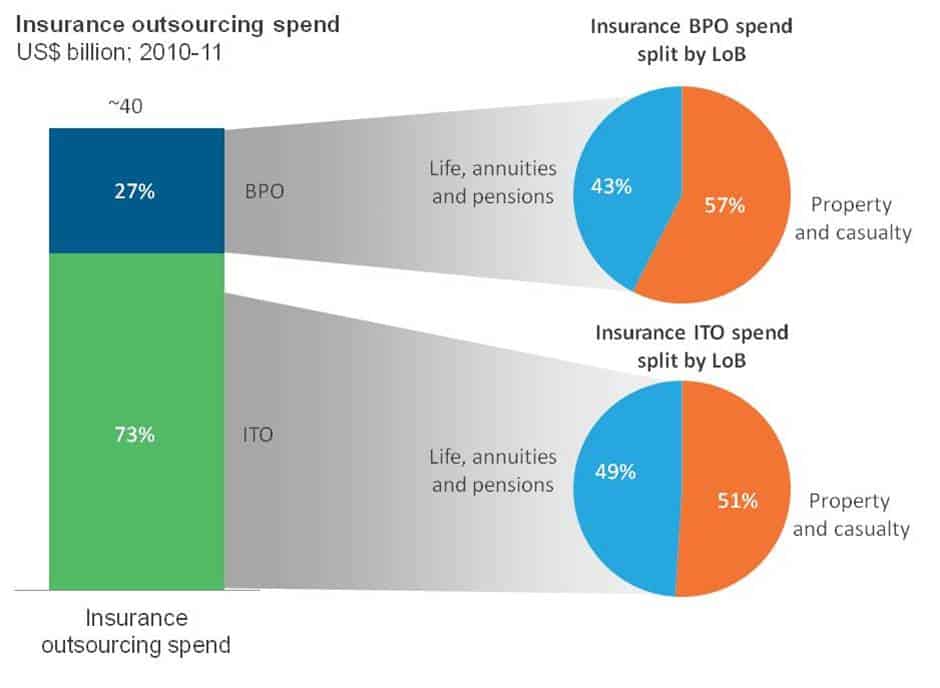 With significant shifts in buyer adoption trends, the service provider landscape has changed as well. This evolution has presented insurers with a wide array of third-party provider options, as well as the need to assess provider capabilities across key dimensions. Our just published report on Application Outsourcing in Insurance – PEAK into the Evolving Service Provider Landscape evaluated 18 leading AO service providers specific to the global insurance sector. Analyzing the performance and capabilities of these providers, we identified the Leaders, Major Contenders, and Emerging Players on the Performance / Experience / Ability / Knowledge (PEAK) Matrix:
Exhibit 2:

Expectedly, the leading service providers dominate the insurance AO market in terms of revenue, depth of capability, and breadth of delivery footprint. The major contenders are witnessing strong growth in their insurance AO business by adding new accounts and expanding business with existing accounts over the last three years.
However, as economic conditions improve, we expect a much more competitive service provider landscape. Following are the themes we think service providers must focus on to gain and further solidify their leadership position in this marketplace:
Transform orientation to position themselves as "partners" rather than "providers": With an increasing demand from outsourcing buyers to engage service providers in early product design and development activities, it is critical for providers to develop partnership-based engagement models. These could be in the form of creating joint Centers of Excellence (CoEs) to support product/channel transformation based on select "bleeding edge" technologies, or pursuing a combined go-to-market strategy in emerging areas.
Leverage M&A to build end-to-end capabilities in a market that is moving toward IT-BPO convergence: Outsourcing buyers are increasingly looking to execute broad-based, multi-tower contracts that have both IT and BPO services in scope. This trend is being driven by buyers' sourcing strategy of forming strong relationships with providers in specific business lines, or portfolio clusters, rather than having different providers for different services. It is therefore critical for Major Contenders and Emerging Players to develop and enhance their domain expertise, scale (across IT-BPO functional areas), and products/services suite to provide end-to-end support. These providers must continue to focus on acquiring greater capability, solutions, frameworks, and tools through M&A activities, in order to address the specific needs of insurance outsourcing buyers.
Re-engineer pricing and engagement strategies to tackle uncertainty in the demand environment: Insurance markets around the globe are experiencing challenges that cause concerns about outsourcing demand. P&C lines are under pressure in the U.S., personal and automotive insurance lines are underperforming in Europe, and catastrophic losses in Asia Pacific (e.g., the earthquakes in Japan and New Zealand, and severe floods in Australia and Thailand) are burdening the bottom-line for insurance majors. While buyers need outsourcing support to effectively navigate through these situations, they have limited budgets and are apprehensive to participate in outsourcing deals that require heavy upfront investment or capex. Providers must therefore adjust their pricing and engagement terms innovatively to create a win-win situation for both buyers and themselves, e.g., pricing based on business outcomes, increasing deal terms in lieu of no upfront transition costs, and offsetting productivity-gain sharing with inflationary adjustments.
For more information, on this topic: